Why Should You Visit Interlaken Switzerland?
Interlaken is one of the most famous places in Switzerland, with some of the most beautiful alpine views you will ever get to see.
Tourists enjoy adventure games at Lake Thun, Lake Brienz, Harder Kulm, and Schynige Platte. And for this reason, Interlaken is known as the adventure capital of Switzerland.
But guess what? It is not just Interlaken, and there are many other places like Zermatt, Lauterbrunnen, Lucerne, Gruyeres, Montreux, Kandersteg, and many more where you can have similar experiences in Switzerland.
This article is about Interlaken and things that you can do here. So you do not have to get confused while deciding if you should go to some alternative place rather than visiting here.
Or you can just decide for yourself after reading this article if you should visit here. So, to clarify that, we are giving you a few reasons that we think will make your visit to Interlaken worthwhile.
Reasons Why You Should Visit Interlaken
Accessibility To Interlaken Is Very Easy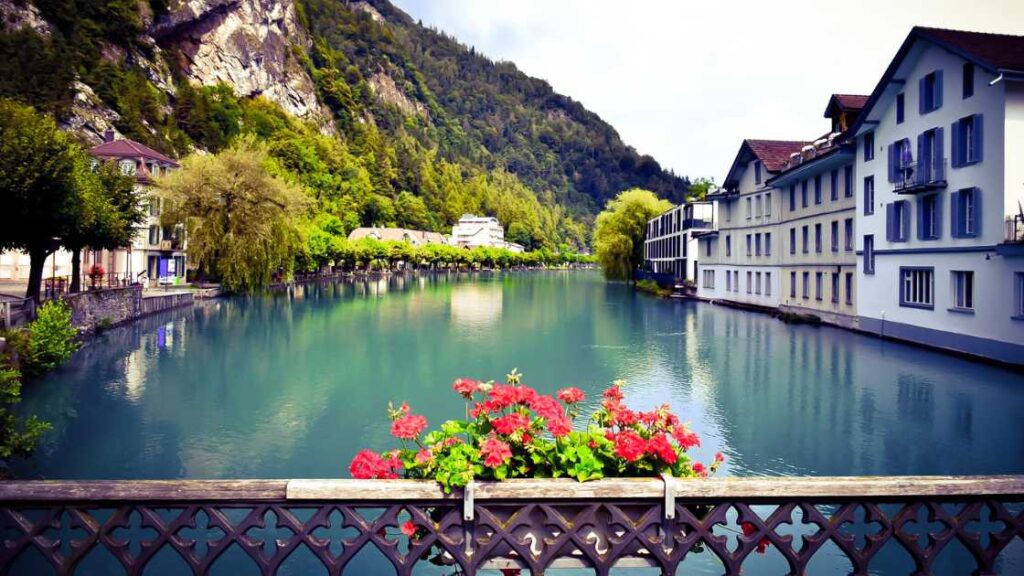 It is obvious to visit most of the major sites when you visit and explore a new country. Interlaken is situated right in the heart of Switzerland, which provides you with easy access to all the major cities.
Travelling is easier in Interlaken, thanks to the InterCity trains. These trains connect Interlaken to the major cities with international airports and much more.
Numerous Outdoor And Fun Activities
There is a variety of things that you can do in Interlaken. From exploring underground caves to skies above the mountains. In addition, there are other fun activities to give you that extra adrenaline rush.
There is a wide range of options when it comes to adventure sports available here. From hiking to water skiing, windsurfing, kayaking, and much more. As a result, this place is very famous among adventurers.
But what if we say that there are even more things to do here? According to the official website of Interlaken Switzerland, activities like Bungee Jump, Hang-Glide, and sky diving is also available to enjoy.
If you are an adventure lover, here are the top 3 things we recommend you explore in Interlaken.
Canyon Swing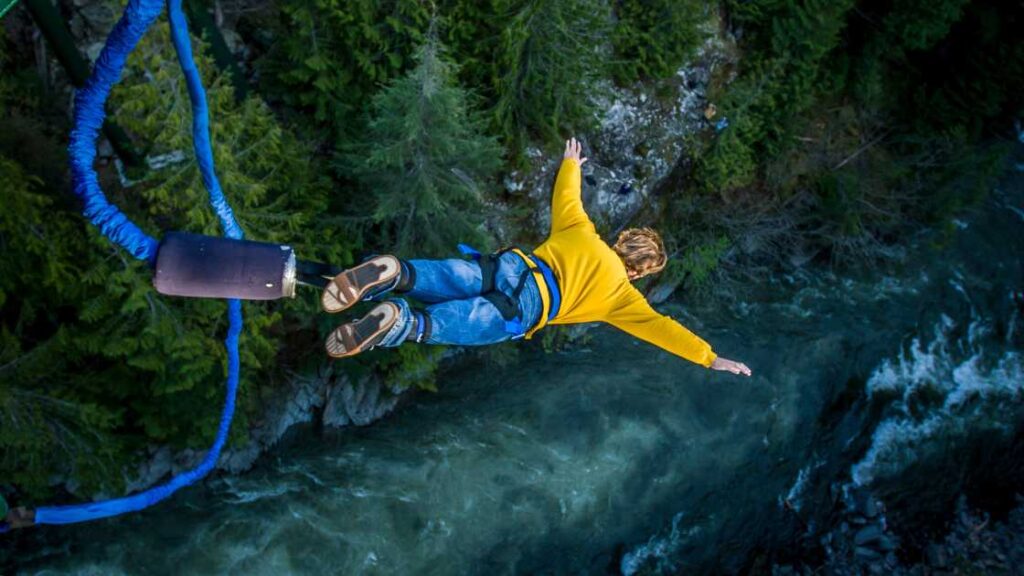 An extreme version of your swing in the Grindlewald canyon is an amazing start for exploring adventure sports. Once you experience that freefall at 120kmph, you will no longer scare anything else.
Tandem Paragliding
What could be a better way to see the amazing view of the mountains and lakes of Interlaken?
With a professional guide pilot, there is no need to worry about maneuvering the glider. You can just enjoy this wonderful experience.
Canyoning On The Chli Schilere
Canyoning is a super fun activity that can include jumping from cliffs, plunging into the water, sliding from the rock, and much more. This makes canyoning a very thrilling activity.
To Visit The Iconic West And East Lakes (Lake Thun And Lake Brienz)
These 2 lakes are the reason Interlaken gets its name, as this city is situated between them. Let us look into both of the lakes individually for more information.
And as there are these 2 lakes, even tourists get 2 options to choose from, let us go through them.
The West Lake (Lake Thun)
This lake is unique as it is known as the lake with the most castles in Switzerland. These 8 castles are around this lake, which 1 is in the city and 2 in ruins.
So apart from beautiful mountains and adventure games, Interlaken also provides views of beautiful castles.
Visiting this place is like visiting a different era itself. And you can explore lake Thun by train, bus, or boat.
These options help tourists visit various with their preferred mode of transport.
The East Lake (Lake Brienz)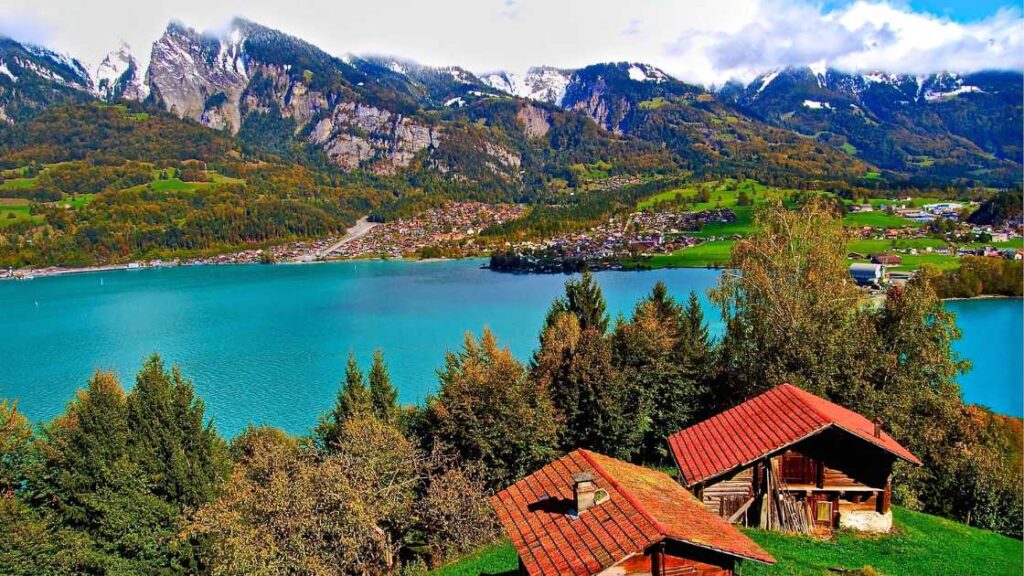 This is a place where you can explore the alpine lakes in a different way. Compared to the west lake, this lake does not have fun, luxurious, or relaxing water activities. Instead, this place is very natural and uncrowded.
If you are someone who loves to spend some quality time in a peaceful location, you should visit this lake.
With a picturesque view of mountains and an intense hue of turquoise water, this place blooms up in summer. Above all, that is the time when the water from glaciers adds into this lake.
For the best view, you can visit Rothorn, which is a peak above Brienz village. And at the top of this mountain, you will see Lak Brienz, which has a beautiful milkfish-blue color in mentioned season.
Similarly, there are many other lakes in Interlaken worth visiting.
Frequently Asked Questions About Interlaken
Should I Visit Interlaken For A Day Trip Or More Than One Day?
Interlaken is absolutely worth a one-day visit. It just takes one hour to stroll the city. There are 2 lakes situated in the surrounding of this city which gives it its name. And it just takes 30 minutes to walk from one lake to other.
But, a 3-day stay is enough to visit various places in and around Interlaken. Moreover, you can look for Interlaken hotels if you plan to stay. In addition, you can also check the options Airbnb Interlaken provides.
When Should I Visit Interlaken?
You can consider June to September as the best time to visit Interlaken. Above all, during these months the temperature is very pleasant around 18°C to 20°C. And this makes it the perfect time for aimless walks, mountaineering, adventure activities, and trekking.
Do I Need To Carry Cash In Switzerland?
Although this may not seem an important question, trust us, it is. And the answer to this is NO, however it is always advisable to have a little cash with you for small purchases and other things like luggage storage lockers at train stations.
Final Words
These are some of the important reasons why you should visit Interlaken. This place is a paradise for someone who is into adventure and adventure games.
We hope you enjoy your visit to Interlaken Switzerland. For more informative blogs like this one, visit our website.
Also read: 5 MUST-VISIT LAKES IN TENNESSEE THAT YOU SHOULDN'T MISS