The United States has some of the most spectacular waterfalls on the planet. A trip to waterfalls would be the most refreshing outdoor recreational activity. Furthermore, there are over 40 waterfalls in the United States where you can spend time with your loved ones.
We have listed the top 9 scenic must-visit waterfalls in the USA for your delight. Some of them are close to popular tourist destinations, and they are ideal photogenic sites. You should plan on visiting some of these on your next vacation.
Niagara Falls | New York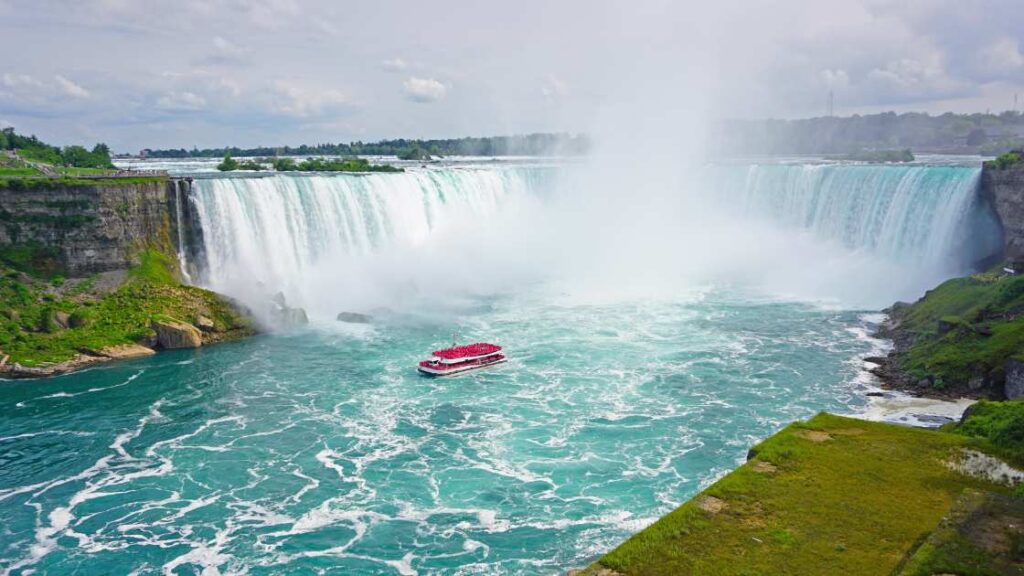 Niagara Falls is not only one of the most well-known waterfalls in the world; it is also the largest waterfall in the United States by volume. Horseshoe Falls, American Falls, and Bridal Veil Falls are the three waterfalls that makeup Niagara Falls.
From May to October, you can take a Maid of the Mist boat trip to the Horseshoe Falls for a magnificent view of the falls. On the Cave of the Winds Tour, take a glass elevator to the Prospect Observation Tower, where you can see Bridal Falls.
The vast 400-acre park has wildlife, breathtaking landscapes, and more to offer. Remember to pack rain gear. Make sure you go at night when everything is illuminated by numerous lights.
Tahquamenon Falls | Paradise, Michigan
The Tahquamenon Falls in Michigan's Upper Peninsula is a traveler's paradise. The Upper Tahquamenon Falls are a result of the Tahquamenon River's rapid descent, which drops 50 feet.
A series of five smaller dips of water continue downstream to Lake Superior just a few kilometers after the Lower Tahquamenon Falls.
The falls may be seen from various areas of the park because they are situated in beautiful woodland and are accessible by a paved route from the parking lot.
The top, middle, and bottom portions of the waterfalls all have three sets of stairs that are great for taking pictures. It's hard to believe until you see Tahquamenon Falls, arguably one of the most beautiful waterfalls in the US.
Wailua Falls | Lihue, Hawaii
A journey to Hawaii has to include a visit to one of the top waterfalls in the country. There is nothing else like these tropical places. On the island of Kauai, you'll find the majestic Wailua Falls. Wailua can drop 80 feet or 200 feet, based on the amount of rainfall.
Perhaps the simplest-to-reach waterfall on our list is Wailua Falls. It is visible to visitors from Maalo Road. This level of accessibility is rare among Hawaii's waterfalls, so be sure to include this brief stop on any schedule.
The distance from the road is hazardously steep if you do want to get closer. However, because of the lack of safety, the best way to see Wailua is to take stunning pictures from a distance.
Havasupai Falls | Supai, Arizona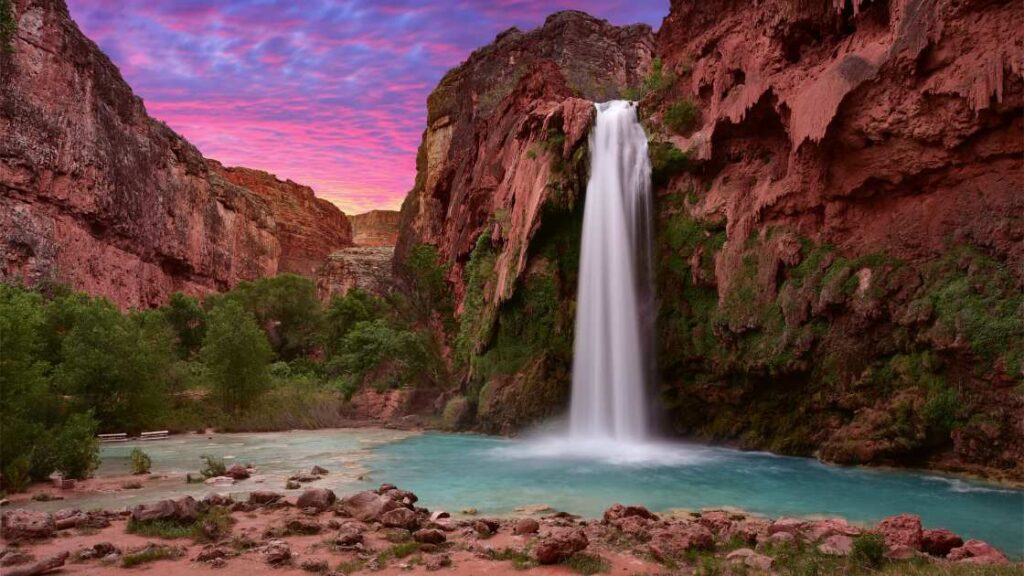 Arizona has five stunning waterfalls, the most impressive of which is the 100-foot Havasu Falls. You must plan and get ready for a challenging 10-mile journey there AND back. To access these stunning waters hidden away within the Grand Canyon.
The environment is incredibly wild, without any roads, and has deadly desert weather. The trek is logistically challenging as a result of all of this, but it is still a great adventure.
The Havasupai Lodge is located just two miles from the falls if you don't enjoy hiking and camping. You may opt to attend a planned tour as an alternative to hiking. Another option is to hire a helicopter to get a true bird's eye view.
Hanging Lake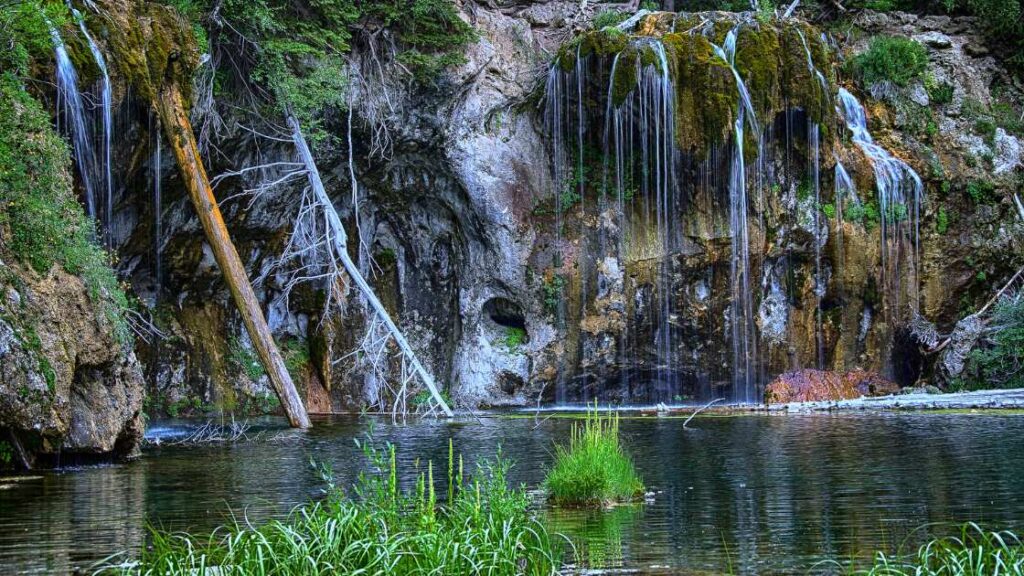 You can see lovely waterfalls in alpine-like settings by traveling north to Colorado. With its green waters and lush surroundings, Hanging Lake appears to be in another world.
There is a steep but brief climb needed to get there from Glenwood Springs, Colorado, which is only 10 miles away. When you arrive, you will see pretty falls over pristine waters.
There isn't any swimming here, but you can take as many shots as you like. Dogs are not permitted on the trail either. Permits are also necessary for Hanging Lake.
These precautions ensure that the place remains as naturally beautiful as possible so that others can enjoy it. When making travel plans, you should visit their website.
Buttermilk Falls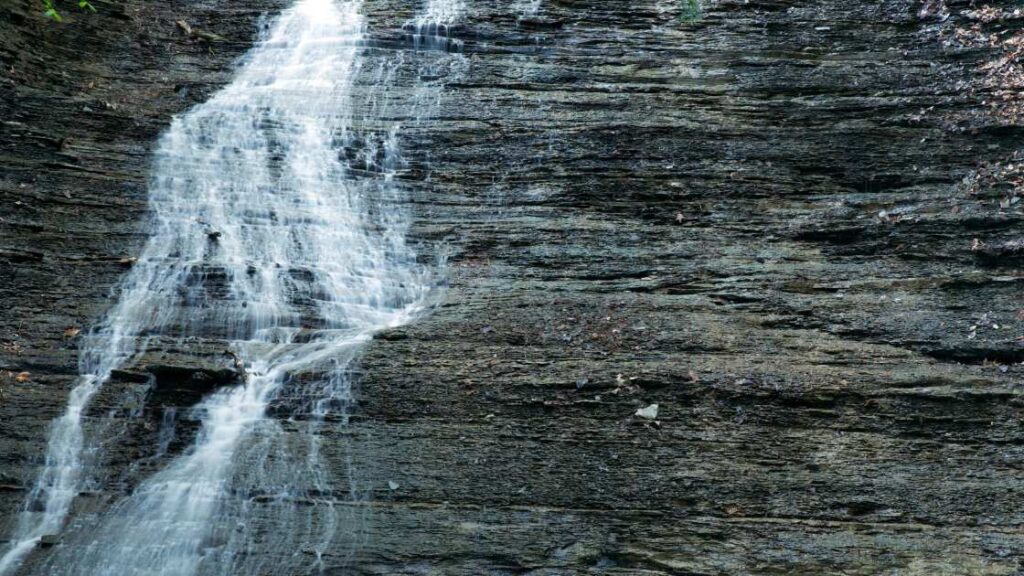 One of our favorite waterfalls in New York State is an undiscovered wonder! Not only is it a short climb, but you also travel past rock formations that look like they belong in Jurassic Park or a Caribbean rainforest. Who knew this could be found in New York?!
From the park's entrance road, you can see a swimmable waterfall, but if you continue walking along the route, you'll encounter some of the most stunning swimming holes and waterfalls throughout the 2-hour round journey. To enjoy a cool swim, don't forget to bring a towel and a swimsuit.
Ruby Falls, Tennessee
Ruby Falls is a famous tourist destination in Chattanooga. The location of Ruby Falls inside Lookout Mountain's underground chamber makes it particularly special. You'll need to buy tickets online to enter and experience this beautiful place.
You can visit the Falls on a guided tour with your ticket, which starts with a 260-foot elevator fall. When you reach the bottom, you will discover the biggest underground waterfall that is accessible to the general public in the entire country.
Amazing natural treasures like rock formations are all around it. This is something that you can also encounter on a lantern tour, during which the only lights in the cavern are the participants' handheld lanterns.
Kanarra Creek Waterfall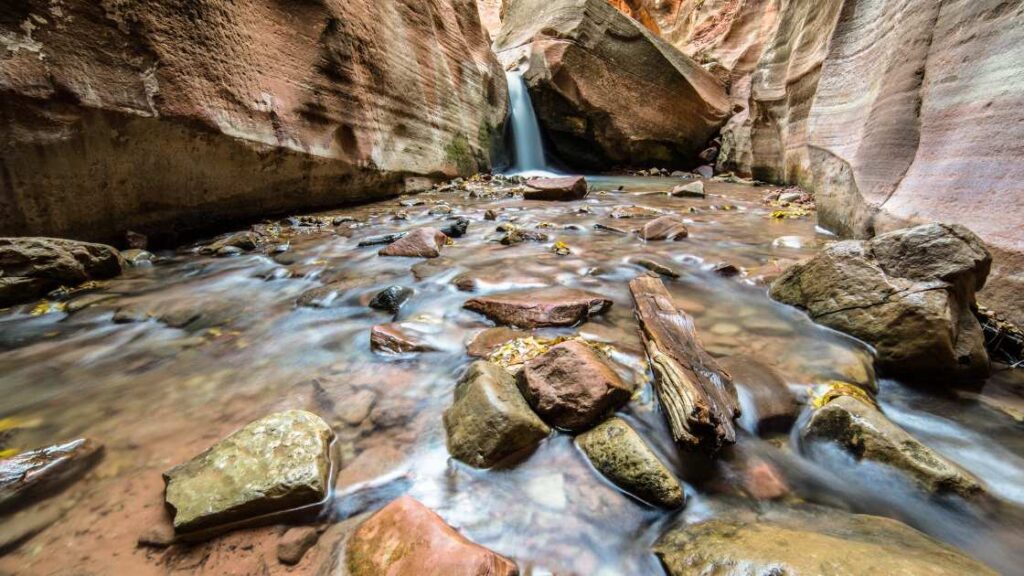 A trip to Kanarra Falls is nothing less than an adventure. You must wade through the water, climb a ladder without handrails, scale a boulder, and squeeze through a slot canyon to reach Kanarra Falls.
Additionally, there is a considerable risk of flash floods. The reward, though, is worth it because you'll get to view a beautiful waterfall, a pool, and a natural water slide.
Although the 15-foot-tall cascades aren't particularly tall, the surrounding area's breathtaking beauty and high canyon walls set this place apart from the rest. The hike is limited to 150 hikers per day. Hence, you need to buy your tickets well in advance.
Sol Duc Falls, Washington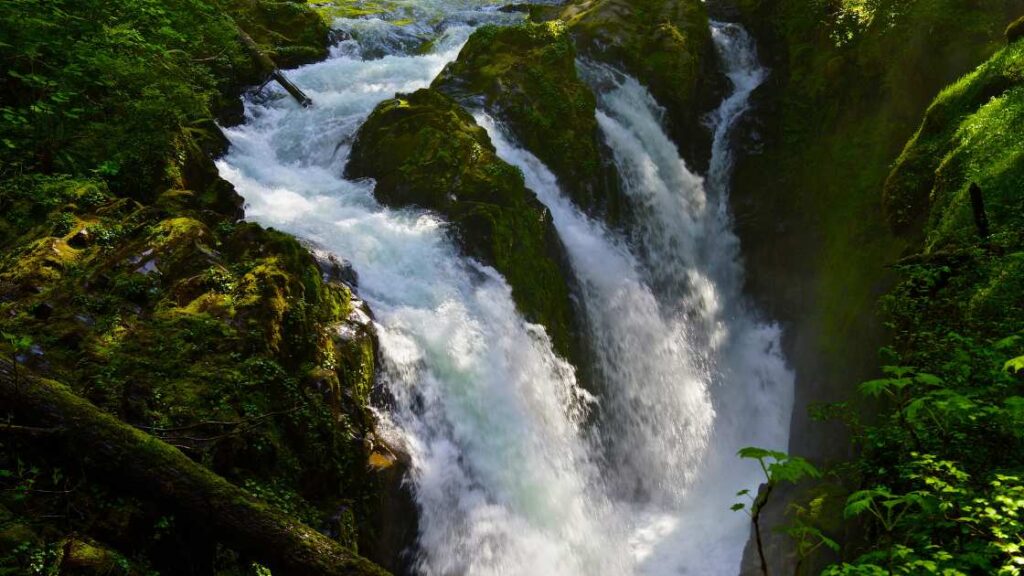 Sol Duc Falls, in Washington State's Olympic National Park, is among the most spectacular waterfalls in the world. It's a must-see on every road trip through Washington State.
The 1.6-mile out-and-back trip to the falls is pretty simple. In addition, the hike is particularly beautiful because it takes you through a thick rainforest environment to the falls.
When you arrive at the falls, you can see them from above while standing on a stunning bridge as they drop about 50 feet into the canyon below. Olympic National Park has an entrance fee.
The cost varies according to the kind of vehicle you are driving and the number of passengers onboard. It is also recommended that you purchase your pass online through the National Park Service.
Frequently Asked Questions:
Q: What time of year is perfect for experiencing waterfalls in the US?
A: It depends on the waterfall you are planning to visit. However, in most of North America, waterfalls would flow best in the Spring.
Q: Which is the best and the most popular waterfall in the US?
A: Niagara Falls is indubitably the most lovable waterfall in the US. It's the huge amount of water flowing from unbelievable heights that makes it so breathtaking. Tourist travel from far countries to see the water white as snow flowing so magnificently.
Q: What should we carry while going trekking to a waterfall?
A: You should definitely wear good quality shoes which have good grip. The routes leading to the waterfall are often slippery. Make sure you also have leech protection or first aid, just in case. You can carry rain protection for your backpack, camera, mobile, and of course yourself!
Conclusion
This is hardly the end of the list. Hamilton Pool, Pigeon River Falls, Palouse Falls, Turner Falls (Oklahoma's Tallest Waterfall), and many more waterfalls can be found throughout the United States.
You can even plan a vacation to New York and visit around six waterfalls located in New York itself. When it comes to waterfalls, the United States possesses the most incredible and outstanding views. If you enjoy traveling, these locations are undoubtedly worth seeing.
Also read: 3 Fun Things To Do In Arizona