South Dakota is a small western US state which is known for Mount Rushmore. The name Dakota is basically a native Indian word and stands for "friend." The plains of Dakota are nothing but badland topography. A lot of people visualise the state very differently than what it actually looks like. Despite what one may think, Dakota is a very beautiful state and has some of the most amazing terrains in the country.
Although waterfalls are not the primary thing here and they are very less in number when compared to other states, the ones lying there are just spectacular and leave you breathless for a moment.
The waterfalls in South Dakota might vary in size, location and accessibility but the beauty remains the same. Each one has something different to offer depending upon what exactly you are looking for.
The waterfall areas have beautiful picnic spots, hiking options and many more things to explore. Even if you are someone who likes to sit in nature peacefully, you must visit these falls.
If you are in the state and haven't really done the waterfalling yet, you are surely missing out on a lot of fun.
Here is a list of some of the best waterfalls in south Dakota.
Sioux Falls
The best part about Sioux falls is that you don't have to walk a lot to reach here as it lies right in the middle of the city. There is also a 128 acre falls park which is the highlight of this place. You will easily find so many prime viewing points to look at this beauty. You can take as many pictures you want and enjoy your time out there in nature.
Things to do near the falls
This place offers a variety of activities to do around the waterfalls. You can take a 34 miles long trail that goes ahead along the river. There is also a guide provided if you want one to simplify the route for you. Apart from walking and capturing eye soothing moments, you can also eat.
Bridal veil falls
This one lies in the Bridal Hills like many other waterfalls and is located in Spearfish Canyon. The height of the falls is around 60 feet and is very accessible. The parking area is provided here, you will also find a very nice observation deck next to the falls which helps get a better view. The water flow is higher in spring which is why it is advised to visit the falls during this time. It is just 25 minutes away from Spearfish, South Dakota.
Things to do near Bridal Veil falls
There are many other waterfalls located near the Bridal Veil and you can view them all by taking the scenic drive through the canyon. If you like hiking, this is the best spot for you and one can also generally explore more of Black Hills National Forest.
Roughlock falls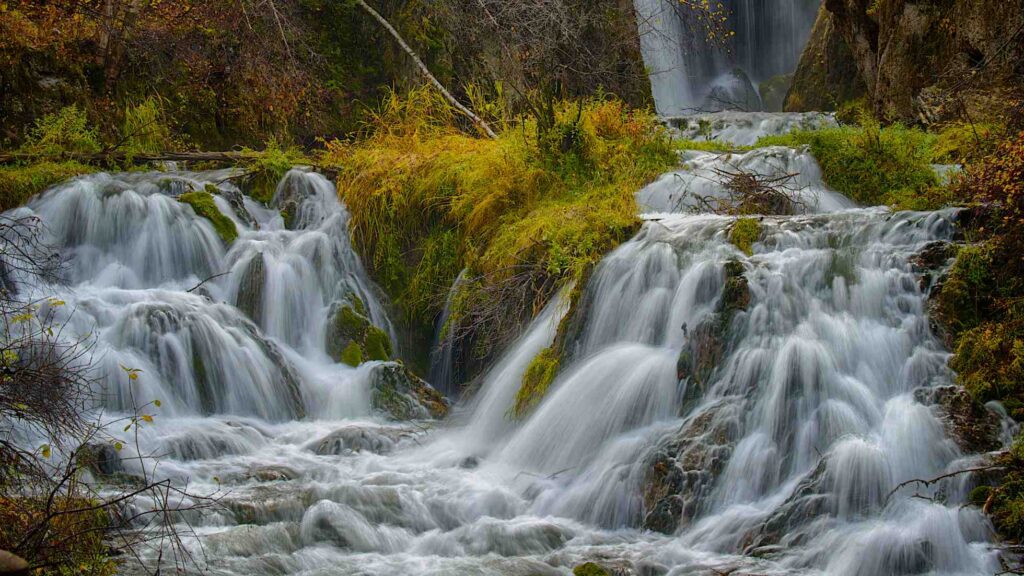 Roughlock falls is also located in Spearfish Canyon. It is a multi – tiered waterfall which throws a very beautiful view falling down. One can just stop by and enjoy the soothing sounds of gushing water. For public convenience, there is a restroom available. There are so many outdoor activities one can indulge in here, from picnicking to walking trails, everything is perfectly appealing and enjoyable.
Things to do nearby
Apart from roughlock falls, there are other three waterfalls located nearby, you can visit them as well. There are Spearfish waterfalls, devil's bathtub and Bridal veil falls.
Spearfish falls
Spearfish falls is also located in Spearfish Canyon, located near the Savoy area. The trail to the falls starts right from Latchstring restaurant, they have also provided an observation deck to get a good view from afar. The height of the falls is around 80 feet and the route to the falls is less than a mile long.
Things to do nearby
You can hike around the falls and move ahead to visit Deadwood, South Dakota for a little bit of historic exploration.
Devil's Bathtub
This is another waterfall in Spearfish Canyon and located near Bridal Veil falls. The hike to the falls is just over a 1.5 miles round trip which makes it very accessible for the people of all ages. The waterfall makes a gorgeous bathtub shaped pool at the bottom.
Things to do nearby
You can also visit the other waterfalls on the Spearfish Canyon scenic byway. Picnicking and hiking is always an option here. It is an amazing place to have a peaceful day out.
Grizzly bear falls
This one is a very small yet beautiful waterfall, it is very close to Mount Rushmore and the hike to reach here is absolutely gorgeous itself. The waterfall is exactly located on grizzly bear creek. As the water flow is better in spring, it's good if you visit the fall during this time to get an even more beautiful view.
Things to do
As the waterfall is very close to Mount Rushmore, you get an opportunity to take the side trip. Crazy horse and black Elk Peak is also nearby and you can consider exploring these as well
Devil's Gulch
This beautiful cascade waterfall is located along the Split Rock creek. There are several hiking spots that you can consider taking, you will take a better view of the falls from the Devil's Falls Crossbridge.
Things to do
You can visit the Palisades state park which is just to the south of Devil's gulch. If you have enough time, you can also consider visiting Sioux Falls which is just 30 minutes away from here. It is a very nice location to chill and have fun with your friends and family. You also get a chance to mingle with nature for a while which helps you rejuvenate for sure.
Cascade Falls
This one's located near hot springs, South Dakota. It is a very beautiful spot to have fun in the summer months. The Cascade fortunately creates an amazing swimming area which makes this place very special. The area is surrounded by vegetation which gives a very beautiful natural look to this place.
Things to do nearby
You can visit the nearby town to experience hot springs and also explore Wild Cave National Park and the Mammoth Museum Site. This place also brings you very close to Mount Rushmore, Crazy Horse, Custer State Park and Rapid city which floods you with multiple outdoor options available.
Hot springs waterfall
Hot Springs waterfall is very close to Cascade Falls. It is located right in the middle of the town in centennial Park. You can take the freedom trail to enjoy the waterfall. It is a picturesque location with amazing views that you can enjoy from many prime viewing points. One can visit here with family, friends and even alone to spend some time with nature.
Things to do
Apart from relaxing in the hot spring, one can also check out the Mammoth Site Museum, and visit the Cascade Falls for swimming. If you have enough time, The Wind Cave National Park is also nearby which us good site to explore
Hippie Hole
Hippie Hole is an absolutely gorgeous waterfall but the only problem with this place is rough dirt roads that need good vehicles to handle them. The trail is only 0.6 miles long and doesn't take much, you only have to hike a little and you reach there in no time. You can also take a swim at the base to cool off.
Things to do
Hippie Hole is just about 10 miles away from Mount Rushmore which means you are very close to all the activities in the Black Hills National Forest. There are also several other waterfalls like Crazy Horse, Black Elk Peak nearby.
The bottom line
Although South Dakota has very rough terrain, it still offers a variety of natural wonders in and around the state. You won't find so many waterfalls here but this makes the existing falls even more precious and scenic.
Some of them are located very close to each other and that makes it easier for people to cover them all in one go. Outdoor activities like picnicking, hiking, nature walks and swimming, everything can be easily done around the waterfalls area.
Even if you like to explore the wilderness, these waterfall areas are the best sites to do that as well. All you need is a little bit of free time and the willingness to let yourself be lost in nature for a while. 
Also read: 15 Best Waterfalls In New Hampshire