Lyon was established by Romans 2,000 years ago and flourished during the Renaissance as an essential hub of silk trading.
Due to this unimaginable wealth, many bankers and merchants built extravagant palaces and manor homes across its hills – today known as "Vieux Lyon", representing the heart of the historical city.
Lyon has long been known as France's Capital of Lights due to the vibrant lighting at night on many famous tourist spots.
Lyon boasts world-class museums and traditional Bouchon eateries that shed light on Lyon's role in cinema history and resistance, earning its nickname as France's Food Capital.
Lyon, France's third-largest city, offers visitors an unforgettable cultural experience and will make you wish to live there permanently!
Here is our pick of the 10 best places to visit in Lyon, France, and activities you should try while exploring this lovely city.
Basilique Notre Dame
Basilique Notre Dame de Fourvière is an icon that stands for both past and present. It played a pivotal role during both French-Prussian Wars (1870-1871).
Notre Dame stands on Fourviere Hill – one of Lyon's most luxurious areas – as a great church dedicated to Mary, mother of God, in honour of protecting Lyon during that conflict and has since been a symbolic representation of its religion well as culture and identity.
The Basilica's architecture combines Neo-Byzantine and Neo-Gothic features. Designer Pierre Bossan developed the idea, and as a result, an eye-catching structure with intricate details, lavish decorations, and vibrant hues was constructed.
The Basilica is home to several museums, like the Museum of Sacred Art and Lyon History, that showcase impressive collections of sacred art and historical objects like documents.
Basilique Notre Dame de Fourviere has been essential in Lyon and its culture since its construction. As an ideal tourist and local landmark, visitors and residents come here to take in the stunning views of the Alps and Mont Blanc.
This venue hosts various cultural and musical celebrations and religious ceremonies throughout the year, and visitors are allowed to take part in them.
Vieux Lyon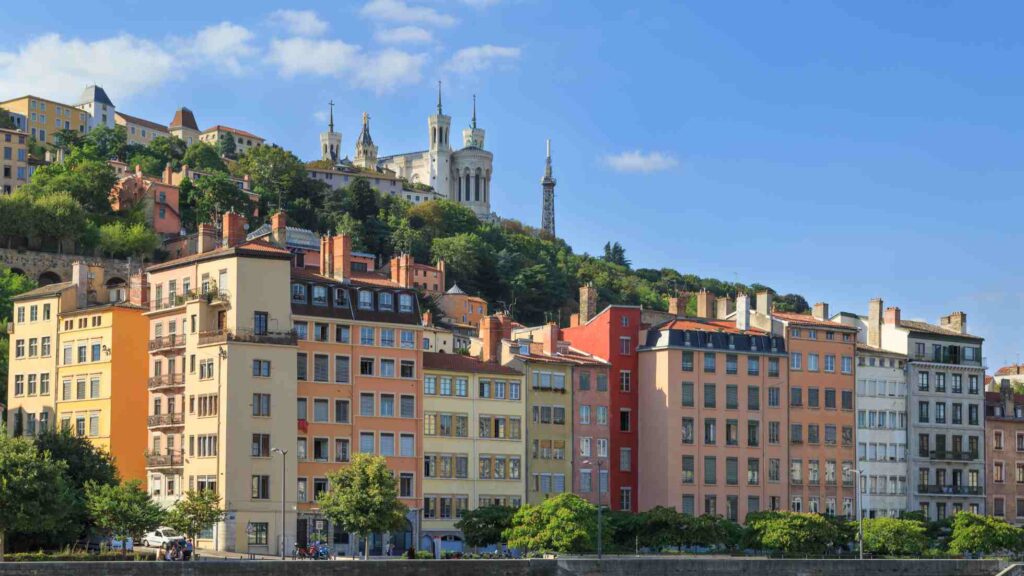 Vieux Lyon (Old Lyon), France, is the historic district on the west bank of the Saone River that is famed for its well-preserved Renaissance architecture. Most structures built during the Renaissance period feature distinctive architectural features like spiral staircases and elaborate exteriors.
At one time, Vieux Lyon was an important hub of trade and commerce and home to silk industry businesses. The wealthy Italian, German and Flemish merchants who settled here built Renaissance-style houses that housed family-run bars, cafes and bakeries.
These stunning buildings exude beauty and appeal and are the main attraction of Vieux Lyon. The charming old buildings are tightly packed between Fourviere Hill and Saone River.
Popular landmarks in Vieux Lyon include Lyon Cathedral, Musee Gadagne, and Maison des Avocats. Traboules, another favourite attraction, are secret passageways that allow visitors to discover hidden places within Vieux Lyon.
Vieux Lyon has also been recognized as a UNESCO World Heritage Site.
Parc de la Tete d'Or
Parc de la Tete d'Or is France's largest urban park covering an area of approximately 117 acres in Lyon, France. This spectacular space is famous for its beautiful scenery, diverse species of animals and plants and long history.
Its name, "Tete d'Or", means "golden head," possibly alluding to an ancient legend surrounding hidden treasure within its boundaries.
This park was founded during Napoleon III's rule during the late 19th century.
English gardens inspired the design. This massive lake provides habitat to numerous waterfowl and boating and fishing experiences.
Furthermore, this park houses an extensive zoo, flower gardens, rose gardens, African plains, and botanical gardens, which house more than 16,000 different plant species and over 1000 animals (including rare and endangered ones) within their confines.
The park was designed in English style. Hence, it features vast expanses of lawn with grassy edges and paths lined with trees spanning intricate bridges, statues and fountains that add ornamentation, making the park attractive and beautiful.
The Parc de la Tete d'Or is an important historical and cultural attraction located in Lyon that attracts millions of visitors annually and is perfect for families, tourists and locals alike.
Museum of Beaux-Arts in Lyon
The Musée des Beaux-Arts de Lyon, more commonly known by its French name, The Museum of Fine Arts of Lyon, is widely considered one of France's premier art museums and stands as an icon.
Since 1801 the museum has been housed in an exquisite 17th-century building called Palais Saint Pierre. The architecture in this structure is primarily Baroque, with intricate columns and breathtaking stairs.
The building has a fascinating history. It was established to conserve the city's natural treasures during the French Revolution when the nuns were expelled from the city.
Musee des Beaux-Arts de Lyon boasts an incredible collection of over 70000 pieces of art spanning across multiple periods and featuring works by Rembrandt, Monet, Picasso and van Gogh among many other acclaimed artists.
There is also an Italian Renaissance art section and French and Flemish artwork collections in its impressive holdings. The Musee des Beaux-Arts de Lyon is an iconic landmark and must-see attraction in Lyon for anyone interested in art and culture.
Place Bellecour
Place Bellecour in Lyon is one of the city's most beloved landmarks, revered for its historical importance, aesthetic design, and cultural relevance. It is the largest pedestrian square in Europe.
Built at the end of the 18th century by Ange-Jacques Gabriel, it is one of France's premier cultural spaces named in honour of General Duke Bellecour, who played an essential part in establishing Paris as an influential cultural hub during the 17th century.
A neoclassical architectural style, luxurious facades and grand landmarks characterize Place Bellecour. Its focal point is a giant Louis XIV statue seated on horseback, considered one of France's most impressive public art pieces.
Place Bellecour is an important landmark and a popular tourist and local destination. Its proximity to Lyon's luxury shopping district attracts most visitors.
Musée des Confluences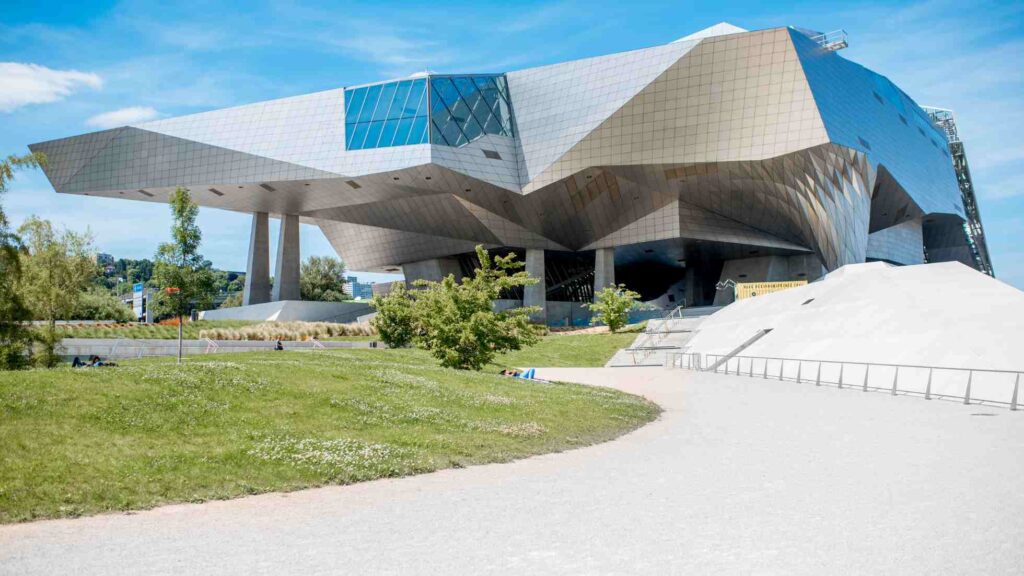 The Museum of Confluences is an innovative science and anthropology museum situated near the confluence of the Rhone and Saone rivers in Lyon, France. This historic institution boasts excellent cultural value and stunning contemporary architectural design features.
The museum opened its doors to visitors in 2014 and features an exquisite and modern design by Austrian architectural firm Coop Himmelb(l)au.
The Musee of Confluences is dedicated to exploring human knowledge and our natural world. At its heart, The Museum of Confluences exemplifies Lyon's commitment to innovation and the preservation of cultural heritage.
Their permanent collection contains more than 2 million items, such as fossils from natural history, archeological artefacts, cultural artefacts, and historical documents from across the globe. Their four main exhibits cover the origin of life, its meaning, the variety of species and societies, and various visions of the future.
The Museum of Confluences has become an iconic landmark of Lyon, drawing visitors from around the globe.
Croix Rousse
Lyon was home to silk production during the 19th century, making the region an integral part of the culture and economic development. Silk workers in Lyon were known as cants.
Canuts played an essential part in Lyon's culture and economic success, and their presence is still felt today.
Croix-Rousse district showcases a mural that depicts the heritage of the neighbourhood. The mural is painted in trompe-l'oeil style, and the scenes illustrated blend seamlessly with the surroundings.
This architectural gem challenges visitors to determine the line between art and reality. It was first painted in 1987 and has been revised several times to reflect and match the changes made to the nearby structures.
Les Halles de Lyon Paul Bocuse
Les Halles de Lyon Paul Bocuse is an iconic indoor market in Lyon, France, that bears his name. Paul Bocuse was a world-renowned restaurateur and chef who became one of France's foremost culinary masters, known for creating delicious French cuisine dishes.
The significance of this market lies in its long history as one of the city's main food markets.
After experiencing significant transformation during the late 1970s, it became an exclusive food and drink market that draws top food producers worldwide as regular visitors.
Les Halles de Lyon Paul Bocuse has become famous for its wide range of premium local products such as cheeses, meats and gourmet foods.
The look and design of the market are modern and minimalist. Large windows let light in to create a bright open space. It is accessible even for people with disabilities, making this market genuinely inclusive and welcoming to all visitors.
Cathedrale Saint-Jean-Baptiste
Cathedrale Saint-Jean-Baptiste, commonly called Lyon Cathedral, is a Roman Catholic cathedral with significant past and present importance.
The cathedral was constructed over 300 years, and the style of each construction period can be seen in its structures.
The Interior and exterior boast stunning vaulted ceilings with stained glass windows dating back to the 1200s and intricate carvings and sculptures for a fantastic result.
The 14th-century astronomical clock was a technological triumph for the time. The magnificent cathedral organ was reconstructed in the 1800s and later updated with three keyboards and 30 stops.
Since its construction, Lyon Cathedral has played an essential role in Lyon's religious and political life.
Over its long history, it has hosted several significant events, such as Louis VII of France's coronation celebrations in the 12th century, the baptism ceremony for King Henry IV of France during the 16th century, and numerous critical religious occasions or pilgrimages.
Visitors can also visit the archeological garden next door that features remains of 4th-century buildings that occupied the site before the cathedral's construction.
Traboules
Traboules, or passageways, are distinguishing characteristics of Lyon, France. Conceived to serve as shortcuts between buildings within a historic neighbourhood and each other, traboules played a pivotal role during World War II as rebels sought refuge within these passageways from German invaders.
Traboules date back to the 4th century. At first, traders used traboules to transport goods around their city without traversing jam-packed streets.
As time progressed, they evolved further, becoming more elaborate and interconnected and eventually being used by silk weavers and traders across town. Today most traboules are on private property and serve as entrances to local apartments.
They have become a top-rated tourist attraction and are an integral part of city culture, offering visitors an experience they will remember. Visitors can explore courtyards, passageways, and courtyards adorned with Renaissance and Gothic architectural features.
Conclusion
Finally, we would like to add that Lyon, France, makes for a worthy visit with its serene landscape and lovely ambience and architecture. Visitors can take their time to stroll through the city and hear the cultural and architectural history narrated by the old buildings.
Also read: 15 Best Romantic Getaways In Oklahoma