Rotterdam is the second-biggest city after Amsterdam. It is located in the southern region of the Netherlands. Rotterdam has long been a prominent port on the Rhine-Meuse delta of the Rhine-Meuse-Scheldt river system.
Rotterdam has been an important port for the Dutch East India Company since the 1300s. During World War 2, Rotterdam was heavily bombed. Most of its central area was almost entirely destroyed, but over time, this once decrepit city slowly rebuilt itself into an impressive modern port city.
Rotterdam's best feature is its beautiful historic cobbled streets, museums and trendy new places that offer something different. Plus, it is filled with Dutch charm and humour.
If you are also planning a trip to Rotterdam, we have curated a list of 15 best things to do in Rotterdam. You can use this as a guide to help you traverse the city easily.
Cube Houses
Rotterdam's Cube Houses are captivating architectural marvels. These houses were created during the 1970s by architect Piet Blom and featured distinctive cube-shaped houses tilted at a 45-degree angle.
These cubes are a really interesting concept and are unlike anything you will usually see. As bizarre and eccentric as they look, the homes were constructed on top of the pedestrian bridge, each comprising three stories with a sloping roof and glass walls for walls.
These houses' bold white and yellow designs stand out beautifully against their surrounding environment and look like some old 2D computer game from afar.
One of these cubes is open to the public, and you can observe its groundbreaking design and appreciate the bold thinking involved in its creation.
Bicycle Tours
Rotterdam bike tours are an excellent way to experience this fascinating city. On bike-friendly paths, when pedalling, you will feel a cool breeze -along with the smell of freshly-baked bread and port air- brush across your face.
Meanwhile, the sun provides warmth and invigorates your spirit. Ringing bells and laughter fill the air, mixing with the buzz of city life.
Vibrant buildings and striking street art pass you by as you weave through bustling streets.
Discover new sights with every turn your cycle takes. Cycling tours are an immersive way to get acquainted with the city!
Markthal
Markthal, Rotterdam is an architectural masterpiece, boasting function, aesthetics, beauty and art all rolled into one impressive space. This impressive horseshoe-shaped structure was built in 2009 and features an open glass facade that lets natural lighting fill its interior.
Its ceiling features an impressive mural by Arno Coenen depicting fruit, vegetables, flowers and insects.
At its heart lies a vibrant market filled with vendors selling fresh vegetables and fruit, gourmet cheeses, seafood, meats and other goods.
Surrounding this bustling market are numerous bars, restaurants, and cafes serving local specialities while serving refreshing beverages
Rotterdam Boat Tour
Rotterdam boat excursions allow visitors to view Rotterdam Harbour from an entirely new vantage point. The port is huge and too extensive to walk around it.
The boat tour will provide a comfortable way to traverse it, and you will learn a lot about the city from the tour guide.
As you glide along the water, a cool breeze caresses your face, carrying the smell of sea air and harbour with it. The engine's gentle pulsing provides a very different sort of calm.
As the boats float, tall cranes, massive cargo ships, and lively houseboats present an unforgettable view of Rotterdam's marine heritage.
Boat tours offer one of the best and most intimate ways of experiencing Rotterdam, and on the waterfront, you will catch glimpses of some of the city's iconic structures.
Rotterdam Zoo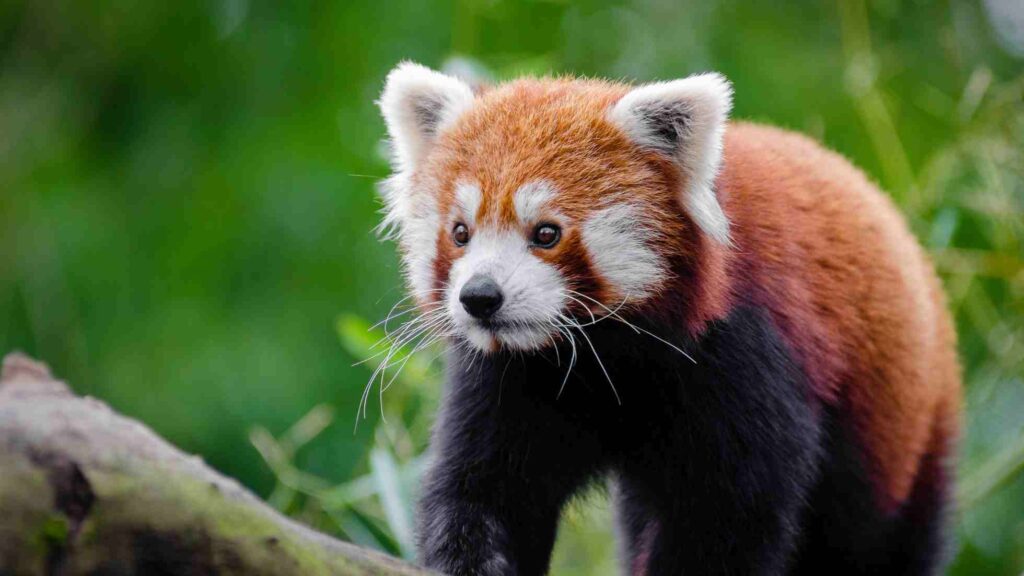 Rotterdam Zoo is also known as Diergaarde Blijdorp and offers dynamic and entertaining attractions for people of all ages and experience levels.
Rotterdam Zoo had to change its location several times during WWII to escape the bombing. Since then, however, the Rotterdam Zoo has continued to flourish and boasts of botanical gardens and an Oceanium.
The zoo also operates programs to help endangered species, such as red pandas.
The zoo features numerous themed areas such as Chinese Gardens, Malayan Forests, Mongolian Steppes, and Crocodile streams. Some of its animals include Black Rhinos, Greater Kudus, Sumatran Tigers, Asian Elephants, and Amur Leopards. You will be lost for hours amongst many enclosures and interactive features.
Euromast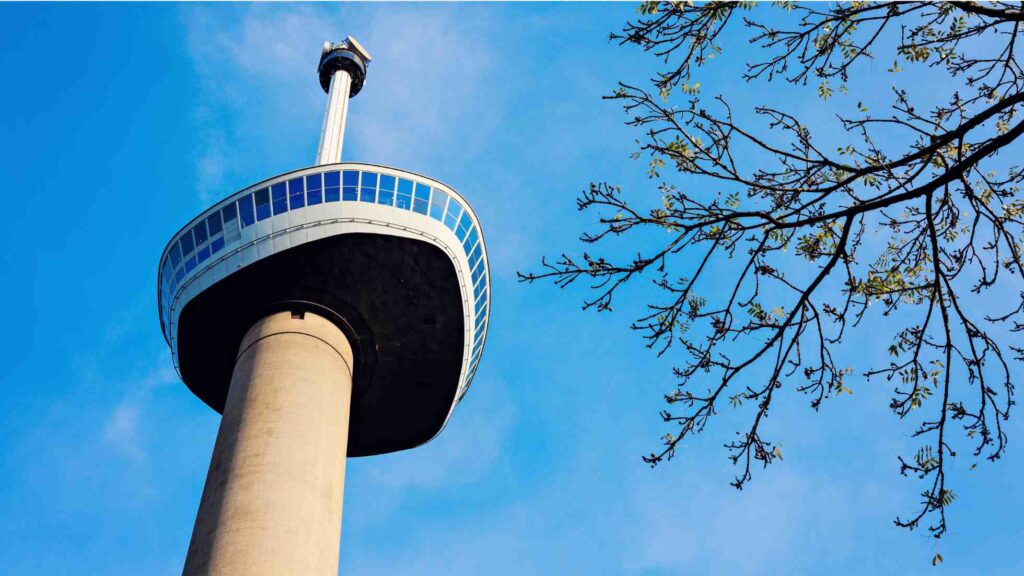 Euromast Rotterdam is an architectural marvel that provides panoramic views of the Rotterdam Cityscape. It is an observation station and was constructed in 1960.
The views from above the tower are absolutely spectacular and show off all of the sprawling city skylines in their full glory.
As you gaze across green parks and vibrant urban streets, you feel the wind on your face bringing all kinds of urban noises of cars, bells ringing out loudly, and people walking by.
The entry fee is modest. The tower's rotating restaurant provides an extraordinary dining experience thanks to its lavish decor, tasty cuisine, and jaw-dropping views.
You can also Zip-line or Abseil from the tower for some adrenaline rush.
Museum Boijmans Van Beuningen
The Boijmans van Beuningen Rotterdam is a renowned art museum which houses an expansive collection of artefacts dating back centuries and from various cultural backgrounds.
Elegant and contemporary architecture provides a stunning setting for the museum's renowned art collections.
From classical sculptures to modern installations, the museum boasts an expansive and diverse collection of iconic artists such as Vincent van Gogh, Salvador Dali, and Piet Mondrian, among many others.
Notable pieces include "Couple with their heads full of Clouds" by Dali and "Tower of Babel" by Pieter Bruegel.
The museum also boasts an extraordinary collection of decorative art that includes intricate furniture pieces and ceramics, textiles and other objects that showcase exquisite artistry from past centuries.
Museum visitors enjoy the peaceful and restful environment as they wander leisurely through gallery spaces, appreciating each artefact's magnificence and splendour.
Inside the museum's walls are bookshops and cosy cafes where visitors can unwind after viewing breathtaking art collections.
Erasmusbrug Rotterdam Bridge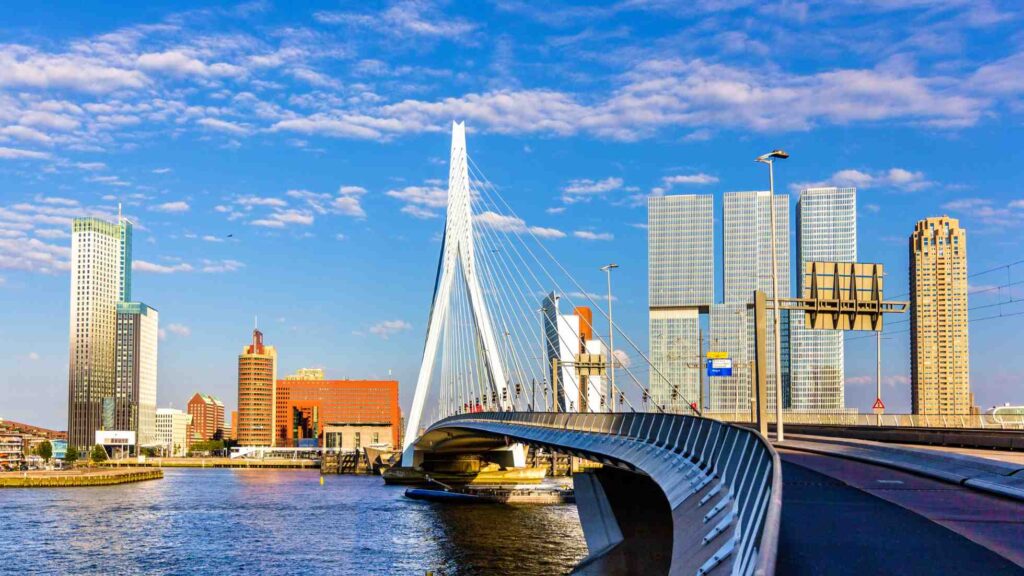 Erasmusbrug Rotterdam Bridge spans the Nieuwe Maas River, a distributary of the Rhine and links its northern and southern portions. The bridge stretches an impressive width of 802m, thus making it the second-largest bridge in the Netherlands.
The bridge is also called Swan due to its large upright mast. It is an iconic structure that is one of Rotterdam's signature landmarks.
It is a testament to both its modern aesthetic and forward-thinking nature. From the bridge, one can marvel at an expansive city skyline stretching before them in glorious splendour.
The Bascule section in the middle of the bridge opens to give passage to the larger ships. As you approach the bridge's other end, you're welcomed by an energetic and vibrant scene featuring numerous cafes, shops and eateries along its banks.
The Erasmusbrug Rotterdam is an impressive art and engineering feat that creates a fantastic view of Rotterdam City as an ode to its visionary and ambitious spirit.
Stroll Around the Delfshaven Neighbourhood
Rotterdam's Delfshaven neighbourhood provides a sensory journey into its rich cultural legacy, as its cobbled streets boast charming cafes, charming shops, and vibrant buildings.
This neighbourhood's vibrant history can be seen through its well-maintained structures and monuments.
Notably, a windmill is located here, which is an enduring testament to Delfshaven's rich history and pioneering spirit! Delfshaven Windmill is an iconic feature, boasting its towering sails that sail gracefully in the wind.
At nightfall, Delfshaven Neighborhood comes alive with the warm glow of streetlamps and the soft sound of conversations.
Kunsthal
Kunsthal, Rotterdam is an exciting art museum situated at the centre of the Rotterdam city centre. This museum offers an expansive and varied collection of artwork.
With dramatic lines and open spaces that radiate energy and modernity, its sleek and modern style offers the ideal setting. As you wander between exhibitions, you'll experience a vibrant and eclectic display of art arranged to achieve harmony and equilibrium.
Kunsthal showcases constantly-evolving exhibits. An eclectic variety of artists and styles ranging from classical sculptures to contemporary works can be seen here.
The collection at the museum has been selected with care to delight and engage visitors, offering each exhibit an incomparable viewpoint on global cultures and lifestyles.
Kunsthal offers a vibrant and engaging museum experience for people from all backgrounds and ages. Visitors can stroll freely among its exhibits discussing each artefact's meaning and significance.
Kunsthal provides an expansive journey into the human imagination's depths. It truly is a masterpiece unto itself.
Witte de Withstraat
Witte de Withstraat is an active and vibrant street and is one of Rotterdam's liveliest spots after dark. Witte Corneliszoon of With is a well-known Dutch marine hero whose legacy exemplifies Rotterdam's rich culture and innovative spirit.
The street's architecture boasts both old and modern historical buildings.
Walking along the streets will reveal an array of boutiques and shops offering everything from luxury fashion to antique finds and local crafts.
Witte de Withstraat restaurants and cafes are some of the most acclaimed on the market, boasting menus featuring international as well as local cuisines while offering exciting and lively atmospheres.
Witte de Withstraat comes alive at night, with live music and entertainment provided by clubs and bars offering various nightlife choices.
Witte de Withstraat serves as an energetic centre of creativity, culture and social interaction, reflecting its rich cultural legacy and modern innovation.
SS Rotterdam
SS Rotterdam is an iconic and historic ocean liner that has been transformed into an impressive floating hotel and tourist attraction. It was initially known as Grande Dame and was constructed in the 1950s.
The SS Rotterdam was finally retired in 2000 and was one of the last lavishly decorated liners. As soon as you board the vessel, you are taken back in time to the golden age of sea travel, complete with grand staircases, luxurious furniture, and extravagant cabins.
History can be seen throughout every room on board this ship, with each corridor conveying tales from its past voyages and future expeditions. Furthermore, its public areas provide an exceptional and luxurious experience, with bars, restaurants and lounges offering luxurious services and refined experiences.
Outdoor spaces on board the ship are breathtaking, boasting expansive decks and providing excellent views of the city's skyline and river.
Kinderdijk Windmills
Windmills are iconic structures that have come to define the magnificent landscape of the Netherlands. Kinderdijk Rotterdam is a small village on the riverbanks near River Lek, just minutes away from its city centre.
This village is home to the iconic Kinderdijk Windmills. The 19 windmills have been restored to their original condition and are a UNESCO World Heritage site celebrating Dutch creativity and engineering excellence.
At the turn of the 20th century, windmills were initially built to drain low-lying polders and prevent flooding. Today, they are iconic symbols of Dutch peoples' ability to adapt and innovate.
Kinderdijk Rotterdam is a stunning town featuring old homes and cobblestone streets that create an inviting and cosy, uniquely Dutch environment.
Rotterdam Philharmonic orchestra.
Rotterdam Philharmonic Orchestra is an iconic orchestra famed for its lively and distinctive approach to classical music. De Doelen Concert Hall is home to the Orchestra of Netherlands Antwerp and is well known for its acoustics and modernist architecture design.
Once inside for a concert, you are immediately charmed by their energy, enthusiasm, and dedication towards their art form. Music fills the space and creates an exhilarating, thrilling, and anticipatory sensation that is palpable.
The orchestra's repertoire ranges from classical to contemporary pieces and is well known for presenting its audiences with bold, innovative programming that regularly surprises and delights them.
Rotterdam Philharmonic Orchestra musicians are world-class and their technical proficiency and emotional depth make for an unforgettable musical experience.
Grote of Sint-Laurenskerk
Rotterdam is home to a magnificent and historic church known as Grote of Sint-Laurenskerk, which is a testament to Rotterdam's vibrant city centre.
Church visitors will immediately notice its striking Gothic structure and majestic church spire, creating an immediate feeling of excitement and reverence as soon as they enter the church. Once inside, visitors are transported back to its earlier period of religious devotion and architectural beauty.
This church's interior is also stunning. It boasts of high ceilings, exquisite stained-glass windows, and intricate decorations that create an awe-inspiring ambience.
Rotterdam's church boasts an illustrious heritage, having withstood bombings and fires over time and is an incredible testament to Rotterdam residents' resilience.
The church is known for its outstanding acoustics, which feature clear sound with great reverberation – making it an excellent venue for concerts and cultural events.
The Bottom Line
Rotterdam is popular amongst the tourists for its vibrancy and numerous entertainment options along with fine gothic architecture and historic museums. Make the most of your time with our list of 15 best things to do in Rotterdam.
Also read: 15 Best Waterfalls In Jamaica