Rich forests and meandering rivers are just a few of the many natural wonders that dot the state of South Carolina. The flowing waterfalls stand out as nature's beautiful masterpiece among its breathtaking scenery.
These captivating falls offer a peaceful retreat, a refuge of tranquility where tourists may lose themselves in the beauty of their surroundings and the music of cascading water.
We invite you to explore the charm and attraction of 15 best waterfalls in South Carolina as we take you on a journey to learn about them in this detailed guide.
Every waterfall on this list has a unique beauty of its own, from massive cascades that plunge into pristine pools to small falls that elegantly drip over moss-covered rocks. Beyond their obvious beauty, these waterfalls provide a chance to interact with nature and create everlasting memories.
Whitewater Falls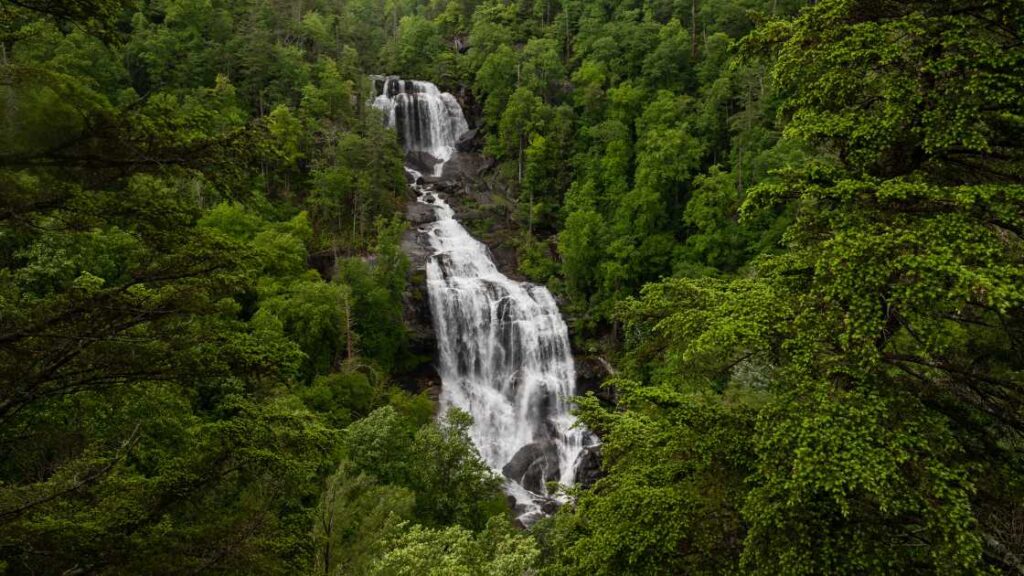 In the Jocassee Gorges area, Whitewater Falls is a must-visit waterfall that offers a stunning sight. With a total drop of 811 feet, it is the highest waterfall east of the Rocky Mountains. The 1.9-mile round-trip distance of the trail to the falls offers breathtaking views of both the top and lower falls.
While visiting, be sure to explore the nearby Gorges State Park, which offers excellent hiking trails and picnic areas. Whitewater Falls has also been featured in movies like "The Patriot" and "The Hunger Games," which increases its allure.
Raven Cliff Falls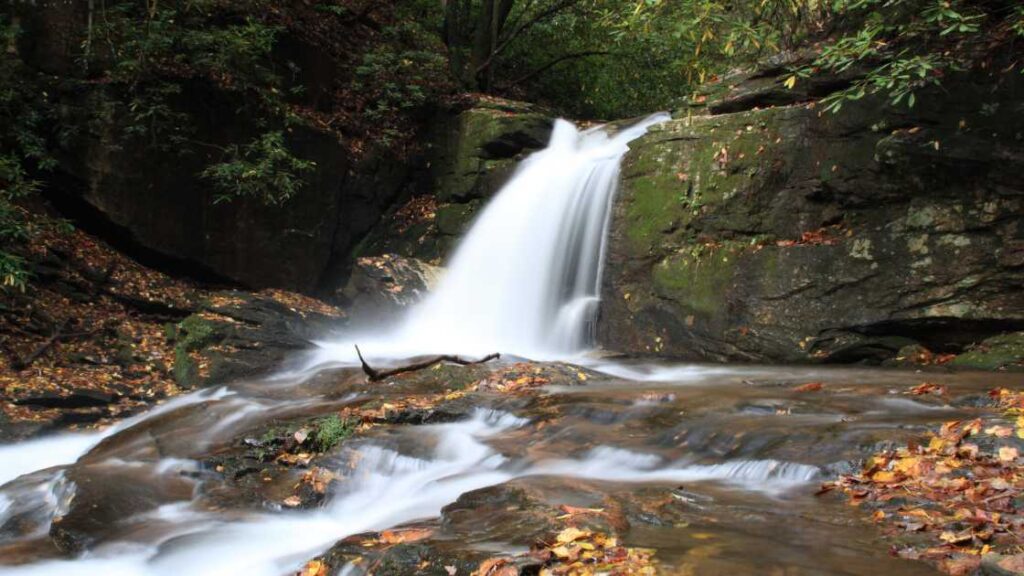 Raven Cliff Falls is renowned for its unique feature of disappearing into the cliffside before re-emerging further downstream, creating a fascinating natural phenomenon. Situated in Caesar's Head State Park, Raven Cliff Falls presents a mesmerizing 400-foot cascade amidst a lush forest setting.
The moderately challenging 4.8-mile round-trip trail rewards hikers with stunning views of the falls. Visitors can enjoy their time at the waterfall camping, fishing, and exploring the park's scenic overlooks.
Falls Park on the Reedy
Nestled in downtown Greenville, Falls Park on the Reedy is a beautiful urban oasis featuring a picturesque waterfall. Falls Park on the Reedy is renowned for its magnificent waterfall and the unique Liberty Bridge that crosses the park and gives tourists sweeping views of the falls.
The Liberty Bridge provides an excellent vantage point to view the falls. This park offers a peaceful retreat in the middle of the city with walking routes, gardens, and public art pieces.
Rainbow Falls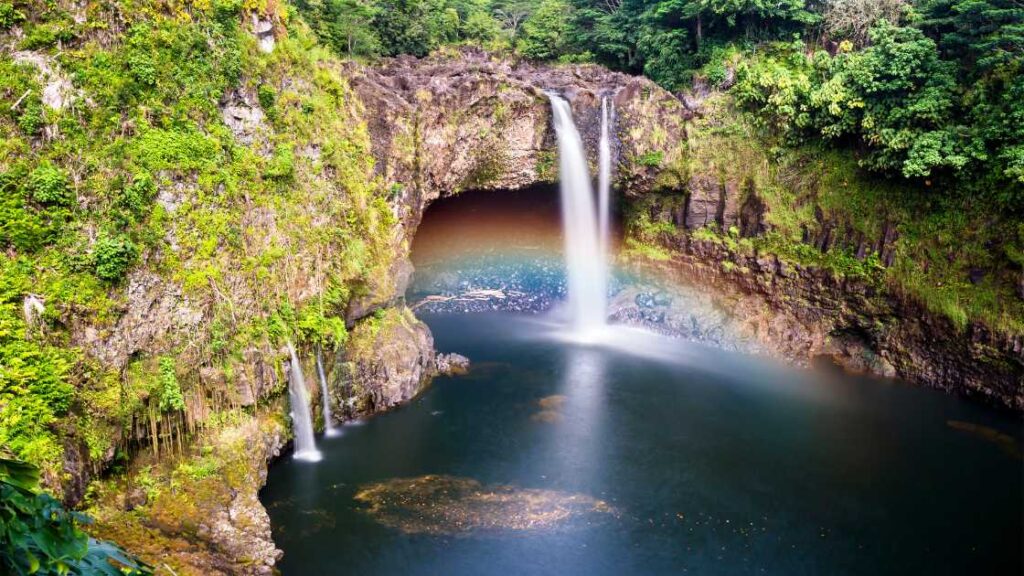 Located in Jones Gap State Park, Rainbow Falls boasts a magnificent 100-foot drop into a large pool below. Rainbow Falls derives its name from the vibrant rainbows that often form in the mist created by the cascading water, making it a photographer's paradise.
The 2.2-mile hike is moderately challenging but rewards hikers with stunning views of the waterfall and surrounding landscapes. After exploring the falls, visitors can continue on the trail to reach other nearby waterfalls, such as Jones Gap Falls and the stunningly beautiful Cathedral Falls.
King Creek Falls
Nestled within the Sumter National Forest, King Creek Falls offers a peaceful retreat with a 70-foot cascade and a serene forest setting.
The 1.7-mile round-trip trail is appropriate for families and novice hikers because it is reasonably straightforward.
There are chances for camping, fishing, and swimming in the park's lake at the neighboring Oconee State Park. King Creek Falls offers a hidden treasure—an enchanting swimming hole at the base, allowing visitors to cool off and enjoy the refreshing waters surrounded by nature's serenity.
Secret Falls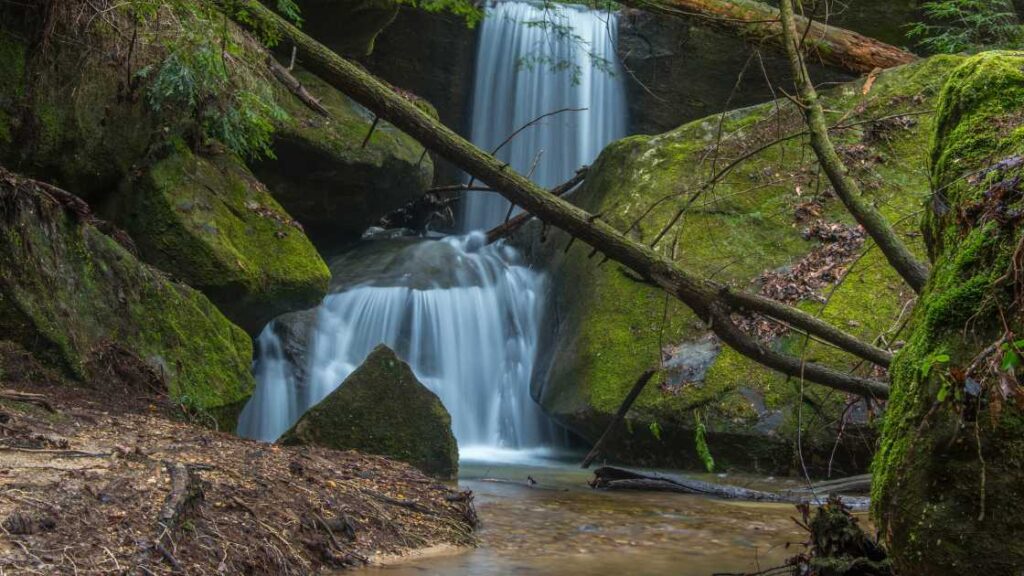 Hidden within the stunning Lake Jocassee, Secret Falls is a true gem accessible only by boat or kayak. In that sense, the waterfall lives up to its name.
The journey to this hidden waterfall is an adventure, allowing you to explore the lake's pristine beauty. Paddling through the clear blue waters and hiking a short trail will lead you to this secluded waterfall, where you can bask in the tranquility of nature.
Wildcat Branch Falls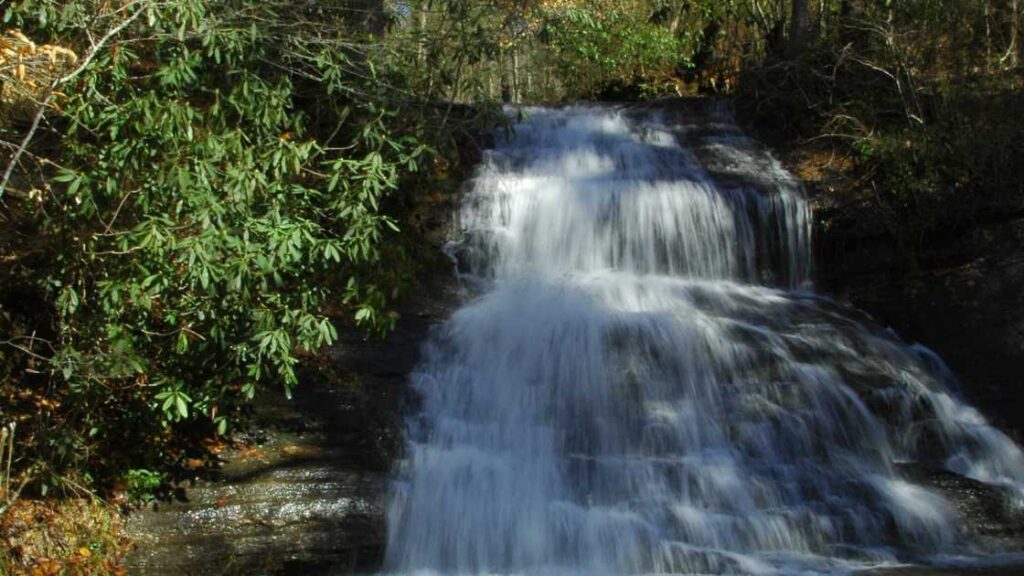 Situated in the Mountain Bridge Wilderness Area, Wildcat Branch Falls is a picturesque waterfall surrounded by towering trees and beautiful mountain views. All ages can use the 1.5-mile round-trip trail because of how simple it is.
Nearby, visitors can explore the charming town of Travelers Rest, known for its quaint shops and eateries. Wildcat Branch Falls is known for its diverse wildlife and unique plant species, offering a harmonious blend of natural wonders.
Issaqueena Falls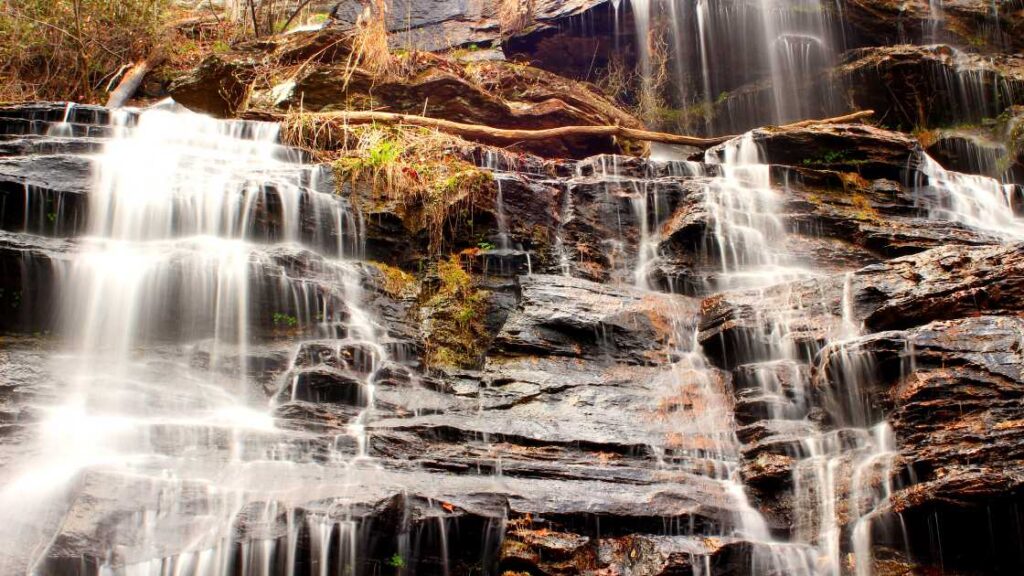 Tucked away near Walhalla, Issaqueena Falls offers a delightful 100-foot waterfall within a serene forest setting. Issaqueena Falls is named after a legendary Native American princess who reportedly leaped off the falls on a horse to escape from pursuing enemies, adding a touch of folklore to its charm.
The short quarter-mile trail is easily accessible and provides excellent views of the falls. While in the area, visitors can explore Stumphouse Tunnel Park, which features a historic tunnel and hiking trails.
Yellow Branch Falls
A gorgeous rhododendron forest surrounds Yellow Branch Falls, providing tourists with a colorful and lovely backdrop to enjoy while taking in the splendor of the cascade. Located near Walhalla, Yellow Branch Falls features a stunning 50-foot cascade surrounded by lush greenery.
The 1.5-mile round-trip hike to the falls is worth the effort, even though it is moderately challenging. After experiencing the waterfall's beauty, visitors can explore the nearby Chattooga River and engage in activities such as kayaking or fishing.
Chau Ram Falls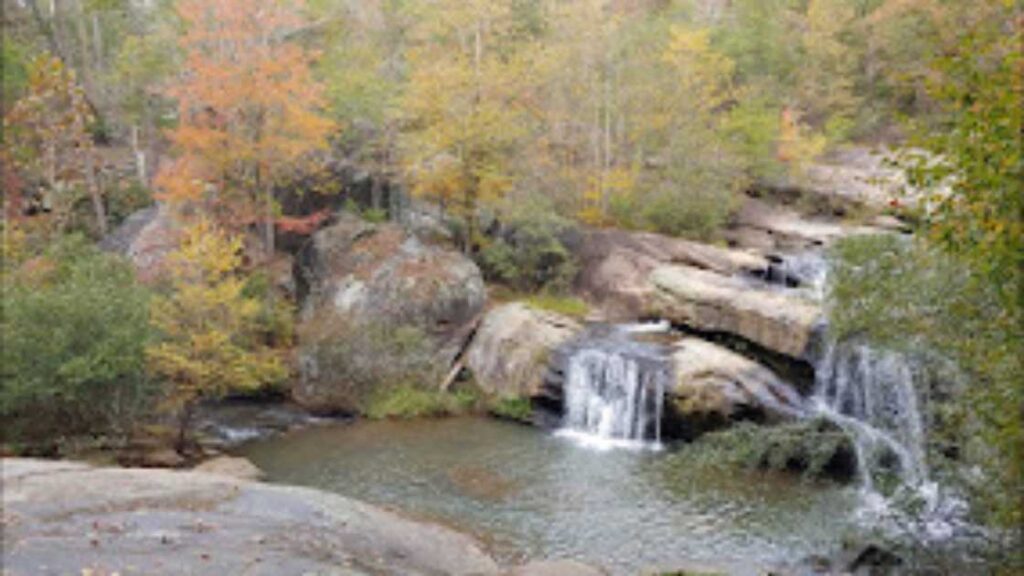 Nestled within Chau Ram County Park, Chau Ram Falls offers a picturesque 30-foot waterfall that flows into the Chauga River. Visitors can swim in the natural pool at the base of the falls or embark on a scenic hike along the 4.2-mile park trail. The park also offers camping facilities and picnic areas.
Cedar Falls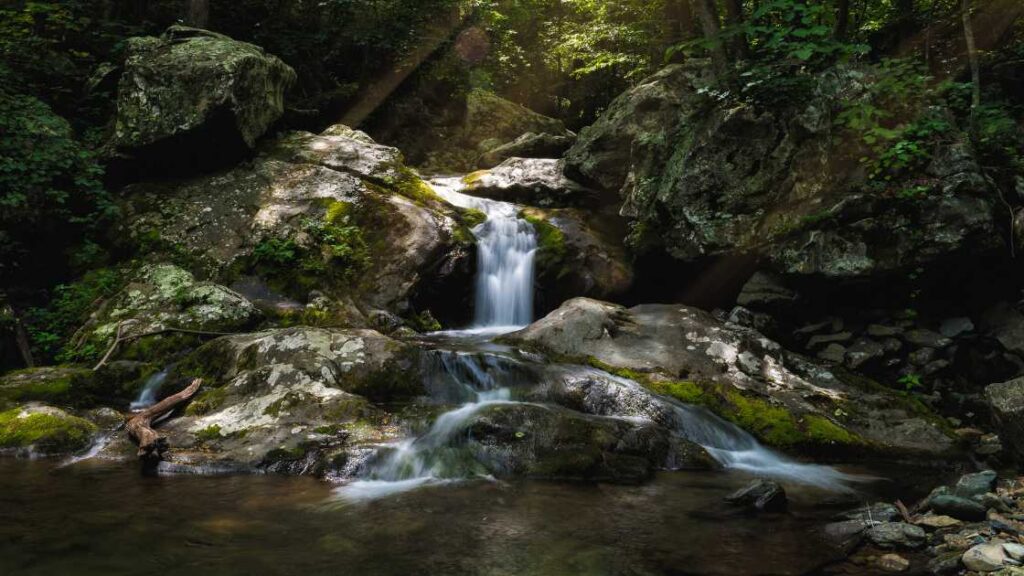 Cedar Falls is known for its unique geological formations, including fascinating rock formations and the remnants of an old water wheel, adding a touch of history and intrigue to the waterfall's charm. Situated in the Sandhills region, Cedar Falls is a hidden gem that rewards adventurous hikers with a breathtaking 50-foot waterfall.
The 2.5-mile trail meanders through a diverse forest, offering opportunities for birdwatching and exploring unique plant species. Nearby attractions include Goodale State Park, which features a serene lake and picnic areas.
Brasstown Falls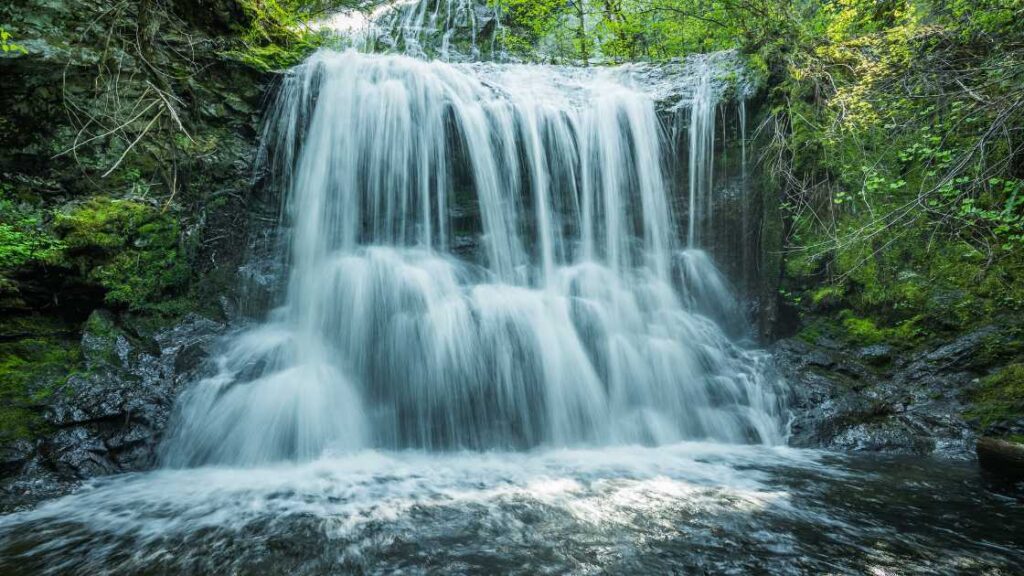 These beautiful Falls in Brasstown Valley are made up of three cascades that plunge 120 feet in total.
You can see all three cascades at the base and take a photo of them all at once. They are called Cascades, Veils, and Sluices, respectively. You won't be exhausted when you get there because they are near where you park your car.
Even if you won't need to cool off, the water is alluring on a hot day. The location is lovely, and the waterfall's hues further add to its impressiveness.
Laurel Fork Falls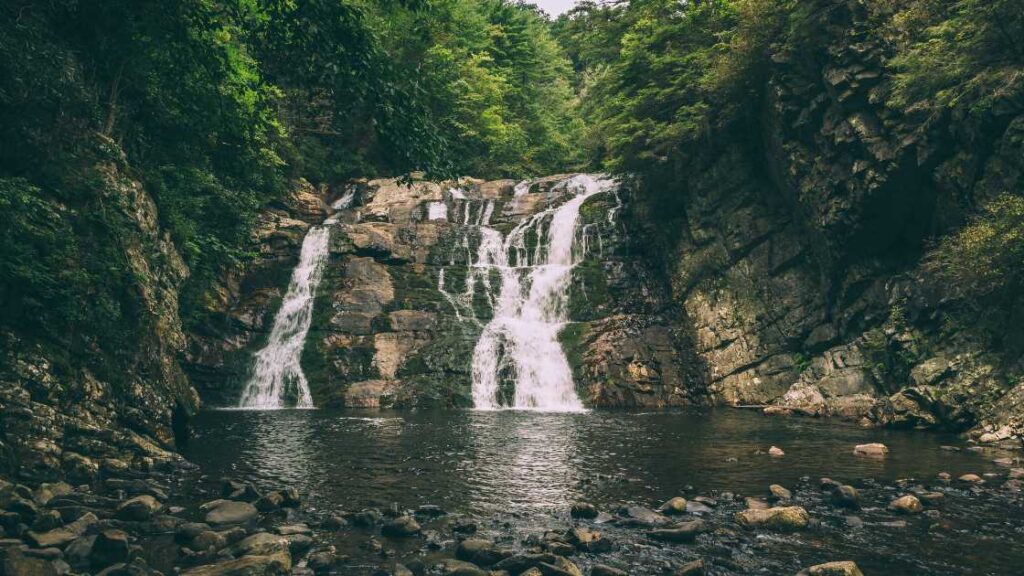 Laurel Fork Falls allows visitors to witness a double-tiered waterfall, with a smaller cascade above the main 80-foot drop, creating a visually stunning natural spectacle. Located near Pickens, Laurel Fork Falls showcases the beauty of the Sumter National Forest.
The moderately challenging 2.5-mile round-trip hike offers mesmerizing views of the falls and the surrounding mountain vistas. Visitors can also explore the nearby Table Rock State Park, known for its hiking trails and panoramic views from Table Rock Mountain.
Twin Falls
Situated in the Rock Hill area, Twin Falls is a pair of picturesque waterfalls cascading side by side, creating a mesmerizing sight. This unique feature offers a picturesque and symmetrical view of nature's splendor.
The 1.6-mile trail is relatively easy, allowing visitors to enjoy a peaceful stroll through the lush forest. Nearby, you can explore the beautiful Anne Springs Close Greenway, offering additional hiking and horseback riding opportunities.
Spoonauger Falls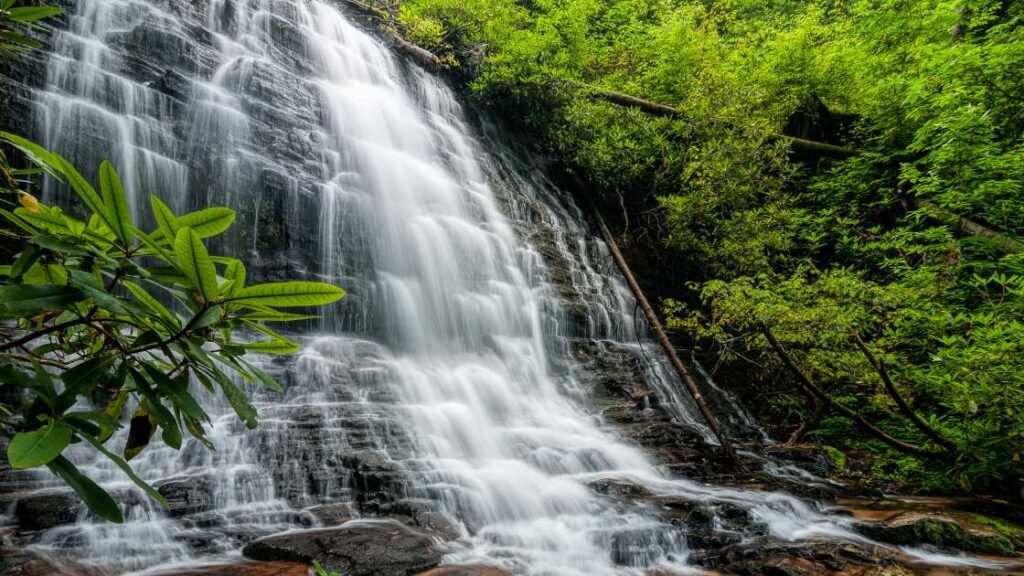 It takes only 20 minutes to stroll through a beautiful trail with trees and shrubs to reach these 50-foot falls close to the Georgian border.
On a hot day, you can cool down in the pool created by water that cascades in a series of tiny steps down a rock face. They are reasonably potent and undoubtedly contribute to a striking image. Children adore the pool, but because the salamanders in the rocks are swift and slippery, it takes quick thinking to catch them.
Refrain from attempting to enter the waterfall because the rock steps are pretty slippery.
Conclusion
The waterfalls in South Carolina offer a mesmerizing blend of the outdoors, serenity, and adventure. Each experience guarantees a unique and unforgettable journey, whether hiking through picturesque trails, finding hidden gems, or immersing yourself in the sights and sounds of urban waterfalls. The best waterfalls in South Carolina provide a wide variety of possibilities, making them the ideal getaway for nature lovers and outdoor enthusiasts. So gather your belongings, lace on your hiking boots, and embark on a fascinating adventure to discover these breathtaking beauties that reveal the genuine magnificence of South Carolina's natural landscapes.
Also Read: 15 Best Waterfalls In Arkansas