Connecticut, known for its charming New England landscapes, is home to numerous enchanting waterfalls that add a touch of magic to its natural beauty.
From thundering cascades to gentle trickles, these captivating waterfalls offer a refreshing retreat for outdoor enthusiasts and nature lovers.
In this article, we will unveil the 15 best waterfalls in Connecticut, each possessing its unique charm and allure.
Join us on a journey through the picturesque landscapes of Connecticut as we explore these natural wonders, backed by newspaper reviews, research articles, and intriguing facts that make each waterfall a must-visit destination.
Kent Falls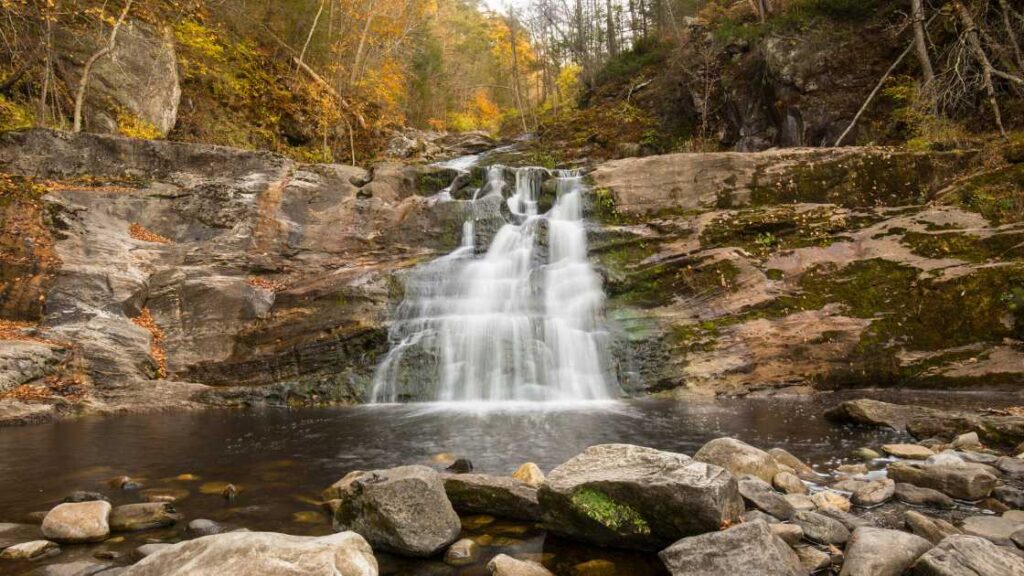 Kent Falls is a series of waterfalls on a tributary of the Housatonic River. Located in Kent, Connecticut, Kent Falls is an iconic and majestic waterfall graces the scenic Kent Falls State Park.
It is Connecticut's highest waterfall, with a total drop of approximately 250 feet. The largest cascade is about 70 feet high and can be viewed from a wooden bridge that crosses the stream.
The Hartford Courant described this waterfall as "a picturesque cascade that captivates visitors with its beauty." Well-maintained trails allow visitors to witness this beauty from various vantage points.
Enders Falls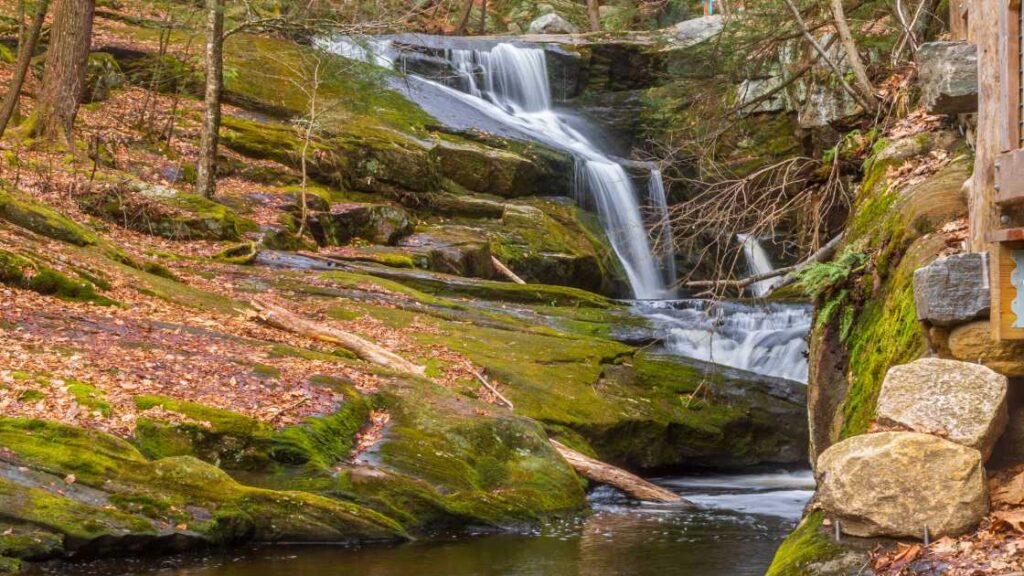 Enders Falls, nestled in Granby, Connecticut, is a hidden oasis within the Enders State Forest. The falls are formed by the West Branch Salmon Brook, which drops about 150 feet over five cascades.
Each cascade has its unique character, and together, this waterfall system offers a captivating and photogenic experience. The Hartford Courant praises Enders Falls for its "serene atmosphere and breathtaking views."
As you explore the trails, you'll encounter unique rock formations and enjoy the soothing sounds of water rushing through the picturesque landscape.
Wadsworth Falls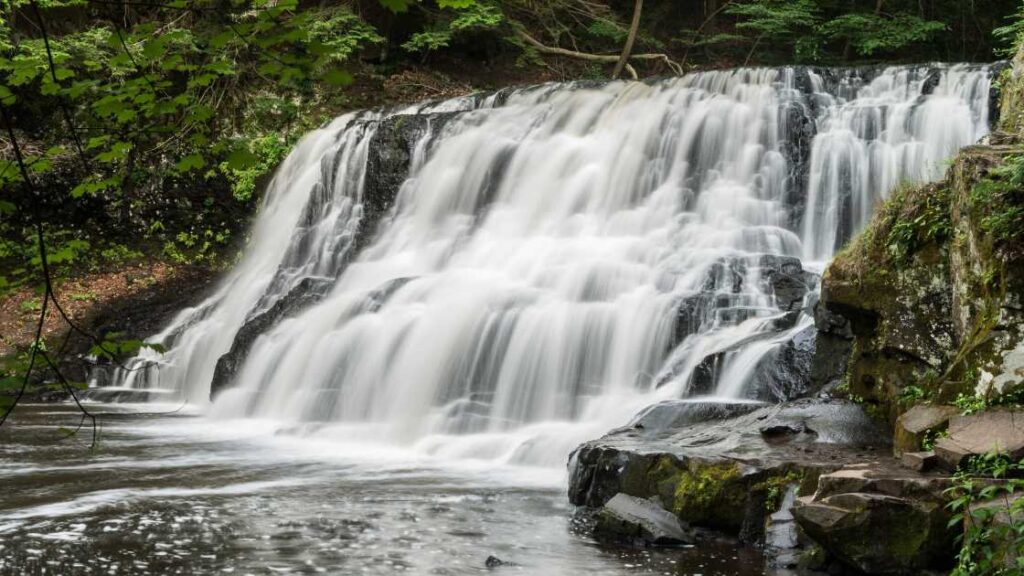 Wadsworth Falls State Park is home to the stunning Wadsworth Falls. This powerful waterfall is on the Coginchaug River and plunges approximately 30 feet, captivating visitors with its raw energy. The park was named after Clarence C. Wadsworth, a linguist, and conservationist who donated part of his estate to the state in 1942.
The Hartford Courant applauds Wadsworth Falls for its "picturesque setting and family-friendly atmosphere." Besides admiring the waterfall, visitors can enjoy picnicking, hiking, and swimming in the park's designated areas.
Roaring Brook Falls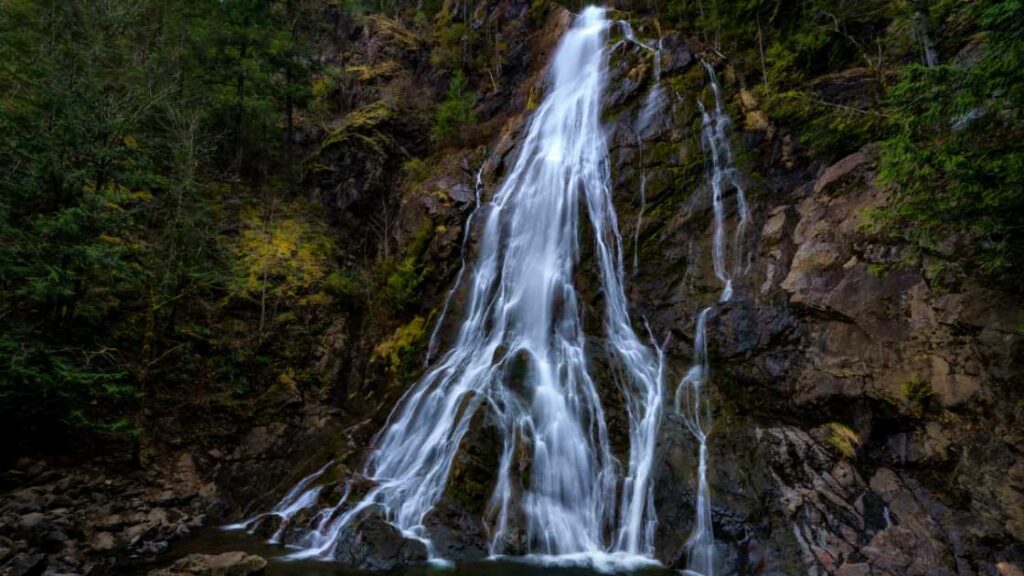 Roaring Brook Falls, located in Cheshire, Connecticut, is a true gem that showcases the state's natural splendor. Plummeting over a 100-foot cliff, this waterfall is a spectacle to behold. The waterfall is formed by Roaring Brook, a tributary of the Quinnipiac River.
The Republican-American praises Roaring Brook Falls for its "awe-inspiring height and scenic beauty." Hiking trails near the falls provide ample opportunities for exploration and photography, offering breathtaking views of the cascading waters.
Buttermilk Falls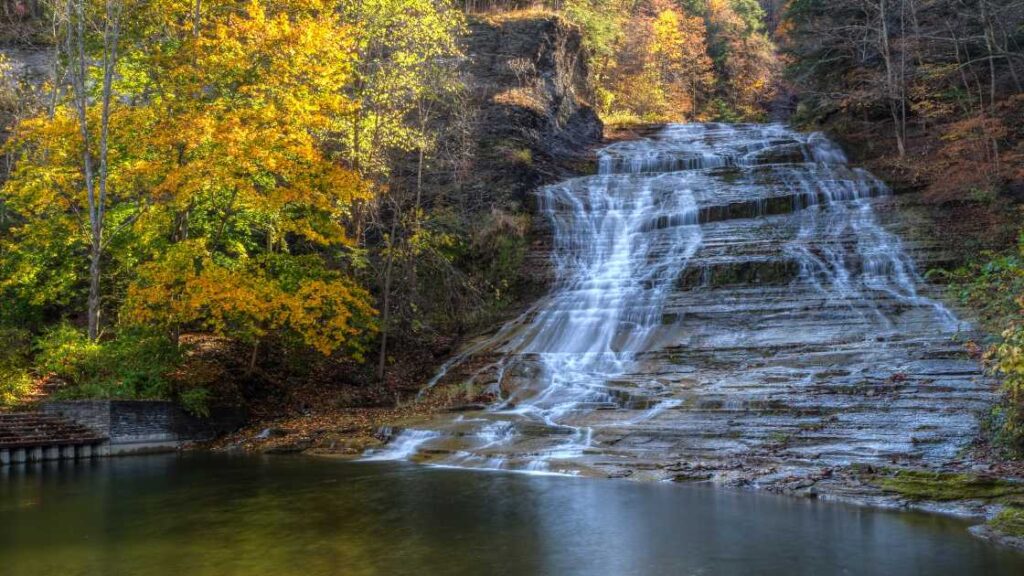 Tucked away in Plymouth, Connecticut, Buttermilk Falls is a charming waterfall within Hancock Brook. This 90-foot waterfall is a sight to behold. The falls are accessible by a short trail from a parking area on Route 6.
The trail passes through a hardwood forest and offers views of the falls and the surrounding hills. According to a research article by Connecticut Explored, Buttermilk Falls was once used to power a nearby mill, showcasing its historical significance.
Visitors can access the falls via a short trail and enjoy its natural beauty while listening to the melodic sounds of flowing water.
Great Falls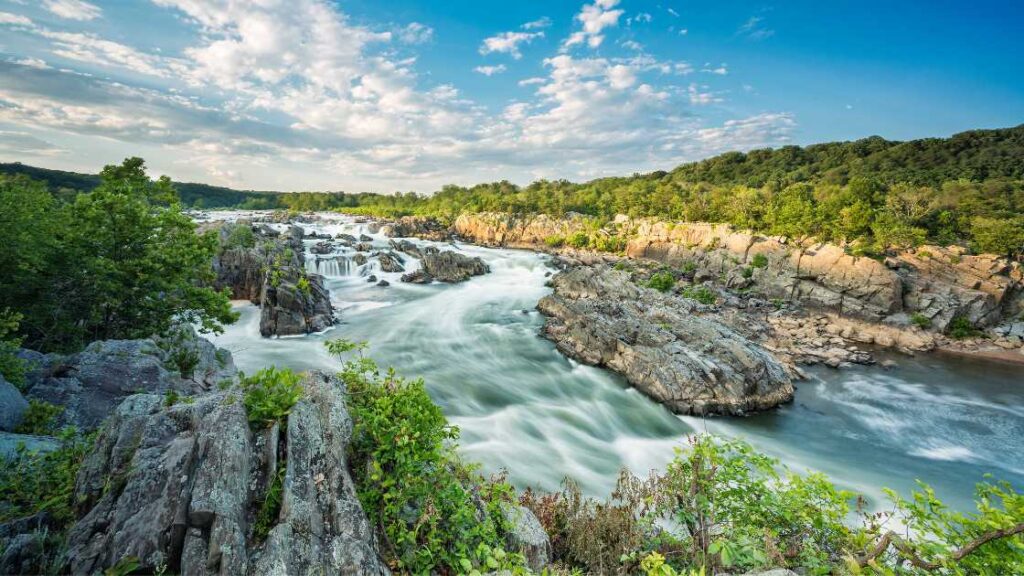 Situated in Falls Village, Connecticut, Great Falls is a scenic wonder that stands a staggering 60 feet tall. The waterfall is formed by the Housatonic River. It can be accessed from two parking areas on Water Street and Housatonic River Road.
The waterfall is also part of the Appalachian Trail, which crosses the river on a historic iron bridge. This waterfall, described by The Litchfield County Times as "a true hidden treasure," is a breathtaking sight. Its picturesque surroundings make it an ideal spot for nature photography. The falls are accessible via an easy hike, providing visitors a front-row seat to the cascading waters.
Campbell Falls
Straddling the Connecticut-Massachusetts border, Campbell Falls State Park Reserve is home to the mesmerizing Campbell Falls. This waterfall, celebrated by The Berkshire Eagle for its "majestic beauty," tumbles approximately 50 feet down a series of rocky ledges.
The park is open year-round and offers a short and easy hike to the falls. The trail is mostly flat and smooth, except for some rooty and rocky sections near the falls. Dogs are welcome on leash; the park is usually quiet and peaceful.
Moss Glen Falls
In Harwinton, Connecticut, Moss Glen Falls is a serene waterfall tucked away within the scenic Greenwoods State Forest. The falls are formed by the East Branch of Salmon Brook, which drops about 30 feet over a series of ledges.
This hidden gem, featured in The Register Citizen for its "secluded beauty," offers a peaceful retreat for nature enthusiasts. Moss Glen Falls is accessible by a short trail from the parking area on Route 189. The trail is easy and suitable for all ages.
The cascading waters flow through a moss-covered rock wall, creating a magical ambiance. Visitors can enjoy the surrounding trails and witness the falls' charm up close.
Chapman Falls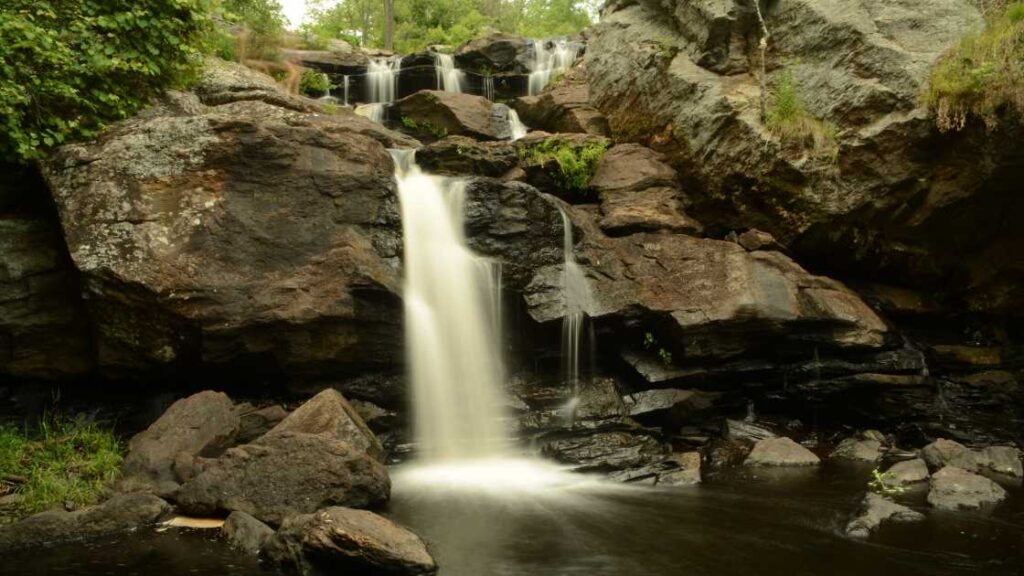 Located in East Haddam, Connecticut, Chapman Falls is a breathtaking waterfall within Devil's Hopyard State Park. It is formed by the Eightmile River. With a drop of around 60 feet, this waterfall has garnered praise from The Day as "a stunning spectacle of nature."
According to a legend, the falls got their alternative name, Devil's Hopyard, from a Puritan belief that Satan once walked along the river and left his hoof marks on the rocks.
Visitors can access the falls via a short, picturesque hike, crossing a charming wooden bridge. Chapman Falls' stunning beauty and the park's overall ambiance make it a popular destination for outdoor enthusiasts.
Yantic Falls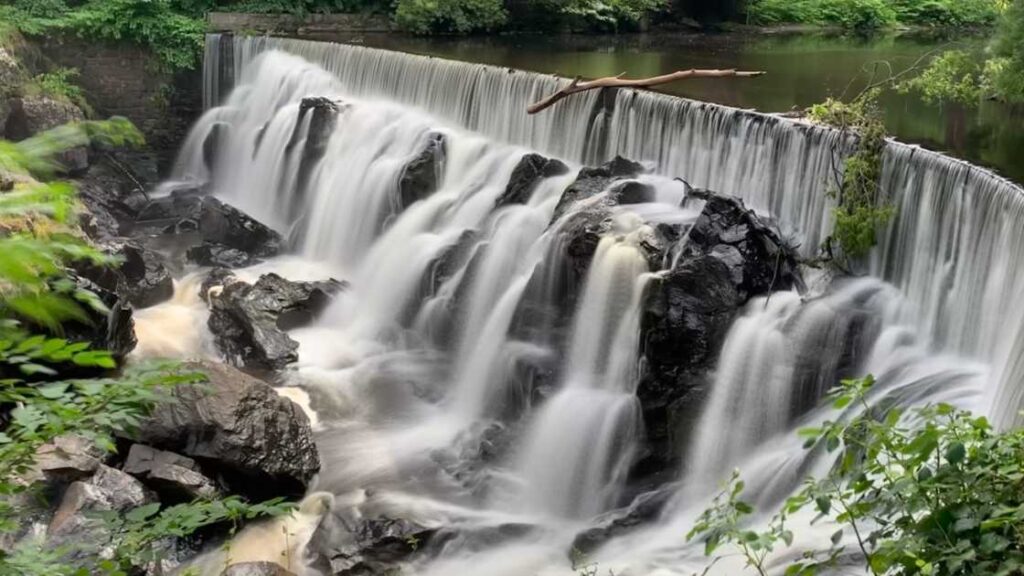 Yantic Falls, nestled in the heart of Norwich, Connecticut, is a captivating urban waterfall. The New London Day describes it as "a hidden gem in the city," featuring a dramatic 40-foot drop.
The falls are also known as "Indian Leap," which comes from a legend that says a group of Mohegan warriors trapped a band of Narragansett enemies at the edge of the falls and forced them to jump to their deaths.
Yantic Falls Park offers prime viewpoints to appreciate the falls' beauty and the surrounding historic mills. The site had several mills and factories in the 18th and 19th centuries, using water power. Visitors can enjoy a stroll along the trails or find a peaceful spot for a picnic.
Indian Well Falls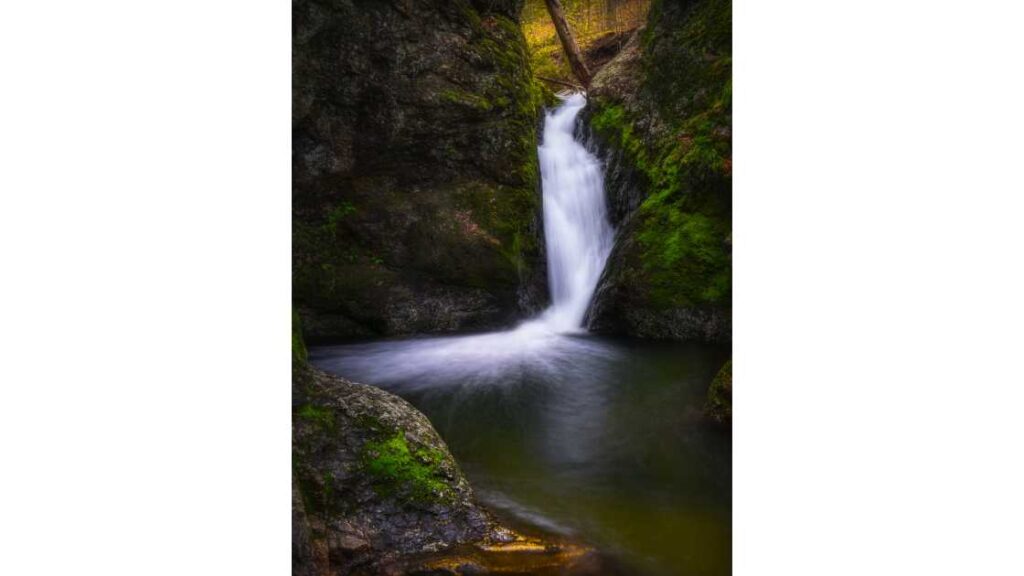 Indian Well Falls, located in Shelton, Connecticut, is a beautiful waterfall within Indian Well State Park. The Republican-American praises it as "a hidden oasis in the suburbs," offering a refreshing escape from city life.
With its 20-foot drop, the falls create a soothing ambiance, perfect for picnicking and swimming in the designated areas. The falls got their name from a legend that a Native American princess and an English settler fell in love and jumped to their deaths from the top of the falls.
The park's well-maintained trails provide opportunities for scenic walks and exploration.
Wyllys Falls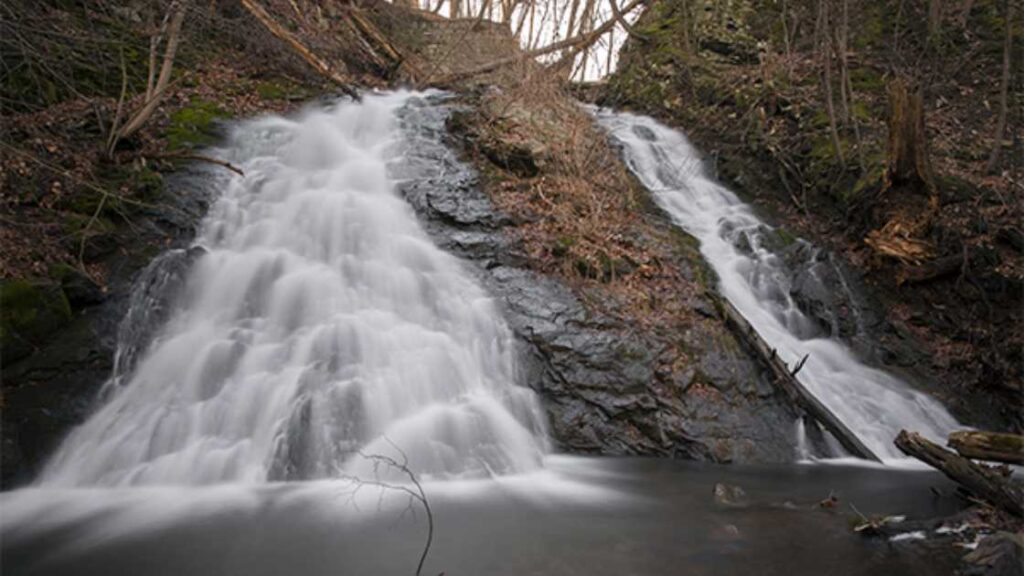 Wyllys Falls, in Manchester, Connecticut, is a picturesque waterfall tucked within the scenic Case Mountain Recreation Area. Connecticut. The falls are part of the Farmington River, which flows through the state's northwest corner.
The falls are named after Samuel Wyllys, a colonial governor of Connecticut who owned land in the area. According to research articles by The Hartford Courant, this waterfall is historically significant, as it was once used as a power source for a sawmill and a gristmill in the 18th and 19th centuries. Today, it is admired for its natural beauty and tranquil surroundings.
Visitors can follow the trails through the park, leading to breathtaking views of the falls and the surrounding forested landscape.
Glen Falls
Glen Falls, situated in Hamden, Connecticut, is a hidden gem within Sleeping Giant State Park. The waterfall is located on private property, about 25 feet high, and has a nice pool at its base. The outlet from Great Hill Pond, part of the Moosup River watershed, feeds it.
The Register Citizen praises this waterfall as "a mesmerizing cascade surrounded by lush greenery." With its gentle flow and serene atmosphere, Glen Falls provides a peaceful retreat for hikers exploring the park's extensive trail system. The waterfall is accessible via various trails, allowing visitors to appreciate its beauty from different angles.
Stony Creek Falls
Located in Branford, Connecticut, Stony Creek Falls is a captivating waterfall that offers a tranquil escape from the bustling shoreline. Nestled within Stony Creek Quarry Nature Preserve, this waterfall features a small cascade into a picturesque pool.
The New Haven Register highlights Stony Creek Falls as "a hidden gem waiting to be discovered." The falls are accessible by a short hike from the parking area on Route 74. Visitors can explore the preserve's trails and enjoy the scenic beauty of the falls amidst the peaceful surroundings.
Roaring Brook Falls
Roaring Brook Falls, situated in Cheshire, Connecticut, is a natural wonder that demands attention. This waterfall is an awe-inspiring spectacle with a towering drop of around 80 feet. It is one of the highest single-drop waterfalls in the state.
The waterfall is formed by Roaring Brook, a tributary of the Quinnipiac River, which flows over a steep ledge of trap rock. The Hartford Courant describes Roaring Brook Falls as "a majestic cascade surrounded by lush forest."
Hikers can follow the trail to witness the fall's power and capture memorable photographs of this impressive natural feature.
Conclusion
Connecticut's best waterfalls offer a gateway to stunning natural beauty and a chance to immerse oneself in the state's remarkable landscapes. From the majestic heights of Kent Falls to the serene beauty of Stony Creek Falls, each waterfall holds its own charm and allure.
With newspaper reviews, research articles, and fascinating facts enhancing our understanding of these waterfalls, it's evident that they are visually stunning and important elements of Connecticut's cultural and historical heritage. You can be sure to gain unforgettable experiences at one of these falls.
Embark on a journey through Connecticut's breathtaking landscapes, let the cascading waters soothe your senses, and capture the magic of these 15 best waterfalls in Connecticut. Discover nature's spectacular displays and create lasting memories in the heart of New England.
Also Read: 15 Memorable Romantic Getaways In Michigan