Michigan offers a variety of romantic getaways, whether you're on your honeymoon, celebrating an anniversary, or simply looking for a place to escape with your loved one. Michigan is known for its close proximity to the Great Lakes.
However, it's not just the beaches and cities along the coast that are romantic. Michigan has many beautiful destinations that are a must-see. They offer breathtaking views, outdoor adventures, delicious food, history, and culture.
This article brings you a list of 15 memorable romantic getaways in Michigan. You and your partner will cherish your Michigan vacation for many years to come, whether you decide to stay at a charming bed-and breakfast in the woods or in a luxury urban retreat in Detroit.
Grand Hotel – Mackinac Island
Mackinac Island is a 3.8 square mile island located above Michigan's Northern Shore. Cars are not allowed on the island and people get around on foot or horse-and-buggy.
The only way to get to the island is via ferry, private boat or small aircraft in the summer, and by snowmobile during the winter, over an ice bridge.
This secluded island is the ideal place for a romantic escape with your partner. Enjoy with your partner on the longest porch in the world, or take a horse-drawn cart through town.
Play pickleball, play shuffleboard, or play bocce before you cool off in the pool. Relax on the longest porch of the world after a busy day and enjoy watching boats cruise in the harbor.
Castle in the Country Bed & Breakfast Inn: Allegan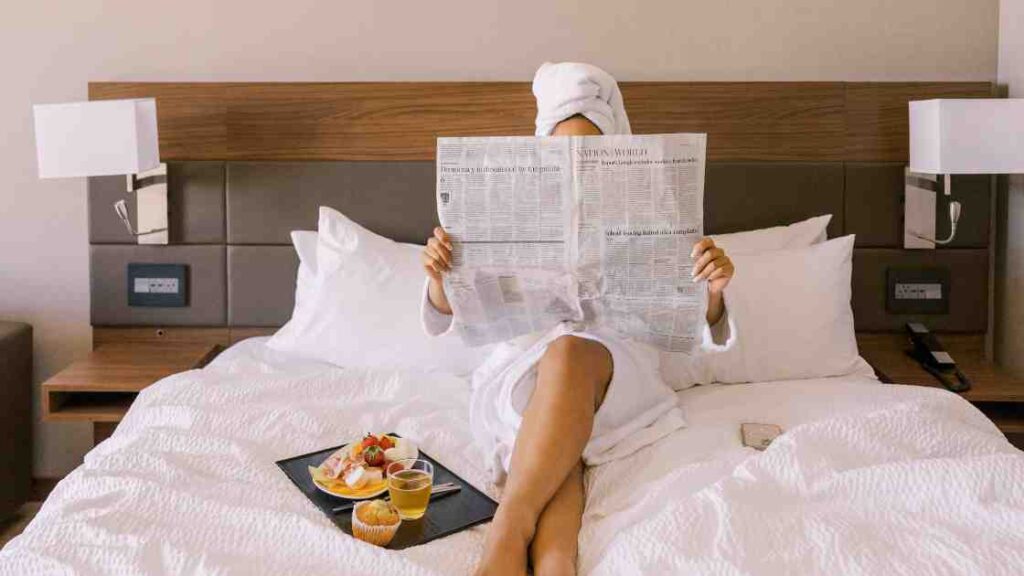 The Castle in the Country Bed & Breakfast Inn, located conveniently off the M-40 in southwest Michigan, about 45 miles away from Grand Rapids is an adults-only establishment that's a favorite with travelers because of its serenity and well-appointed rooms.
The accommodations are perfect for a relaxing retreat with their plush beds, fireplaces, and jetted bathtubs.
There are many activities outside the rooms to keep you busy. You can go kayaking, paddle boating, or snowshoeing around the area if you are visiting during winter.
You can then head to Fenn Valley Vineyards, one of the biggest wineries in the State, to enjoy a glass of vino with your date, or you can opt for a casual date at Virtue Cider, if you're visiting during winter.
Chateau Chantal
You can't do better than a Chateau Chantal if romance is on your mind. This cozy B&B-style inn offers the ultimate in relaxation and rest.
Old Mission Peninsula is a place of intimacy and togetherness. Its quiet country roads and beaches, its vast vineyard and cultural venues, as well as the nearby beaches and cultural venues, create a cozy atmosphere.
You and your partner will enjoy a whirlpool bath, a private balcony with stunning views, and an indoor fireplace for cozy evenings.
You can also sample the wines at the Chateau Chantal's tasting room. Attend a wine education meal, take part in the wine boot camp, or try wine and food matchings. All within sight of the Great Lakes.
Sleeping Bear Dunes National Lakeshore
Sleeping Bear Dunes National Lakeshore is located in Leelanau County about 30 miles north of Traverse City. It boasts lush forests and vibrant waters.
The area is known for its towering dunes. "Good Morning America", a television show, once named it the most beautiful place to visit in the United States. The perched dunes, which are sand dunes perched on top of cliffs, soar 450 feet over the water and will take your breath away.
Lovebirds can enjoy everything from scuba diving to snowshoeing at the lakeshore, depending on the season. Nearly 100 miles of trails are available for hikers at all levels.
You can enjoy panoramic views of Lake Michigan while meandering the Cottonwood Trail or expertly navigating Dunes Trail, which includes the popular and difficult Dune Climb.
There are many snowshoeing or cross-country ski adventures you can embark on in the winter before warming up with hot chocolate at a lodge.
Bavarian Inn Lodge
Stay at the German-themed lodge located in Frankenmuth (also known as Michigan's Little Bavaria) and you can travel across the Atlantic without having to take your passport out. The hotel has 400 rooms and four indoor pools.
It also features two water slides and an indoor waterpark. The lodge also sits on 13 acres of riverfront land, which is hard to find in the middle country.
Enjoy authentic German cuisine such as schnitzel and bratwurst at the Bier Garten. Couples looking for an unforgettable vacation can escape to the Bavarian Inn Lodge.
Lake Shore Resort
The Lake Shore is a lakefront hotel that caters to adults who are looking for some alone time. Children under the age of 13 are not allowed in the hotel.
The Lake Shore offers a private beach and outdoor pool as well as guest rooms that feature large windows with views of Lake Michigan.
This peaceful retreat is the perfect place to relax with your partner. Kayaking on the water, hiking, biking, and even camping on the shoreline are all great ways to relax.
Sunsets and firepits are the focus of evenings, along with a ceiling of stars that you have probably never seen before in Michigan.
Holland
Holland, located on the western Michigan shores of Lake Macatawa, offers everything a couple could desire in a romantic getaway. This town is a great getaway for Michiganders and also for couples from Chicago, since it's located approximately 150 miles north of the Windy City.
Twosomes who love the beach can relax on the sand at Holland State Park or watch the sun go down over Lake Michigan.
The nearly 100 art installations in the town are sure to captivate culture hounds. They can also catch a performance at the Holland Community Theatre.
History buffs can learn more about the Dutch heritage of the town by visiting the exhibits at the Holland Museum.
Veldheer Tulip Gardens, a romantic place where couples can stroll together amongst the colorful flowers, also reflects the Dutch influence of the town.
Courtesy Island House Hollywood
The Island House Hotel, located just outside of the Mackinac Island downtown area in northern Michigan offers a perfect blend of convenience and stately charm with lakefront views. This hotel was originally built as a resort and offers many modern amenities.
Visitors will enjoy the manicured gardens, cobblestone pathways leading to the waterfront and the hotel's grounds. Couples can enjoy the indoor pool or hot tubs, relax on the sundeck, and watch the boats passing through the harbor.
Rent bikes and explore the island on two wheels. There are no cars on the island, so you can enjoy your ride at leisure.
The Island House Hotel, which is the only accommodation option in the Mackinac Island State Park area, allows you to easily access the park's 70+ miles of trails.
Petoskey
It's easy to choose a town that is known for its "million-dollar sunsets" for a romantic retreat. Petoskey is located on the shores of Lake Michigan's Little Traverse Bay and offers visitors a beautiful downtown, sandy beaches, and natural beauty.
You can also plan a romantic picnic on the sand in Petoskey State Park or stroll hand-in-hand along Magnus City Park Beach, searching for the Petoskey Stones – the official state stone of Michigan.
The area offers many hiking opportunities, including Boyne Mountain's well-marked trails and the Skyline Trail.
Zip line across Boyne Mountain, or raft the rapids of the Bear River Valley Recreation Area's unique whitewater park is a great adventure for adventurous couples.
New Buffalo
New Buffalo, a small town located in Michigan's Harbor Country and about 70 miles away from Chicago, is the perfect place for couples to relax. Downtown New Buffalo is home to a vibrant arts scene, including galleries and The Acorn, a historic theater.
New Buffalo Beach features a large expanse of sandy beach, beautiful lake views and kayak and paddleboard rental spots. Kayak down the Galien River Marsh Trail with your partner or walk along the boardwalk at Galien River County Park.
You can also have a romantic date with a yacht cruise at Oselka Marina, or a sailing trip with New Buffalo Sailing Excursions.
Oenophiles will be happy to know that the Lake Michigan Shore Wine Trail, which is a network of wineries located along the shore, begins in New Buffalo.
The trail ends 70 miles north, near Saugatuck, but if you do not have the time to visit the whole thing, visitors recommend the St. Julian Winery & Distillery in Union Pier for its large selection and friendly staff.
Frankenmuth
Couples can experience a little bit of Europe in Michigan's Little Bavaria by visiting the town of Frankenmuth. This small town, originally settled by German immigrants and a destination for travelers, is known for its Bavarian architecture.
It also offers unique shopping opportunities, as well as German beer. The Bavarian Belle Riverboat offers a guided river cruise or you and your partner can kayak down the Cass River to see the Bavarian architecture from the water.
If you're hungry, try The Station 100 to get an upscale version of wiener schnitzel or Frankenmuth Brewery for a pretzel and pint.
Winter is the perfect time to visit Frankenmuth for a romantic getaway.
You can spend quality time with your partner at ChristKindlMarkt – the annual Christmas Market – while you shop for trinkets and sip warm drinks like German gluhwein, a type of hot mulled wine.
You'll find twinkling lights and horse-drawn carts at any time of the year. There's also the largest Christmas store in the country.
The Frankenmuth Bavarian Festival, held in June, and the Oktoberfest celebrations in September are just two of the many events that take place throughout the year.
Saugatuck
Saugatuck is a popular destination for visitors due to its arts culture, scenic views of Lake Michigan, and proximity to Grand Rapids. Downtown and in Douglas, the town next door, there are many art galleries.
There are also many boutique shops and local restaurants in this area. It is also known for its craft beer, hard cider and other offerings. Saugatuck Brewing Co. and Guardian Brewing Company are some of the most popular locations for visitors.
Saugatuck's Oval Beach, with its sand-dunes and turquoise waters, is a popular summer vacation destination. Saugatuck Dune rides are the perfect way for couples to take their vacations to the next level.
Book tickets to a musical or comedy performance at the Saugatuck Center for the Arts for a romantic date in town. The center features a mixture of local and national performers.
Saugatuck is known for its LGBTQ entertainment and its welcoming atmosphere.
Grand Rapids
This western Michigan city is awash with art, history, natural beauty, and delicious cuisine. Grand Rapids, located 30 miles east from Lake Michigan, has all the charm of a small town, but with the booming city amenities.
Take a romantic stroll through the Frederik Meijer Gardens & Sculpture park or visit the Gerald R. Ford Presidential Library & Museum.
Second-most populous city in the state, it also has a number of restaurants that serve farm-to table food. Visitors can taste fruits, vegetables, and meats straight from nearby farms and orchards.
Reserve Wine & Food boasts Michigan's largest charcuterie bar, paired with more than 200 wines. The Sovengard offers a Scandinavian twist on local ingredients. Grand Rapids, known for its craft beer, is a great place to spend some time with your partner.
Shinola Hotel: Detroit
Couples seeking an urban oasis in Detroit need look no further than the Shinola Hotel. This hotel is housed in an historic building dating back to 1915. It puts a contemporary spin on the old-school charm.
You and your partner will enjoy a private balcony, a gas fireplace, a dining room, and even vinyl records on a turntable if you choose a penthouse.
Romance is not lacking in the hotel's restaurant scene. San Morello is an upscale restaurant that serves all the flavors and aromas of southern Italy, but with a contemporary twist.
Even the Living Room, the hotel lobby, exudes romance thanks to its fireplace and the posh drinks available at the Evening Bar. The hotel's art collection offers a variety of different artworks for lovers to enjoy.
Isle Royale National Park
Nothing is more relaxing than spending time with your loved one in the quiet serenity and peace of nature. Isle Royale National Park, a remote island in Lake Superior that can only be reached by boat or float plane is the ideal place for a romantic retreat.
Couples who are looking for adventure will love the natural attractions and adrenaline pumping activities that the island offers.
If you are an experienced diver, explore shipwrecks and remnants in Lake Superior while hiking the 30-mile Feldtmann Lake loop Trail. Couples can enjoy 165 miles worth of hiking trails on the island. There are hikes to suit all levels. Stoll Memorial Trail offers stunning views of the lake.
Conclusion
Michigan is a state that offers a variety of romantic getaways. This diverse state offers something for every couple looking for a romantic getaway, from the picturesque landscapes and charming small towns to the stunning shores along the Great Lakes.
Michigan's rich culture and vibrant arts scene add to the romantic atmosphere of the state. Couples can visit art galleries, historical sites, watch live performances and immerse themselves into the local culture. This will deepen their connection and create lasting memories.
These 15 memorable romantic getaways in Michigan are a great way to experience the best of both worlds, whether you're looking for relaxation, adventure or a combination of the two.
Also Read: 15 Best Flea Markets In Florida