Maryland's motto is "Fatti maschii, parole femine," which means "Manly deeds, womanly words" in Italian. The state is mainly known for its rich history, diverse culture, and scenic natural beauty.
Maryland has several natural wonders, historic landmarks, and vibrant cities and offers everyone a variety of experiences and scenery. But very few people know that Maryland has several stunning waterfalls as well.
From its western mountains to the Chesapeake Bay in the east, Maryland boasts many breathtaking waterfalls. Here are the 10 best waterfalls in Maryland to keep an eye out for on your travels.
Muddy Creek Falls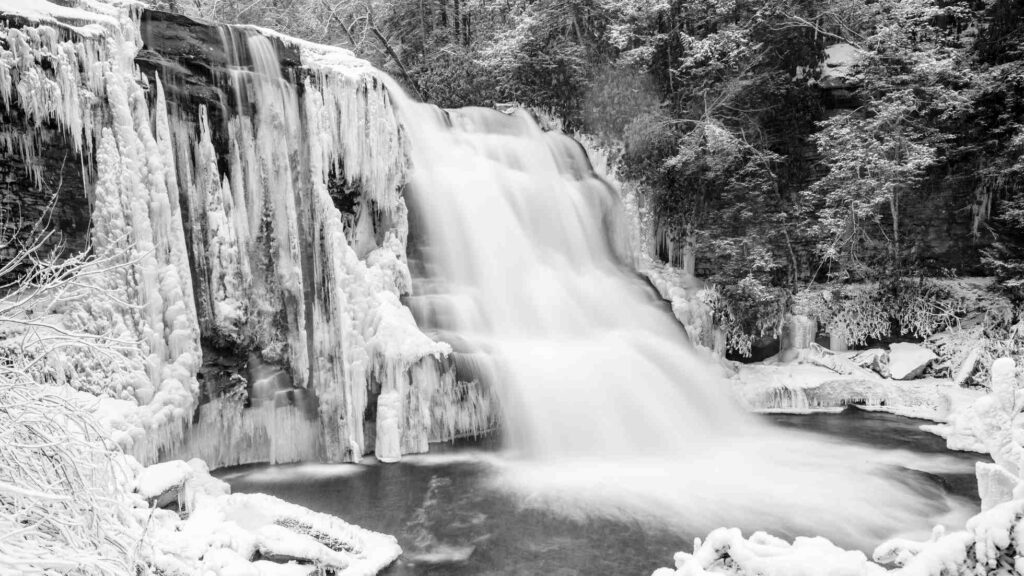 Muddy Creek Falls has a 53-foot drop that cascades into an expansive pool surrounded by lush greenery. It is one of Maryland's must-see picturesque spots.
Muddy Creek Falls makes for an incredible scenic attraction! It is situated in Swallow Falls State Park. It is a great place to have a quiet time to relax and rejuvenate.
The soothing sound of water rushing along its course and the sight of misty waters with rainbow hues are genuinely captivating.
The prime seasons to visit the falls are autumn or spring, as the volume of water increases while vegetation flourishes with vibrant hues.
Muddy Creek Falls can be viewed from various vantage points along the trails, or you can get to the base of the falls for an up-close view.
Kilgore Falls
Kilgore Falls is Maryland's second-highest vertical drop waterfall – 17 feet. It is situated within Rocks State Park's Falling Branch area, an ecologically sensitive undeveloped space that preserves its natural splendor.
Kilgore Falls are formed by Deer Creek's Falling Branch flowing steeply through Kilgore Rocks, made up of Prettyboy Schist rock formations that date back to The Paleozoic Era.
For an incredible hike in Maryland, try exploring the Falling Branch Trail to Kilgore Falls. This 1.3-mile loop is approximately five miles from the main entrance of Rocks State Park's Falling Branch area and leads directly to the falls.
There is a small parking space that holds 28 vehicles. It can accommodate visitors on holidays, but reservations must be made beforehand.
Since no barbecues, picnic tables, or bathrooms are provided at this park, and the trail isn't handicapped accessible or suitable for strollers/wheelchairs/large coolers, it is wise to plan accordingly.
Cascade Falls
Cascade Falls in Patapsco Valley State Park in Maryland is an iconic waterfall renowned for its beauty, tranquillity, and recreational opportunities.
Bicyclists, hikers, and nature enthusiasts often visit to enjoy this peaceful natural spot. This waterfall stands 10 feet in height and cascades into a small swimming pool surrounded by rocks and trees.
Its soothing sound lulls visitors to sleep while its breathtaking scenery provides hours of enjoyment.
Cascade Falls should be ideally visited during either fall or spring when its foliage is most vibrant, and the water is most evident.
It takes roughly 20 minutes from the parking area to reach Cascade Falls along an easy-moderate trail.
Cunningham Falls
Cunningham Falls State Park can offer Maryland visitors an outdoor adventure they will remember. Located at the base of the Catoctin Mountains near Thurmont, Cunningham Falls offers activities suitable for people of all ages and interests.
Cunningham Fall is one of the park's main draws, offering stunning 78-foot drops. These falls can be reached via Lower Trail (0.5 miles) and Cliff Trail (0.75 miles), both starting from the lake area.
Hunting Creek Lake, located within The park's amenities, is a 44-acre lake that allows fishing, swimming, and boat fishing activities. There are three swimming areas staffed with lifeguards.
You can go kayaking, canoeing, and paddle boarding. Motorized boards may also be hired from here.
History buffs will appreciate visiting The Catoctin Furnace* – an iron forge constructed in 1774 that was used to make ammunition during the American Revolution.
Cunningham Falls State Park offers the perfect afternoon trip or weekend retreat destination. The falls are accessible year-round, but the best time to visit is spring or autumn.
Raven Rock Falls
Raven Rock Falls in Catoctin Mountain Park in Maryland is an impressive waterfall formed by several cascades 20 feet over rock edges into a crystal-clear pool, surrounded by wildflowers and lush vegetation.
Starting at the Visitor Center, a 2.5-mile hike can quickly bring visitors to the falls, offering breathtaking forest and river scenery.
Raven Rock Falls waterfalls are exceptionally breathtaking during fall and spring when their vibrant leaf colors contrast beautifully with the crystal-clear water.
Raven Rock Falls makes an excellent destination for nature enthusiasts and photographers.
Gunpowder Falls
Gunpowder Falls is a beautiful and historic region offering visitors many outdoor pursuits. The Gunpowder River runs through it, providing opportunities for fishing, kayaking, tubing, canoeing, and canoeing, among others.
This park boasts over 120 miles of trails ideal for cycling, hiking, and horseback riding, along with picnic areas, campgrounds, and playgrounds.
Of particular note is the historic Jerusalem Mill Village dating back to the 18th century. Gunpowder Falls, Maryland, showcases the work and life of early American colonists.
Visitors can explore restored structures, watch demonstrations of skills and crafts demonstrated live on-site, and join special celebrations throughout the season.
Gunpowder Falls, Maryland, is an ideal destination for outdoor lovers looking for history lessons alongside adventure.
Paw Paw Falls
For an adventure and scenic spot in Maryland, Paw Paw Falls may be just what you're searching for.
Situated along the C&O Canal on the Maryland side, the waterfall lies alongside the Paw Paw tunnel, which spans 3,118 feet. It was constructed at the turn of the century to circumvent one of the Potomac River bends.
Paw Paw Falls may not be one of the world's highest waterfalls, but its tranquil beauty makes up for this.
Water cascades gently through pools and rocks, creating a soothing sound as it slowly passes. It can be easily accessed via a short path at the western tunnel entrance – suitable for people of any age or ability.
Paw Paw Falls is an undiscovered treasure that offers visitors a peek into Maryland's history and the natural world.
Amos Falls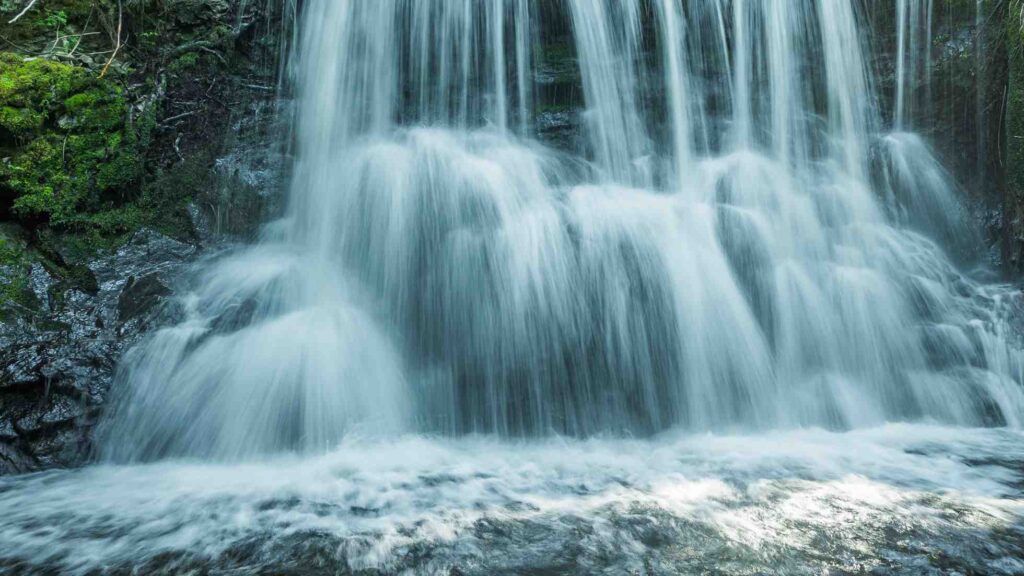 Amos Falls in Cecil County, Maryland, offers breathtaking views of the Susquehanna River. Locals refer to it as Smyth Falls after the family who owned it during the late 19th century.
Amos Falls is only 20 feet high, yet it produces rapids that cascade over boulders and rocks.
A great time to visit Amos Falls is after heavy rainfall as the volume and speed increase resulting in an even more spectacular display of nature's power.
To reach Amos Falls, walking along a riverbank path for approximately one mile is necessary. While relatively easy, certain parts of this trail may become slippery or muddy, making your journey harder.
Swallow Falls
Swallow Falls State Park in Western Maryland provides an idyllic way to reconnect with nature. It's a place where you can appreciate natural beauty and peace.
Situated nine miles north of Oakland, it features breathtaking landscapes, including the Youghiogheny River, which winds its way through rocky gorges before creating waterfalls and rapids.
Tolliver Falls
Tolliver Falls is one of Maryland's lesser-known treasures. Nestled inside Savage River State Forest, this waterfall provides a serene retreat for nature enthusiasts and photographers.
The falls aren't very tall, only 12 feet high. However, they make for an impressive waterfall that cascades over rocks into the pool below.
The waters are clear and cold, while lush greenery decorates the forest floor en route.
Access is short and easy, only 0.3 miles from the parking area. Tolliver Falls makes for a relaxing and breathtaking visit in autumn when leaves change colors against its river background.
Conclusion
Water can have a refreshing effect. If you are tired of following a mundane schedule day after day, visiting a waterfall could be an excellent choice for you.
This was the list of the 10 best waterfalls in Maryland. Visit these falls for an adventurous experience with your family and friends and come back rejuvenated.
Also read: 15 Best Waterfalls In New Hampshire