Having one of the most diverse landscapes among any U.S State, New Mexico is also a land with amazing waterfalls. Known for its dry climate you will not expect it to own such beauty within.
The natural canyons have formed numerous waterfalls in this desert landscape. Some of them need a hike while some you see your way.
With incredible nature parks scattered throughout, New Mexico has several secret waterfalls too. You can adventure your way to them. Here's a list of 10 most scenic water falls in new mexico.
Jemez Falls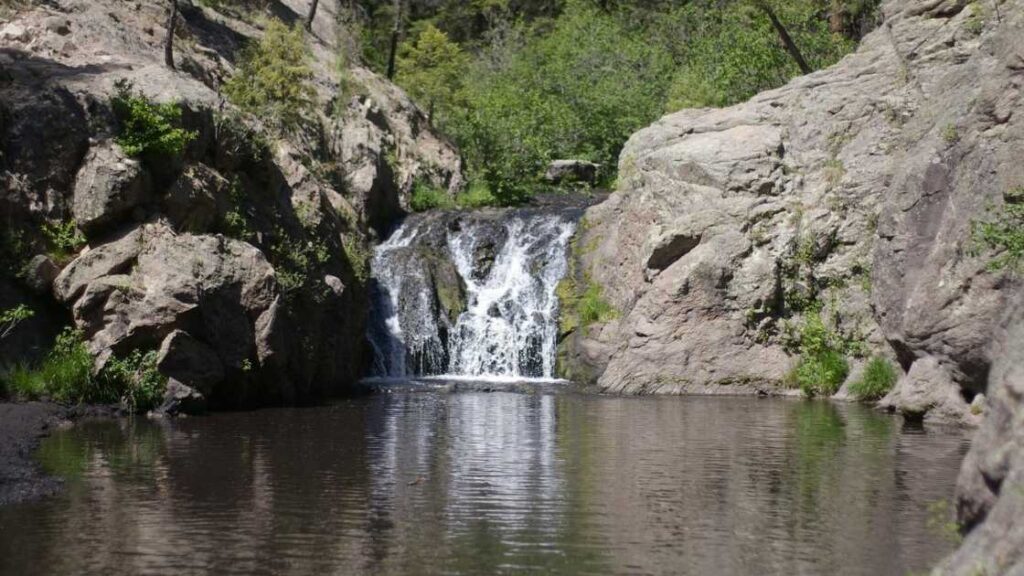 It is the highest waterfall in the Jemez Mountains of the Santa Fe National Forest. With the amazing view of the waterfalls, you also get to experience the beauty of Nature through Jemez Mountains that you trail to reach the Waterfalls.
There is not much development around this area. It is 70 ft. and not suitable for swimming, the local people visit this fall to clear their heads from the daily rush.
The trail is enjoyable for all levels of hikers and there is a campground nearby that offers good comfort. I highly recommend it.
Resumidero Falls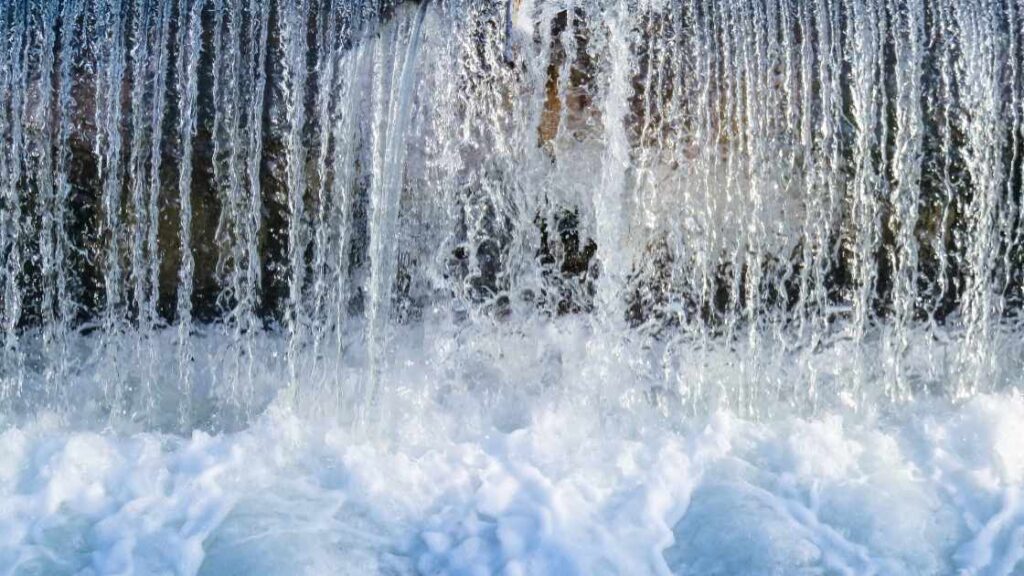 Resumidero Falls is a local's favorite place and people visit it for picnics, camping, and social gatherings. It is located in a vast alpine meadow.
Trails in summer are very populated and it is indeed the best season to visit the scene. Toilets facilities, picnic tables, and fire rings are available when the trails begin.
There is a word about many hidden waterfalls scattered through the trail. Because of its busy entries during summer, I recommend you visit the place before summer begins.
The place can accommodate vehicles too. And if you want to see amazing views and have a great experience you can hike into the 25 ft Resumidero Box Falls.
Three Rivers Waterslides
It is a small but beautiful waterfall having a perfect bedrock for sliding that attracts people. It is a great place if you want to avoid crowds and has 12 campsites at the base of the tallest mountain in Mexico.
People often carry out other activities like horse riding, picnicking, and hiking in this area, and as a result of this toilets, picnic tables, and drinking water are always available here.
Catwalk Trail Falls
A place that tells you the history. The name refers to the plank-board walkway placed above the steel pipe. The steel pipe bought water for the ore processing plant and its remains can still be seen.
The first portion of the trail that leads to hidden pools and waterfalls is easy, as the developed trail ends you find it a little rigorous to enter the Gila Wilderness.
The pictures come out very good, especially between whitewater canyons so do not forget to carry your camera.
Nambe Falls
The Nambe Falls never fails to catch the sight of travelers in New Mexico. The pair of nature's beauty comes with a series of two waterfalls,100 Ft and 75 Ft each.
The land of Pueblo of Nambe in the Sangre De Cristo Mountains is the home of Nambe Falls. The hardship of the steep trail is worth the beautiful view at the end. Well, despite being steep the course is very much doable.
It has a big fishing lake with lots of picnic tables and toilets for travelers. The trip here is spectacular and reasonably affordable.
Santa Antonio Hot Springs
If you are planning on soaking during the cooler months and love to hike equally, Santa Antonio Hot Spring is the perfect fall for you. This place near Alamos features a small waterfall with three-tiered soaking pools.
Summer months are busy with travelers experiencing the best views. Vehicles are allowed in these months for travelers to enjoy the fullest.
Winters are blocked and busy during the weekends. So if you want to enjoy it here, I recommend visiting the place during weekdays.
Soda Dam
The amazing Soda Dam is a grouping of fifteen hot springs which forms a bridge over the Jemez River in Nother Mexico. This dam is near the town of Jemez Springs and is also named Jemez Springs Soda Dam, Soda Dam Hot Spring.
With more than half a million visitors visiting this place, Soda Dam is famous for its photographic beauty. History lovers are fascinated by the place for sure.
White Rock Overlook Park Waterfall
White Rock Overlook Park is a 130 Ft tall fall, not the best smelling but one of the most charismatic falls. Also named Canada Del Buey Falls or White Rock Sewage Falls, it gets a distinct smell as it is the main water for the Town of White Rocks Sewage Treatment Plant.
Remember that the scenery is magnificent but you have to climb past the smell. So, you can enjoy the view as long as you can bear the smell.
Sitting Bull Falls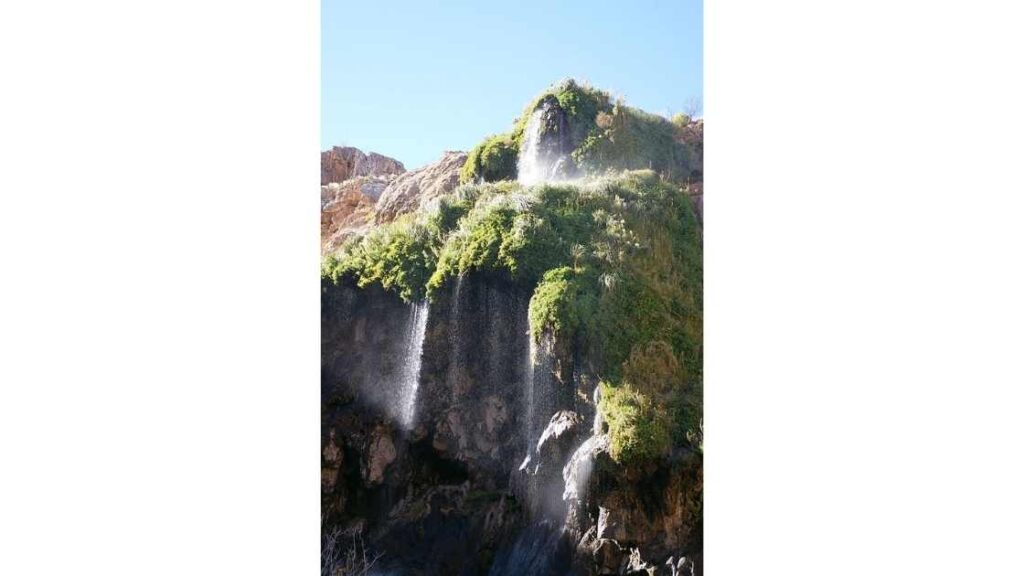 Sitting Bull Falls is in the middle of the desert near Carlsbad, New Mexico which homes to the famous Carlsbad caverns forming an oasis of greenery and water. However, this place is best for the falls and hiking trails to explore the cavern.
It is the best place for you if you want to head out of the heat. A short walk into the falls and the view will mesmerize you.
This place is a 5-hour drive from Santa Fe and has picnic areas, pavilions, and restrooms with an affordable entry fee. You can also use the trail for biking and horseback riding.
Folsom Fall
The amazing Folsom Fall is in the northeast part of New Mexico and is surrounded by lush green beauty. Moreover, the fall is made of a primitive lava flow.
You can hike around the falls and make memories of the moments by taking pictures. Anyways, it is not advisable to swim here due to the rocks and water level.
You may encounter cattle because of the greens but all said, it is a beautiful place to visit.
Frequently Asked Questions About New Mexico's Water Falls
Does Mexico have waterfalls?
Even though Mexico is a desert region, there are quite a several waterfalls in this place one of which is Nambe Falls in Northern New Mexico.
When does the Nambe trail open?
The trail remains open Thursday through Monday from 7 am to 7 pm with the fee being $15
What is the highest waterfall in New Mexico?
Jemez falls in Mexico's Jemez Mountains with a hiking distance of 3.5 miles is the tallest waterfall.
Final Words
Waterfalls are the true art of nature. Being one with nature itself is a complete experience. If you have such a great experience in New Mexico or anywhere, do let us know in the comments.
If you want to know more about waterfalls, or different travel places, then keep visiting our website. We will try to come up with more unique and must-visit places. You can even comment on your favorite places or your travel bucket list.
Do not forget to enjoy and collect memories irrespective of the place you are visiting. Keep on exploring the world.
Also read: 15 Best Waterfalls In Rhode Island That Are Worth Visiting