Sometimes, it becomes necessary to leave your current setting and go out for exploration. Hill stations provide an excellent opportunity to find a connection with nature.
However, that could quickly turn sour with highly popular Hill stations because of overcrowding and other degrading effects that would come with it. High commercialization of Hill stations brings an increased adverse impact on solitude and peace of mind for its travelers. There are plenty of Hill stations in the world that are great to visit and not highly explored.
Chandigarh is located so close to the Himalayan ranges, which explains why so many beautiful hill stations are in proximity to it. If you are looking for some best hill stations near Chandigarh that are unexplored, fear not. There are quite a fair amount of them too.
Here are our top 7 picks for unexplored hill stations near Chandigarh. We have ordered these stations in ascending order of the distance from Chandigarh. The first five below are less than 180 km.
Here are the 7 best unexplored hill stations near Chandigarh:
Parwanoo
Parwanoo is located in Solan district near the border of Haryana in Himachal Pradesh. Parwanoo is the major nearest hill station from Chandigarh, which is just 35 km away.
It provides a great scenic view of snow-capped mountains. In addition to this, Parwanoo is a tremendous industrial center. So, Parwanoo is an excellent destination for people who love nature and want to explore industrialized places.
The prime attraction for Parwanoo is the Timber trail, which is a ropeway ride covering the distance of 1.8 km at the height of 5000 ft from sea level. There are plenty of other attractions, including Cactus Garden, Mansa Devi Temple, Gurkha Fort, and more.
Morni Hills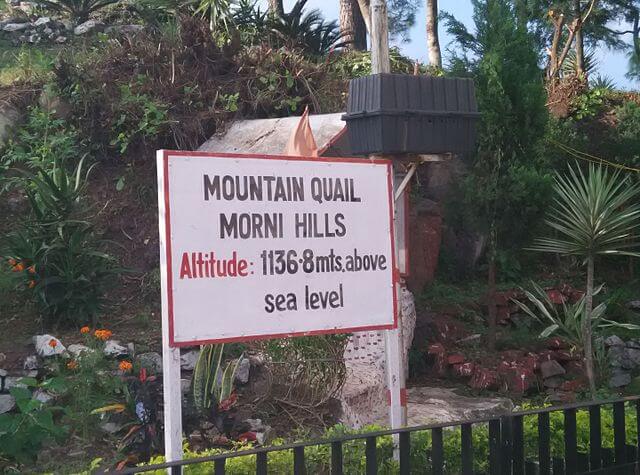 Located in Haryana, Morni is a great Hill station for experiencing natural beauty and is a place that has significant archaeological importance. The Thakur Dwar temple horse cravings present in the place take back to the 7th century. If you are looking for unexplored hill stations near Chandigarh, you must visit this place.
It is just 41 km away from Chandigarh, and the journey would be short and pleasant. Morni Hill station is famous for its two lakes, which are connected yet detached. The locals consider these Tikkar Lakes very auspicious and find themselves as the center of many cultural activities. It is present at the height of 1220m.
Kasauli
Kasauli is one of the smallest hill stations near Chandigarh and is located in Solan district. It is one of the most beautiful and unexplored hill stations in Himachal Pradesh, 60 km away from Chandigarh.
Kasauli is well known for its antique charm, and one can experience the colonial history of the town from its architecture too.
The weather is extreme here in January and December, which could restrict mostly all outdoor activities. It is perfect for visiting in other months of winter and summer. However, more tourists could come here in summer, so you may need to go for winter if you want solitude.
Kufri Hills
Being just about 128 km from Chandigarh, Kufri is great for visiting temples and enjoying the scenery. It is so close to Shimla, which will make it both a great place for hardcore tourists and keep the general masses away. It is present at the height of 2633m.
Kufri Hills have many exclusive activities like Horse riding, Skiing, Hiking, and many other kinds of winter sports. There are also many places like the Kufri Fun World, Himalayan National park that will surely spark your interest.
Narkanda
Situated at the height of 9000 ft, it is a generally popular tourist destination for people as a winter playground. Its distance is about 174 km from Chandigarh, and it is one of the less explored hill stations near Chandigarh.
One historical significance of this place is that it has some remains from the ancient eras of Pandavas and Vanya Prashtha.
Narkanda is well known for its extreme winters and beautiful panoramic views of the Himalayan Mountains. As such, it experiences an incredible amount of snow every year, and it is also a center of snow sports for tourists around the world.
Kullu
Kullu is 230 km away from Chandigarh, and it has some of the rarest and endangered wildlife species of the world, including Himalayan Thar, Snow leopards, Blue sheep, and more. It is well placed at a high altitude of 1230 m.
The Himalayan National Park is a popular attraction for people who visit Kullu. This town has a freezing winter with the temperature dropping to -4 degrees, and almost everything is covered with white sheets of show. It is one of the must-visit hill stations near Chandigarh.
However, the summer is the right timing to enjoy this place, and as such, the months of October to February offer a pleasant experience for visitors.
Manali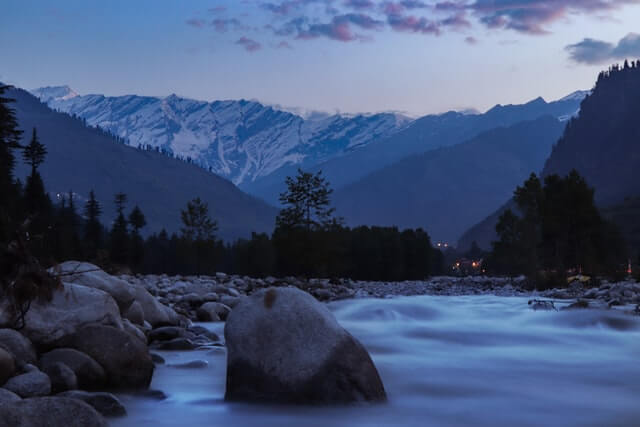 Manali is often paired with Kullu Hills and is 307 km away from Chandigarh. It boasts great views of the Pir Panjal and Dhauladhar ranges that surround this hill station.
It is often told as the "adventure capital" of Himachal Pradesh because there are many activities that you can participate in here like that of Zorbing, Skiing, Tobogganing, river rafting, paragliding, trekking, and many more.
However, not only adventure but tourists also enjoy outstanding natural beauty here. The elegant cafes of Manali offer you many cuisines from different countries. It is undoubtedly the best hill station near Chandigarh.
Frequently Asked Questions About Unexplored Hill Stations Near Chandigarh
Why is Kasauli famous?
Kasauli is famous for its greenery, picturesque surroundings of the mountains, and tourism-friendly people. This place's most popular attractions are the Central Research Institute (CRI), Baptist Church, Sunset Point, Monkey Point, and other trekking, shopping, and paragliding activities.
How far is Kasauli from Chandigarh?
Kasauli is about 57 km from Chandigarh.
Which is better, Kasol or Kasauli?
Both places are beautiful and situated in the mountains. But if you have to choose one of these places, you should go with Kasol. Kasol is a fascinating town and Himalayan hotspot for adventure lovers. It acts as a base for nearby treks to Malana and Kheerganga, and it is peaceful and less crowded than Kasauli.
Is Morni Hills Safe?
There is no check post in this whole area. Network issues are also a big problem here. In the case of criminal activity and emergency, you might not get out of it instantly.
Which is better, Kasauli or Morni Hills?
Kasauli is located at an average elevation of 1900 meters from the sea level, whereas Morni Hills is 1200 meters above the sea level. Both the hill stations are best at their own choice, but if you have to choose only one, you should go with Kasauli as it offers you a tourist-friendly environment and pleasant weather.
Bottom Line
So, the above-mentioned hill stations are some best and unexplored hill stations near Chandigarh. There are also many other hill stations and places you can explore during your journey. All these hill stations near Chandigarh will significantly serve your Wanderlust.