Looking for the most amazing places to visit in Rajasthan in August? Well, Visiting Rajasthan during August is an enjoyable experience in itself.
It is generally monsoon in August month, but this monsoon season brings rejuvenation in this state because, in summers, Rajasthan is extremely hot and dry.
Though it is a monsoon season in August, there is no need to stay inside; instead, you can explore the state and see what Rajasthan has got to show you during the season.
Rajasthan is one of the most visited states in India. It offers many colors and festivals all in one place. Tourists have so many things to explore in this beautiful state.
If you are visiting or planning to visit Rajasthan during August and don't know about the places to visit during this month, here we have compiled a list of 10 best places to visit in Rajasthan in August.
Keep reading to know more about these places and what they have to offer you.
Mount Abu because it is the only hill station in Rajasthan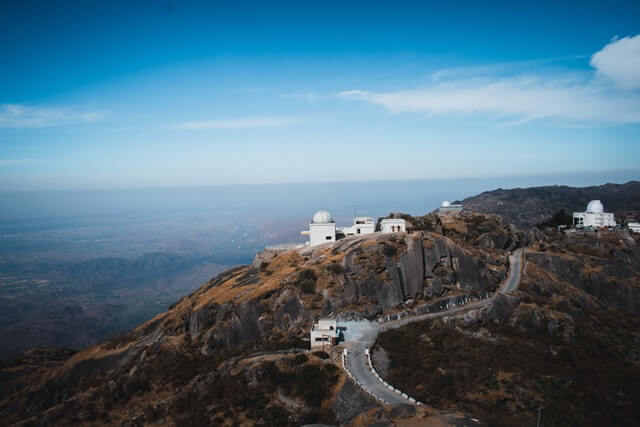 Mount Abu is a must-visit place in Rajasthan, especially in monsoon. It is one of the most praised places in Rajasthan.
This place looks heaven in monsoon, greenery all around, and that's commendable. Other popular tourist attractions are Nakki Lake, Toad rock viewpoint, Guru Shikhar, Mount Abu Sanctuary, and Dilwara Jain Temple.
Mount Abu is liked by honeymooners a lot, but this place isn't less for families. You can do many outdoor activities at Mount Abu, like trekking, zip-lining, etc. Overall it is one of the best places to visit in Rajasthan in August.
Bundi because this place receives the highest rainfall in all Rajasthan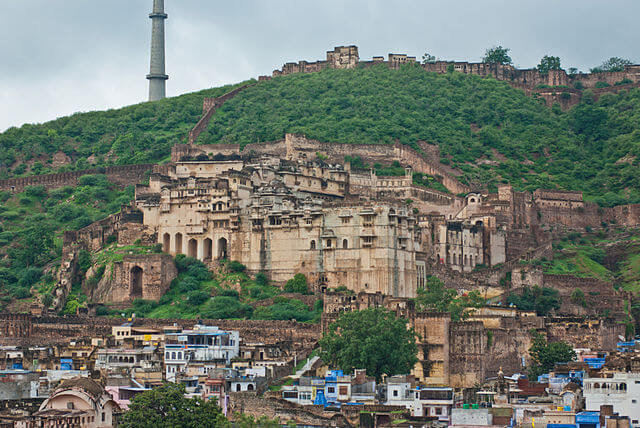 When you are in Rajasthan in August, Bundi is a must-visit place. During your visit to Bundi, you'll see many showers of rain, and because of that, you'll see endless peacocks and rainbows at this place.
Bundi is called the season of peacocks in monsoon. You can enjoy the Teej festival in Bundi, and it is celebrated with all colors and happiness.
There are many other places that you can explore in Bundi like Taragarh Fort, Bundi Palace, Rani Ji ki Baori, Kshar Bagh, Dabhai Kund, Garh Palace, Naval Sagar Lake, Jait Sagar Lake, and 84 pillared cenotaphs.
Udaipur for being the most romantic city
Udaipur is said to be the most romantic city in India because it is full of lakes and palaces. It is one of the most fascinating places to visit in Rajasthan in August.
The biggest attraction of this city is City Palace, which is a huge palace, and the members of that royal family still live in some part of it.
The city offers many beautiful places to visit, like Udaipur City Palace, Lake Palace, Fateh Sagar Lake, Lake Pichola, Jag Mandir, and Monsoon Palace. The view of Udaipur city in monsoon is magnificent and jaw-dropping.
Jaipur for being the Pink City
Jaipur is also known as the pink city, and it is one of the best places to visit in Rajasthan in August. Teej festival is celebrated in Jaipur with all vibrant feeling in monsoon.
Jaipur has many palaces and forts with so many spectacular views and intricate architecture. There are many options to explore in Jaipur from forts to palaces and markets to streets.
This place is full of a variety of exquisite items. One can easily find many traditional clothes and accessories while doing shopping in Jaipur.
Keoladeo for Bird Sanctuary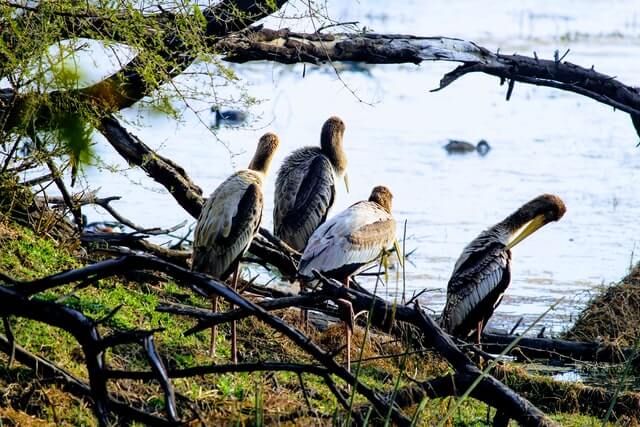 Keoladeo National Park is a must-visit place for bird lovers. It is also known as Bharatpur Bird Sanctuary.
Keoladeo National Park is home to almost 375 species of birds. You can see the endless number of different looking birds at this place, and some of these birds are migrants from different places like China, Tibet, Europe, and Siberia.
Monsoon is the best time to visit this place as one can witness many migrant birds during this time. Two of the most popular migrant birds are Siberian Cranes and Waterfowls.
Ranthambore for Tiger Reserves
Situated in the foothills of Vindhya and Aravali Hills, Ranthambore is one of the rare tiger reserves of the country, and chances of sighting friendly tigers here are reasonably much better than the other tiger reserves of India.
Along with this, this place has the most vibrant flora and fauna, which makes it a must-visit area. Safari Ride in Ranthambore is a must for adventure lovers.
Ranthambore is a Natural Habitat for a variety of exotic species under the area of 392 Square Kilometers.
This would be an absolute delight for birdwatchers in this wildlife, and it is one of the ideal places to watch animals in their natural habitat.
Bikaner for being the Cultural Paradise
Situated in the middle of the Thar Desert, Bikaner is a "cultural paradise and a traveller's haven".
This place is filled with aesthetic architecture, art, and culture, which is diluted with color, festivity, and cultural marvels.
Bikaner will definitely mesmerize you with the camels wandering the beautiful sand dunes along with its ancient palaces and forts, and it is also known as the "camel country".
Sand Dunes and the Desert Safari are the significant attractions in Bikaner. It is also famous for its international camel festival which draws tourist attractions from all over the world.
Other Popular attractions are the authentic dishes such as Thandai, Bhujias, and the fascinating Ivory and Lacquer items or simply you could witness the immense heritage in the form of wall paintings and arts and crafts in this area.
Jaisalmer for being the Golden City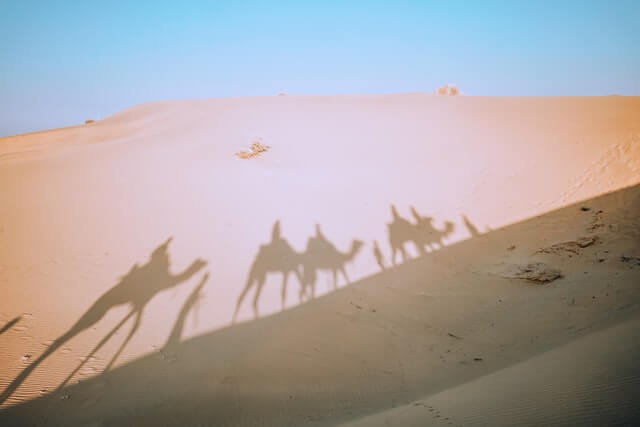 Jaisalmer is one of the most vibrant places to visit in Rajasthan in August. It is located in the northwestern region of Rajasthan.
Jaisalmer is famously known as the 'golden city' because of its golden dunes and castles cladded with golden sandstone. It is adorned with lakes, historical Jain temples, and Havelis.
Climb over the camel and take a ride through desert or camp under the moonlight in the golden desert for an unforgettable experience.
The Jaisalmer Fort stands as a stronghold and is surrounded by a narrow alleyway inhabited by residents residing there for generations.
With shops selling colorful, authentic handicrafts and historic Havelis that will take you to the past, Jaisalmer is a blend of exotic, historic Indian desert culture, heritage, and adventure.
Alwar for being easily accessible
Alwar is one of the best and easily accessible places to visit in Rajasthan in August. It is about 166 kilometers away from Delhi and you can reach there in 3 to 4 hours from Delhi.
During the monsoon, the weather becomes very pleasant and makes exotic flora and fauna come out of their habitat.
The major attractions in Alwar include Jaisamand Lake, Gharbhaji Falls, Moosi Maharani, Neemrana Fort, Jung Gumbad, Chhatri, Fateh.
Also, the government museum inside the city palace complex is one of the most amazing places. It showcases the royal and extravagant lifestyle of the kings.
Alwar is surrounded by Aravalli hills. Rich culture, heritage, colorful markets, and the majestic forts make Alwar one of the most fascinating places to visit in Rajasthan in August.
Pushkar for being the Holy City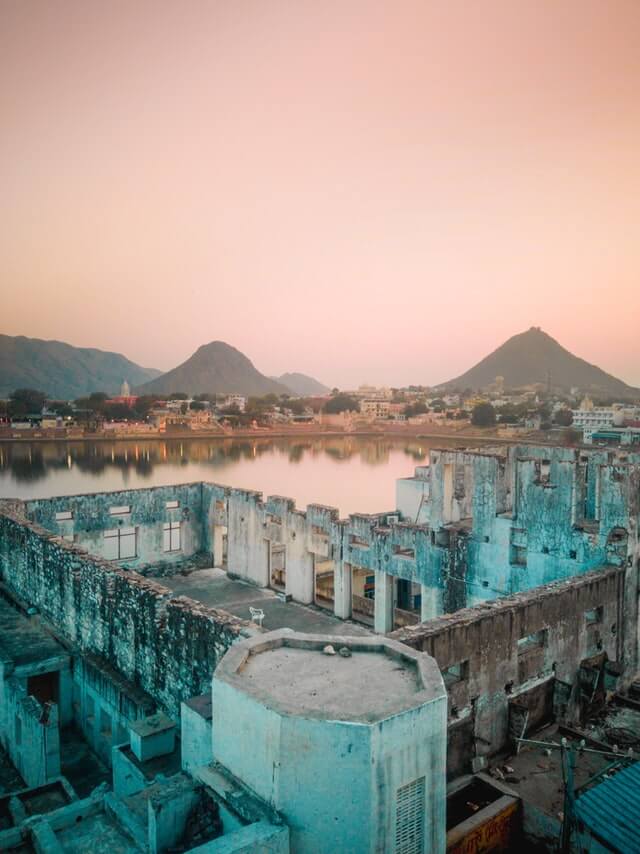 India is famous for its culture and spirituality. Pushkar is the holy city, and it is famously known for its Brahma temple as it is the only temple of Brahma in India.
Brahma is the almighty one-third of the trinity in the Hindu religion, and as per the belief, Pushkar is said to be the home of Brahma.
You must visit the Brahma temple in Pushkar as it is impossible to miss, being there gives you satisfaction and relief because of the frequent chanting ceremonies that take place several times a day.
Pushkar is very famous amongst the visitors in October and November due to Camel Fair, but Monsoon makes it the main reason to visit Pushkar in August. It is one of the most vibrant places to visit in Rajasthan in August.
Apart from Lord Brahma Temple, there are many other attractions to visit in Pushkar like Pushkar Lake, Savitri Temple, and Rangji Temple. You can also visit the Pushkar market to do some traditional shopping and enjoy some Rajasthani food with live folk songs.
Frequently Asked Questions
Is Rajasthan A Good Time To Visit In August?
Rajasthan experiences the monsoon season in August, making it a perfect time to visit. It is too hot during the summers to visit Rajasthan.
Is August A Good Month To Visit Jaipur?
Along with beautiful monsoons, the Teej festival is celebrated during august in Jaipur. Not to forget the spectacular architecture and forts present there are worth visiting in the pleasant monsoon of August.
Can We Visit Jodhpur In August?
Sure you can! It is great weather and less tourist in august, making it an ideal condition to visit Jodhpur.
How Many Days Are Ideal For A Rajasthan Trip?
It is ideal for taking out a week (6 nights and 7 days) to explore multiple tourist attractions across different cities in Rajasthan.
How Much Does A Trip To Rajasthan Cost?
It costs anywhere from 20,000/- Rs – 30,000/- Rs for 6 nights and 7 days tour to Rajasthan.
Is Jaisalmer Safe?
Due to high security, Jaisalmer is very safe. Visitors are prohibited from roaming around the border areas.
Bottom Line
So, these are the 10 best places to visit in Rajasthan in August, you must cover most of these places during your journey. You can go to these places with open arms and experience the vibrant colors and the beauty of these places.
Also Read: 8 Best Indian Tourist Destinations Famous For Beaches