7 Places To See In Kanyakumari In One Day
Kanyakumari is not just a meeting point of the Indian Ocean, the Bay of Bengal and the Arabian Sea, but it is a city of different cultures, religions, and festivals. Tamil Nadu attracts tourists all over the year. Kanyakumari is one of the most alluring places of Tamil Nadu. It is situated at the southernmost point of India. It is located near the Western Ghats and bordered by the Lakshadweep Sea.
Kanyakumari has beautiful beaches where you can enjoy both the sunrise and the sunset. Kanyakumari is a famous pilgrim for devotees who come to visit the renowned temples and to take bath in the holy water.
If you have just one day and you want to explore the best places of Kanyakumari in that one day. Here's the list of places to see in Kanyakumari in one day. Keep reading to know more about those places.
Padmanabhapuram Palace For Amazing Architecture
Padmanabhapuram palace is located on the foothills of the Velli Hills. This place is full of architectural brilliance. It is a 4 kilometres widespread palace. It was built in the 16th century and belong to Travancore royals. It is one of the best places to see in Kanyakumari in one day
This palace is made up of granites and rosewood. This palace offers you spectacular views right from the entrance of this palace. Here you can see a lot of different antiques and arts like weapons, Chinese jars, paintings, etc. This palace is visited by hundreds of people every day.
Thanumalyan Temple For God's Blessings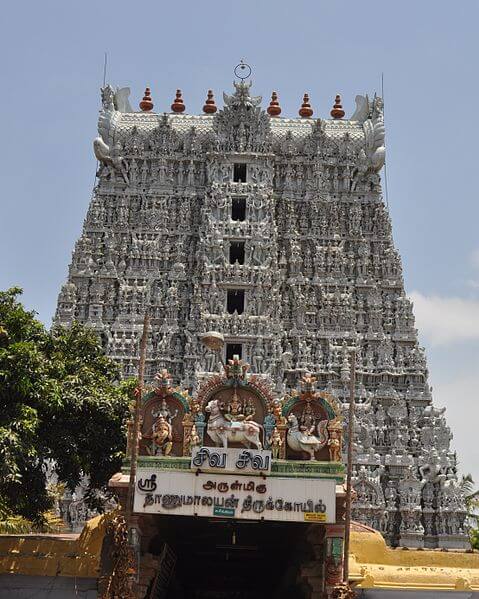 Thanumalyan Temple is situated in Suchindram. This temple is also known as Sthanumalayan Temple. This temple is the sole temple in the entire world where you can find this Trimuthis Brahma, Vishnu, and Shiva. This temple is quite old as it was built in the 17th century. This temple is one of the best examples of South Indian architecture.
Thanumalyan temple has the longest statue of Hanuman in the country, which is 22 feet. This temple has musical pillars and sculptures of Hindu Gods and Goddesses on its exteriors. People are only allowed with a dress code specific for men and women in this temple. Festival celebrations like Rathotsava and Teppam are one of the main attractions for thousands of tourists at this temple every year. When it comes to the best places to see in Kanyakumari in one day, Thanumalyan Temple is a must-visit place.
Thiruvalluvar Statue For The Breathtaking Views
Thiruvalluvar statue is 133 feet high statue of renowned Tamil poet and philosopher, Saint Thiruvalluvar. Saint Thiruvalluvar was a renowned author who did fabulous work in Literature, Tamil text, and Tirukkural. In respect to Saint Thiruvalluvar and his work, the statue was started building in 1990 and the entire statue was built in 1999. This statue is situated on a small island near Kanyakumari.
Thiruvalluvar Statue is full of representation and cultural significance, that makes this place a must-visit in Kanyakumari. This statue is bounded by water and built on an apt location and, you can take a ferry ride to reach the masterwork. On a beautiful day with good weather, this place looks like a painting. You can come to this place and, you can achieve thoughtfulness and calmness. This place will take you away from the noise and population of the city.
Vivekananda Rock Memorial For Meditation And Views
Vivekananda Rock Memorial is just adjacent to Thiruvalluvar Statue. It is one of the iconic monuments of Kanyakumari. A ferry trip will take you to this small island where this Vivekananda Rock Memorial is built. This Vivekananda Rock Memorial was built in the year 1970 and, since then it is attracting a lot of tourists and visitors. It is believed that this rock memorial is built at the same place where Swami Vivekananda Ji gained all the knowledge.
Your trip is incomplete if you are in Kanyakumari and didn't visit this place. It is one of the best places to see in Kanyakumari in one day. This place will give you a heavenly feeling where you can simply sit in this quiet and beautiful place. You can meditate at this place as this place has a hall for meditation. You can also see the meeting point of the Indian Ocean, the Bay of Bengal, and the Arabian Sea. You will be mesmerized by the Sunrise and the Sunset views from Vivekananda Rock.
Vattakottai Fort For The Richness Of Historical Values
Vattakottai Fort is located near Kanyakumari Cape. This fort was built in the 18th century during the Travancore supremacy. This fort is also popular as the Circular fort. This place is mesmerizing as it is at a waterfront location with green surrounding on all sides.
Vattakottai Fort provides you with a majestic view of the Bay of Bengal Sea on one side and royal hills of the Western Ghats on the other side. This place gets renovated timely to ensure that it is preserved well as this place is protected under the Indian Archaeological department. If you love exploring historical places, it is one of the best places to see in Kanyakumari in one day for you.
Kanyakumari Beach To Enjoy The Sunrise Or The Sunset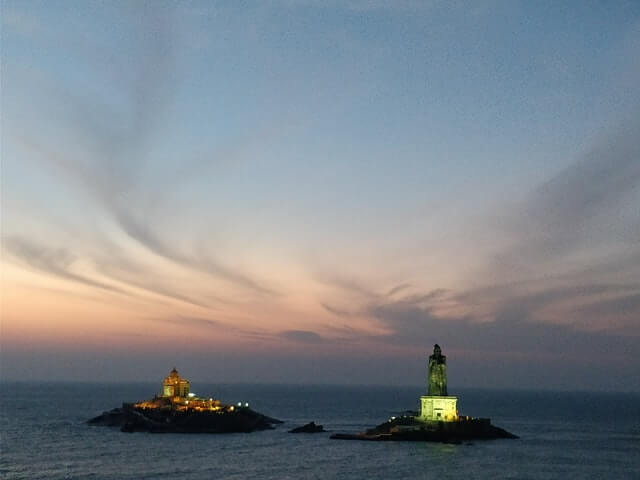 Kanyakumari beach is located at the meeting point of the Indian Ocean, the Bay of Bengal and the Arabian Sea. You can enjoy the sunrise and sunset views at this beach. It is a rocky beach that's why it is not advised to swim on this beach, though you can enjoy the water for some fun.
Kanyakumari beach is the perfect place to create memories. You can take endless pictures here as this place provides you with mesmerizing views. You will surely get some amazing shots at this place. There is a lighthouse at this beach from where you can sit and enjoy the blue water. Kanyakumari beach is one of the most amazing places to see in Kanyakumari in one day.
Tsunami Monument: A Unique Tourist Attraction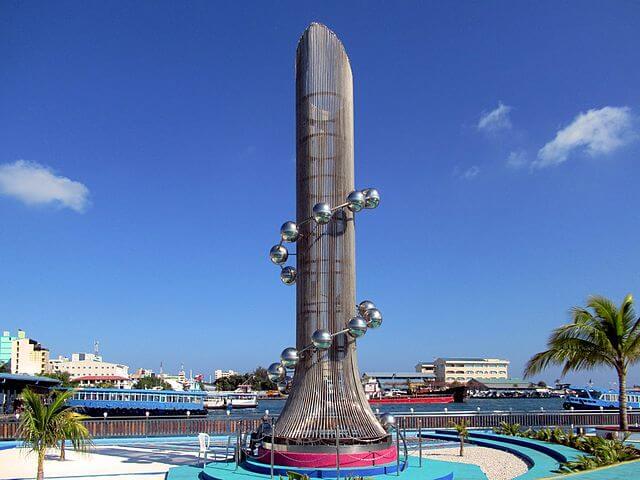 Tsunami Monument is one of the coolest and famous places in Kanyakumari. The special thing about this unique monument is that, It was built in the memory of all those people who died in the Indian Ocean earthquake and tsunami that shook the entire country on 26 December, 2004.
It is located near the southern shore in Kanyakumari. This monument was built by the architect B. Kanagaraj Cangan and It is 16 feet in height. It is one of the best and easily accessible places to see in Kanyakumari in one day. Visiting this place will give you a unique and peaceful feeling.
Conclusion
These are the seven best places to see in Kanyakumari in one day. Though there are many other amazing attractions and places one can go to Kanyakumari. But this route is the best way to utilize a day when you have limited time in Kanyakumari. You will love every destination and it will also save your time while planning an itinerary. So what are you waiting for now? Just pack your bags and take flight, train, or bus whichever is convenient to reach Kanyakumari and start exploring these places.
You can also plan your trip to Kanyakumari with friends and family. Just make sure you check the weather forecast and plan your trip accordingly.
Also read: 8 Best Indian Tourist Destinations Famous For Beaches