I wonder how every sunset can look so perfect every time I see it. Sunset looks perfect not only in the real world but in Instagram pictures as well. Sunset is the favorite time of photographers, and sunset pictures usually perform well on Instagram. Eye-catching Instagram captions for sunset pictures are equally important to make your Instagram post look perfect.
We've collected 100+ Instagram captions for sunset pictures so that you never run out of captions for your posts.
Here are the 100+ beautiful Instagram captions for sunset pictures:
Short Instagram Captions For Sunset Pictures
Sunset is love
And It's finally going down for real.
A sunset should never go unnoticed.
A Sunset truly deserves your attention.
We all see the same sunset from different eyes.
Watch sunsets, not Netflix.
Fifty shades of pink
Sun of a beach
I live for sunsets with you.
I never met a sunset I didn't like.
You are never too old to watch a sunset.
Sunsets are loved because they vanish. – Ray Bradbury
It's time for a drink because the sky is turning pink.
I dream in the colours of the sunset.
Cherish the sunset before it vanishes.
Best Instagram Captions For Sunset Pictures
Other things in life can wait, but the sunset won't.
Every sunset is an opportunity to reset. – Richie Norton
Her heart was made of liquid sunsets. — Virginia Woolf
Sunset is the opening music of the night. – Mehmet Murat Ildan
Sunsets are proof that endings can be beautiful too. – Beau Taplin
The sunsets you see will always be better than the ones you don't. – Karen Joy Fowler
I am very fond of sunsets. Come, let us go look at a sunset. – Antoine de Saint-Exupery
Don't forget, beautiful sunsets need cloudy skies. — Paulo Coelho
Never go too long without watching a sunset. – Atticus
Every sunset brings the promise of a new dawn. — Ralph Waldo Emerson
When someone asks me what my favourite colours is, I always say, 'sunset.
Sunset is not the end of the day, it's the promise of a new beginning.
Truth is like the sun. You can shut it out for a time, but it ain't goin' away. – Elvis Presley
I stayed up all night to see where the sun went. Then it dawned on me.
Never trust a person who doesn't like sunsets.
Beautiful Instagram Captions For Sunset Pictures
Today I saw a red and yellow sunset and thought, how insignificant I am! Of course, I thought that yesterday too, and it rained. – Woody Allen
Never waste any amount of time doing anything important when there is a sunset outside that you should be sitting under! – C. Joybell
Not everyone has to ride off into the sunset with a man. Some of us just want a tan. – Mandy Hale
Sunset is about the only thing I can afford to watch right now.
The sunset doesn't care if we watch it or not, it will keep on being beautiful even if no one bothers to look at it. – Gene Amole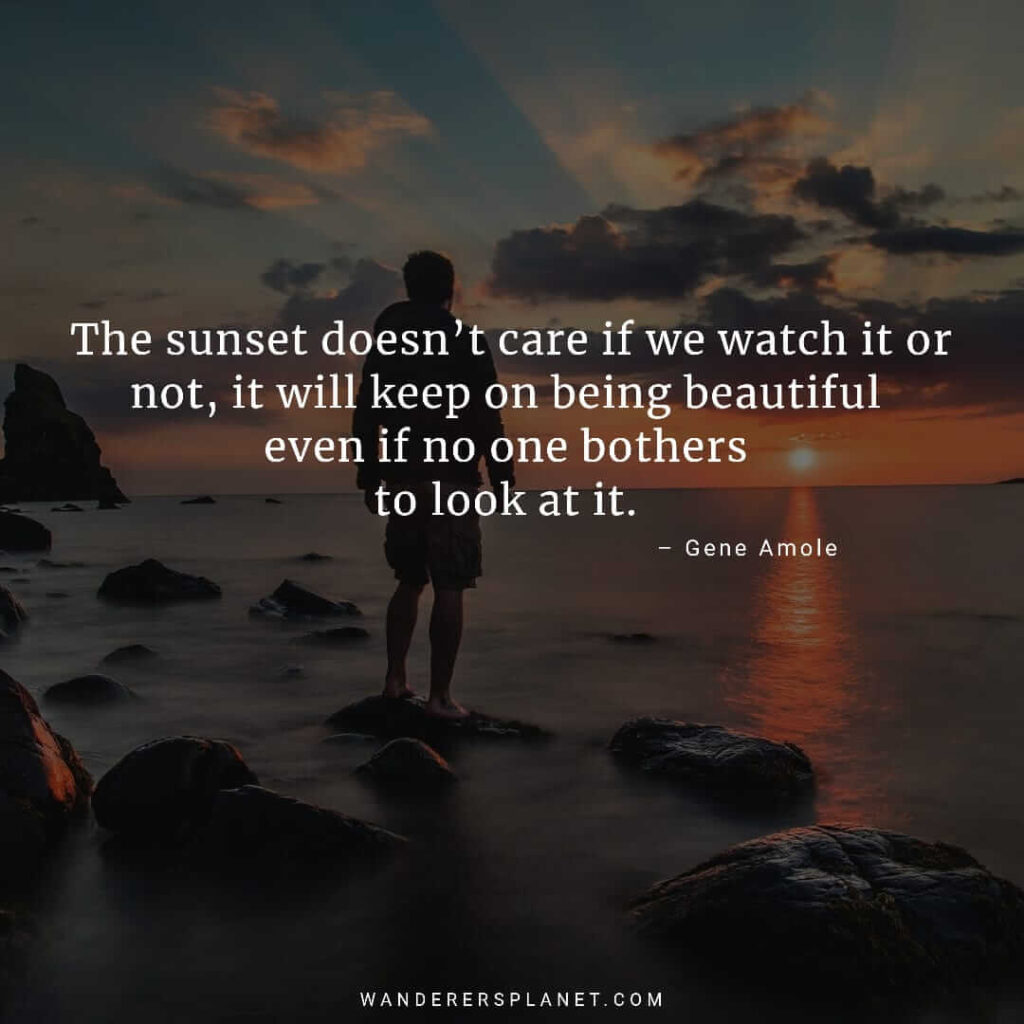 It was sunset that taught me that beauty sometimes lasts but a moment, and it was sunrise that showed me that all it takes is patience to experience it all over again. – AJ Lawless
Do every day what should be done, and every sunset will see you that much nearer to your goal. – Elbert Hubbard
People are just as wonderful as sunsets if you let them be. When I look at a sunset, I don't find myself saying, "Soften the orange a bit on the right hand corner." I don't try to control a sunset. I watch with awe as it unfolds. – Carl Rogers
Enjoy the beauty of a sunset and enjoy nature's farewell kiss for the night. – Sharon Rene
Don't waste sunrises on people who will be gone by sunset.
Sunset is so marvelous that even the sun itself watches it every day in the reflections of the infinite oceans! – Mehmet Murat Ildan
A beautiful sunset is your reward for surviving another day. Enjoy as many as you can.
Sunsets, like childhood, are viewed with wonder not just because they are beautiful but because they are fleeting. – Richard Paul Evans
Clouds come floating into my life from other days no longer to shed rain or usher storm but to give colour to my sunset sky. – Rabindranath Tagore
The sun rises, the sun falls, the wind blows and the birds sing no matter where you are. These are experiences that unite us all… something we can all enjoy together. – Melanie Charlene
Also read: 20+ Beautiful Quotes About Waterfalls And Life
Romantic Instagram Captions For Sunset Pictures
It is almost impossible to watch a sunset and not dream. – Bern Williams
Let's go somewhere the sun kisses the ocean.
I want to spend the rest of my sunsets with you.
Sunset is nature's goodnight kiss. – paraphrased from Sharon Rene
The most beautiful sunsets are the ones we have seen together.
Some days, a beautiful sunset with your best friend can be one of the most peaceful and relaxing mediations of the day. – Charles Schulz
Are you dreaming? Stop dreaming; come and watch the sunset, it is better than all the dreams! – Mehmet Murat Ildan
You add colors to my sunset sky.
All you need is love and sunsets.
Kiss me like the red sun kisses the sky.
Stay with me till the sunsets.
Nothing is better than watching a sunset with you.
That was her magic — she could still see the sunset, even on those darkest days. — Atticus
I love you to the sunset and back.
Meet me where the sky touches the sea. – Jennifer Donnelly
Meaningful Instagram Captions For Sunset Pictures
Every moment of life is unique… a kiss, a sunset, a dance, a joke. None will ever recur in quite the same way. Each happens only once in the history of the universe. – Stephen Nachmanovitch
Life does not come with instructions on how to live, but it does come with trees, sunsets, smiles and laughter, so enjoy your day. – Debbie Shapiro
Science will never be able to reduce the value of a sunset to arithmetic. Nor can it reduce friendship to formula. Laughter and love, pain and loneliness, the challenge of beauty and truth: these will always surpass the scientific mastery of nature. – Louis Orr
Every one of a hundred thousand cities around the world had its own special sunset and it was worth going there, just once, if only to see the sun go down. – Ryu Murakami
Foam is white and waves are grey; Beyond the sunset leads my way. — J.R.R. Tolkien
Sunset is the opening music of the night. – Mehmet Murat Ildan
Pink haze makes perfect days.
There's a sunrise and a sunset every single day, and they're absolutely free. Don't miss so many of them. — Jo Walton
Born to chase sunsets.
Someday, you will find the one who will watch every sunrise with you until the sunset of your life.
There is nothing more musical than a sunset. – Claude Debussy
Age is irrelevant. Ask me how many sunsets I've seen, hearts I've loved, trips I've taken, or concerts I've been to. That's how old I am. – Joelle
Whenever you want to see me, always look at the sunset; I will be there. – Grace Ogot
Watch the sunset. How does that make you feel? Does it make you feel big or tiny? Because there's something good about feeling both. – Amy Grant
You have to travel far and wide to see a lot of the world's wonders, but sunsets can be appreciated in every corner of the earth. – Kimmie Conner
Beautiful Captions For Sunset Pictures On Instagram
Every sunset gives us new hope.
When I admire the wonders of a sunset of the beauty of the moon, my soul expands in the worship of the creator.— Mahatma Gandhi
Every sunset is my kind of light show.
The sun goes down. The moon rises. And life goes on.
Keep looking up! I learn from the past, dream about the future and look up. There's nothing like a beautiful sunset to end a healthy day. – Rachel Boston
A sunset will color your dreams. – Anthony Hincks
You only get one sunrise and one sunset a day, and you only get so many days on the planet. A good photographer does the math and doesn't waste either. – Galen Rowell
Every sunrise holds more promise, and every sunset holds more hope.
I like that time is marked by each sunrise and sunset whether or not you actually see it. – Catherine Opie
No sun outlasts its sunset, but will rise again and bring the dawn. – Maya Angelou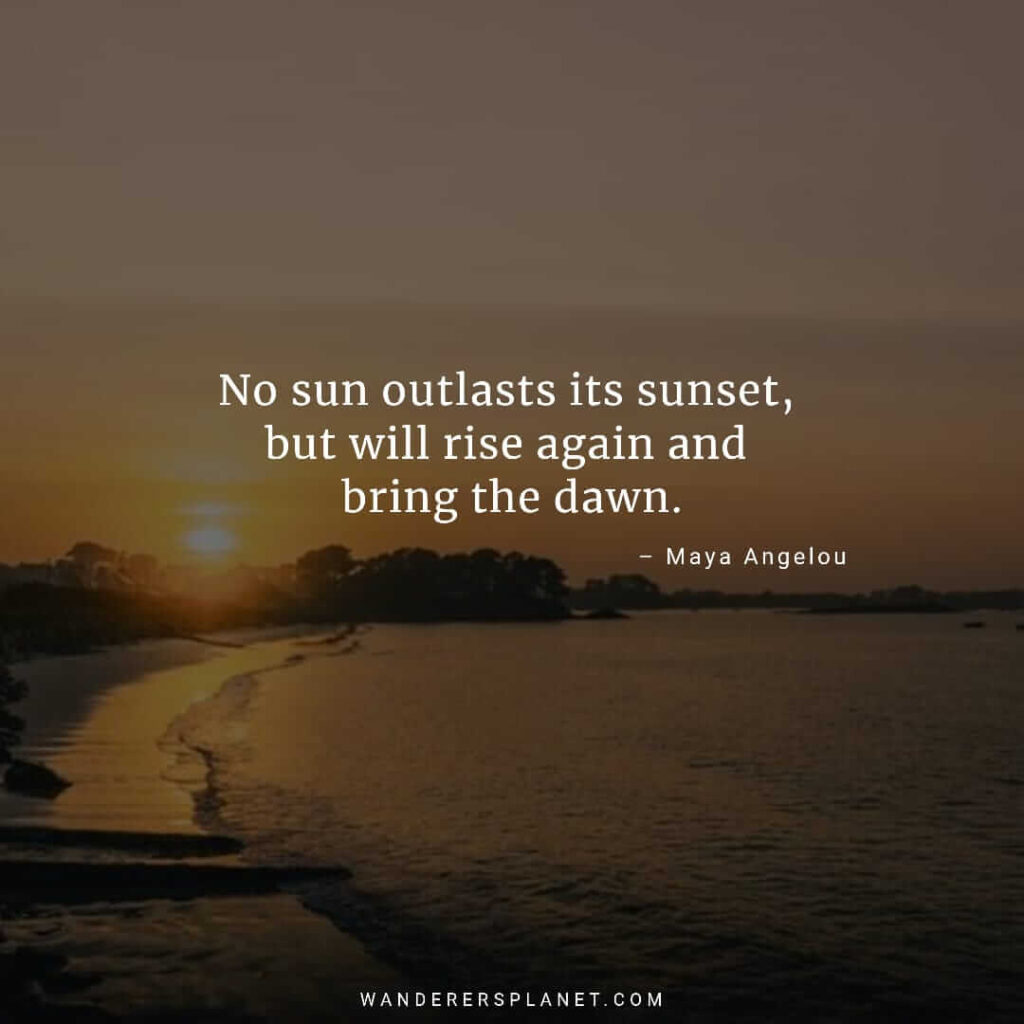 Sand, sea, and sunsets.
Sunsets and soulmates.
Sun of a beach that's a nice sunset!
I don't know many things, but I know one thing for sure, I need more sunsets in my life.
No one ever said that sunsets are boring.
More Instagram Captions For Sunset Pictures
Sunset + beach + friends + food = Perfection.
When the sun has set, no candle can replace it. – George R.R. Martin
There's too many things I haven't done yet. There's too many sunsets I haven't seen. – Sara Bareilles
A day spent with dreaming and sunsets and refreshing breezes cannot be bettered. – Nicholas Sparks
Twilight + Beach = Perfection
Every sunset is also a sunrise; it all depends on where you stand. – Karl Schmidt
The sun broke like an egg into full sunset and water caught fire. – Pamela
To me, everything is beautiful. Show me a pink sunset, and I'm limp, by God. – J.D. Salinger
Not everyone has to ride off into the sunset with a man. Some of us just want a tan. – Many Hale
She remember watching a summer sunset from this very spot. Not so long ago; just a lifetime. – Sharon Penman
Sunrise is the start of something beautiful: the day. Sunset is the start of something beautiful: the night. – Frank E. Peretti
The horizon changes but the sun does not. – Joyce Rachelle
So, these are some beautiful Instagram captions for sunset pictures. Share these captions on your Instagram with beautiful sunset pictures and give your Instagram audience the perfect feel of sunset.
Also read: 50 Famous Quotes About Exploring The World And New Places