Looking for the best best waterfalls in West Virginia?
West Virginia is generally known for its decades-old coal mine industry, but everyone knows this state is more than just coal mining. Having both nature and industries is very unlikely, and West Virginia is home to both.
Apart from state and national parks, this place has around 275 waterfalls, making it a must-visit destination for everyone.
Many national park areas, like national park gorges, are situated here, and then some waterfalls come under national parks and state parks only. Each waterfall in West Virginia has something different to offer, and they all vary in size, location, and accessibility.
This place is heaven for families as it offers various recreational opportunities that include camping, hiking, lodging to visitors, and picnicking.
National forests are also something to look forward to, home to multiple gorgeous waterfalls. Monongahela National Forest accommodates so many beautiful waterfalls that are certainly worth visiting.
Whether you are a traveler, a family person, or just a normal visitor, West Virginia has something to offer to everyone coming here.
Here is a list of some of the best waterfalls in West Virginia.
Cathedral Falls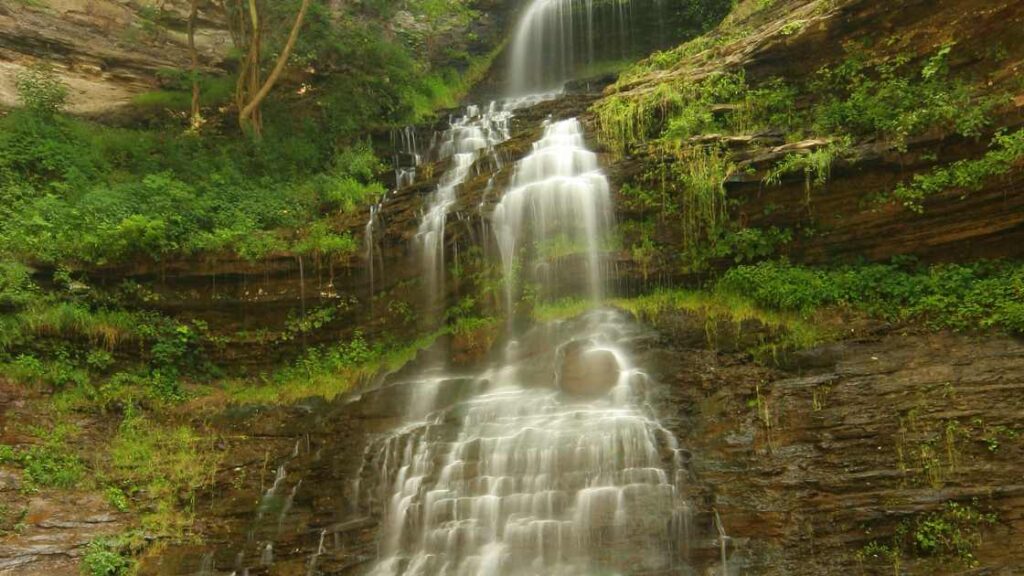 Cathedral Falls is extremely beautiful and is located near the Gauley Bridge. One must hike for around ten minutes from the main road to reach this beauty. Another route to the falls is from the Midland trail.
If you like less crowded places, this one can be the next in your favorite outdoor places as it is not typically very busy. It is advised to visit this hidden gem in the springs because that's the time when this falls shines to its fullest.
Blackwater Falls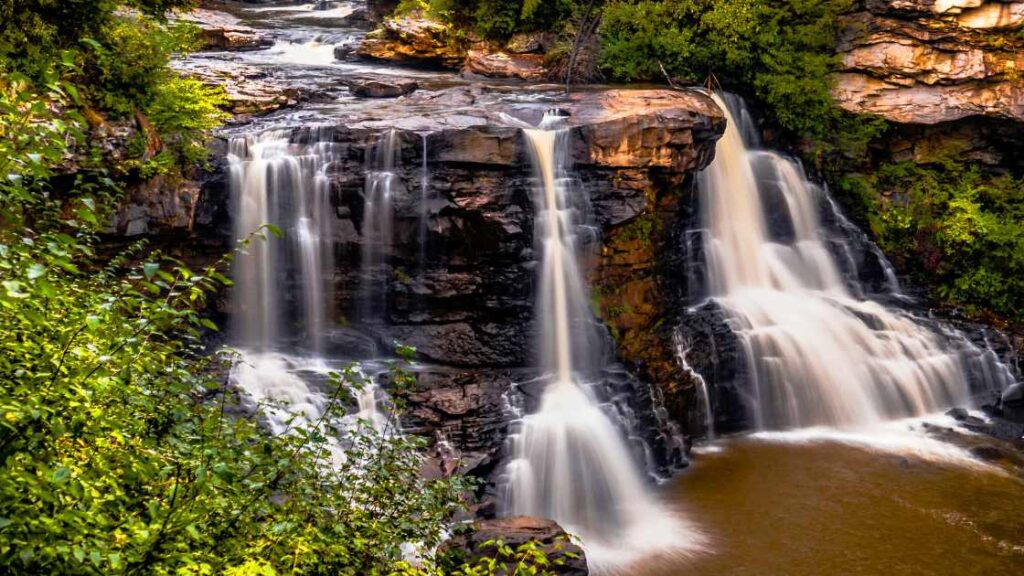 Blackwater Falls is situated between the Allegheny Mountains of West Virginia and is under a state park.
The waterfall is alive year-round and offers a very serene atmosphere to relax and have fun. Multiple hiking options are available, and birdwatching is also one of the best parts of this place. Activities like swimming, geocaching, and skiing in winter are something to die for.
Blackwater Falls also provides fun activities like fishing, boating, camping, etc.
Elakala Falls
Elakala Falls is a combination of four waterfalls that run down the area known as Shay's Run. All the waterfalls vary in size but provide you with an astonishing view. The waterfall is said to be named after a princess who threw herself into it after her lover deceived her. Another story says that Elakala was a warrior.
This place is beautiful and offers multiple recreational activities like swimming, hiking, and camping.
Indian Branch Falls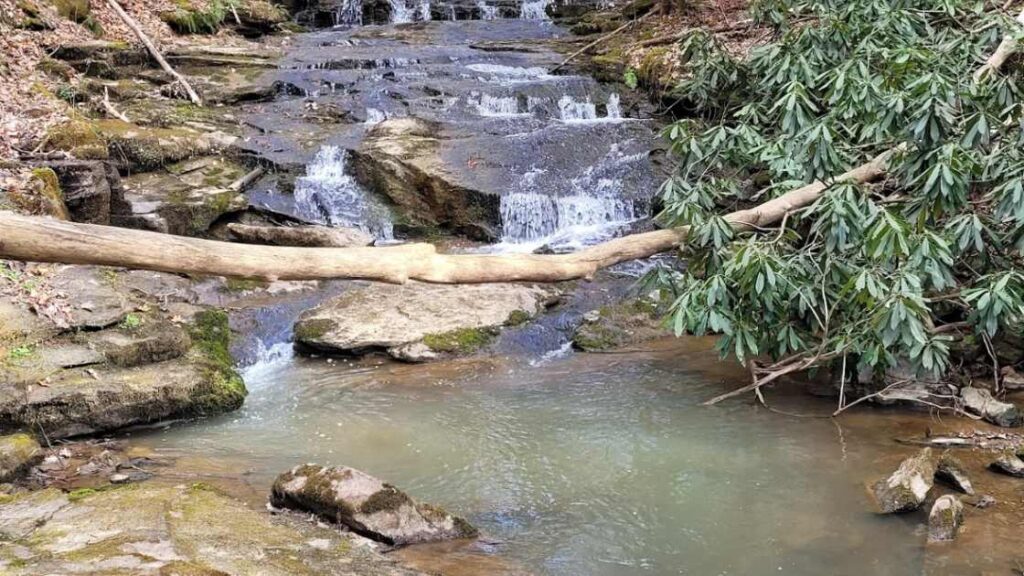 Indian branch falls come under pipestem resort state park and is accessible from three key points. The best part about this waterfall is that you can park nearby and enjoy the view.
You can also hike from the other two locations if you prefer walking. The waterfalls also offer overnight accommodation and so many recreational activities. One might have to pay a little more to enjoy more.
Brush Creek Falls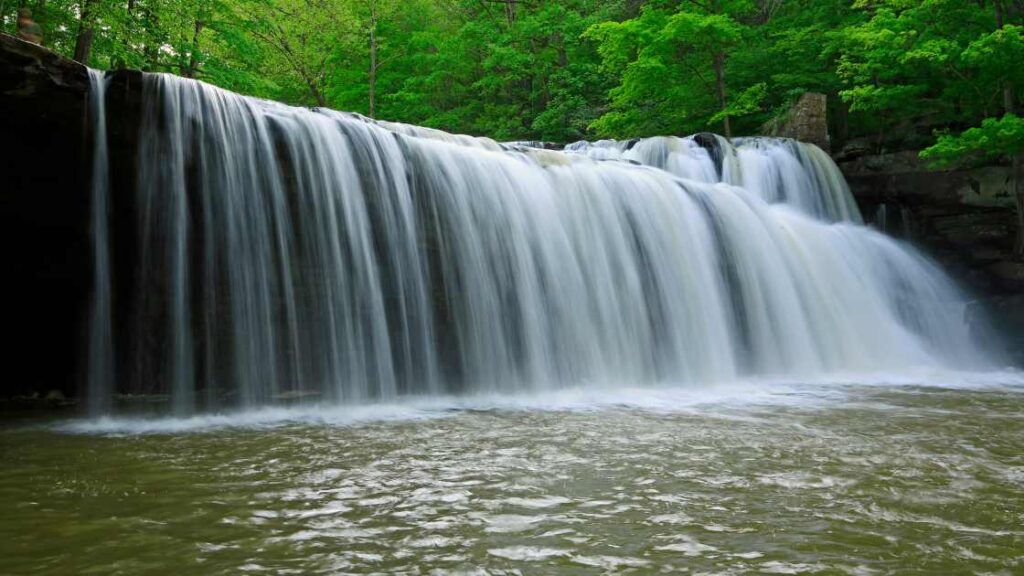 This one is situated near Mercer, West Virginia, adjacent to Brush Creek. It is around 50 feet wide and 25 feet tall, offering a great space to picnic and relax.
People have been using it as a party spot as well. Brush Creek Falls is open year-round and gives you a spectacular view. The experience received here is nothing but soulful.
It's easy to reach this rare beauty, one can hike up to the falls from the parking area, and the route is very short and easy.
Douglas Falls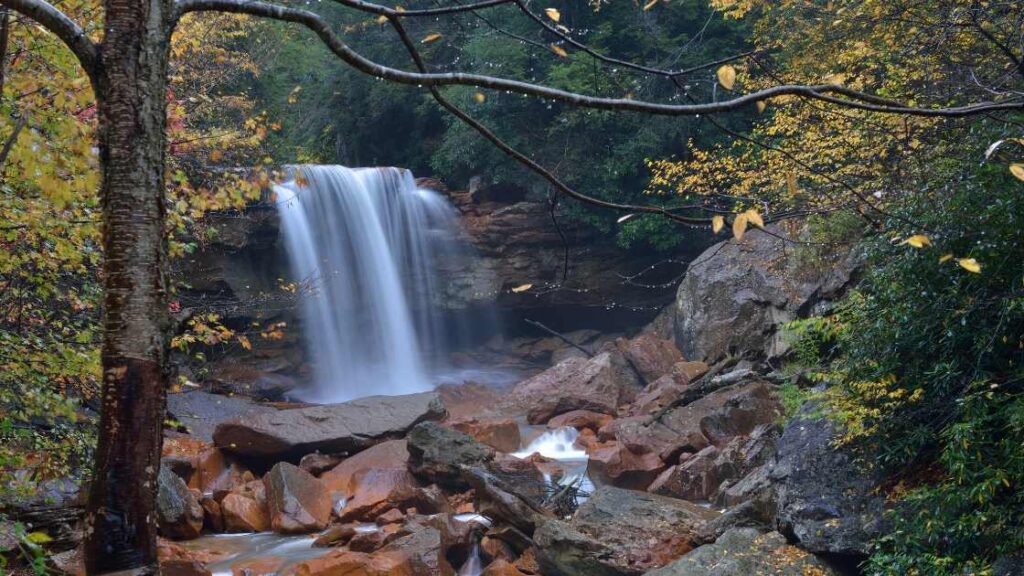 This waterfall is located near Thomas, West Virginia, and can be reached easily through a mini trail. The view of the falls is stunning, and the surroundings are calm.
Although swimming here is not recommended, as the coal miners have unfortunately contaminated the water, you can still picnic and camp around the falls.
Sandstone Falls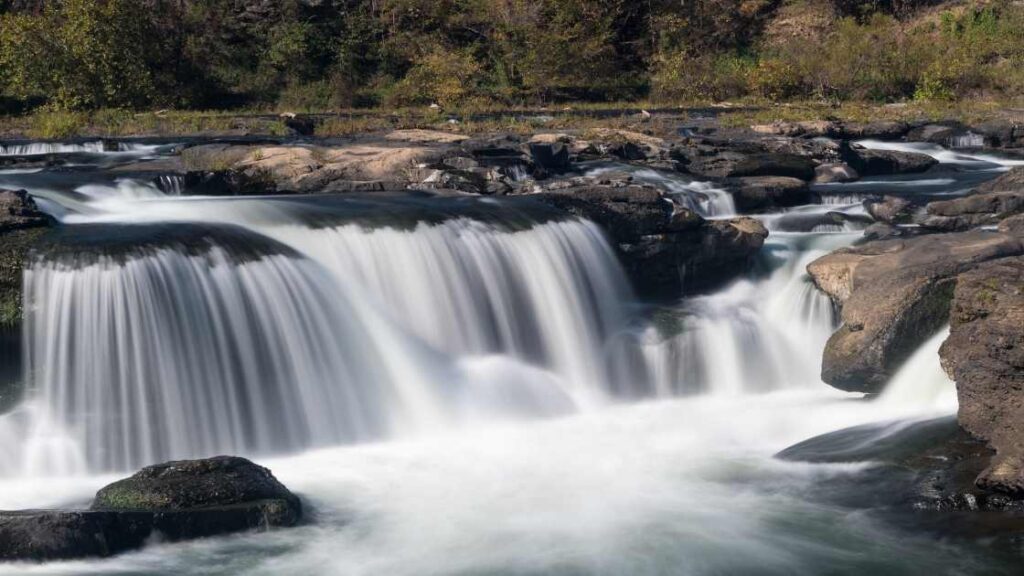 This one is located along the New River and is managed by the national park service. The route to the waterfall is fun and exciting as it tells a lot about the history of this region.
Hikers prefer this place, but one can visit here with family and friends. It is a great spot for picnicking and spending some time with nature.
Valley Falls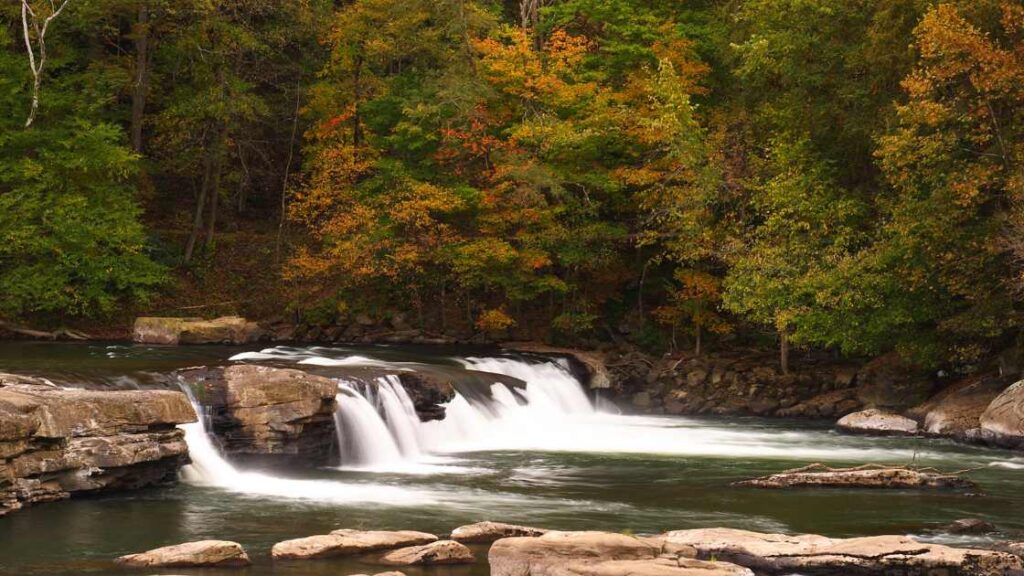 Valley Falls is located near Fairmont, West Virginia, and comes under Valley falls state park. The waterfall is many hundred feet wide and beautiful as heaven.
The area surrounding the waterfalls was once a beautiful town with things like a lumber mill, ferry schools, and much more here, but it got destroyed due to fire and flooding.
If you are looking for a calm place to enjoy nature, keep this one on your list.
High Falls
High Falls is located near Glady, West Virginia, and comes under Monongahela National Forest. One can reach here either by train or hiking. It is a 7.7 miles round trip which might sound too much to many people.
The site is available year-round, but visiting High Falls anytime from April to October is better. There are also some scattered camping sites around the waterfalls, so if you plan to explore nature, visit High Falls.
Whitaker Falls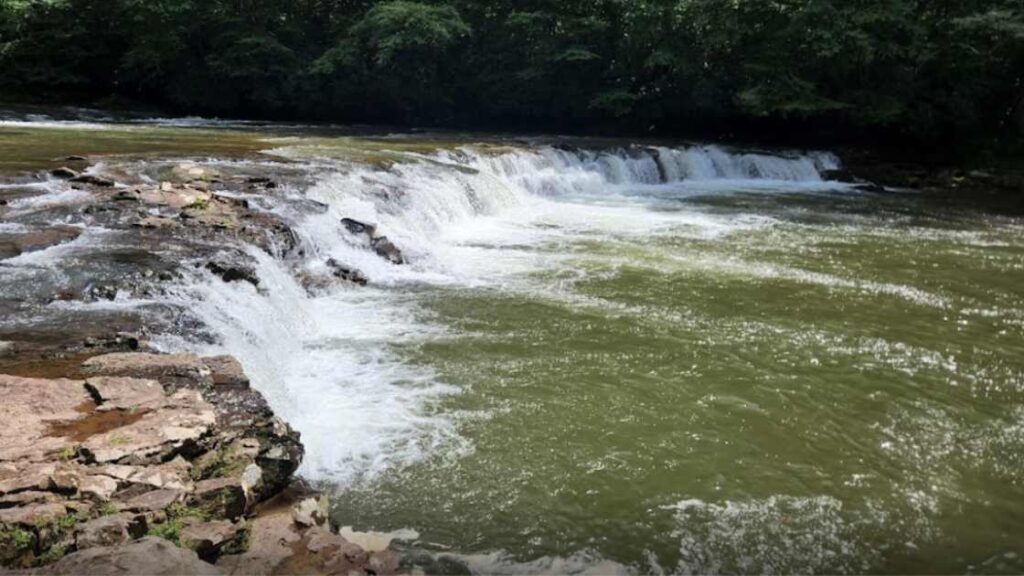 Whitaker Falls is located in the gorgeous Appalachian Mountains of West Virginia. It is very easy to reach this gem as no hiking is required. One can view it from the roadside only.
Whitaker Falls is an excellent place for swimming, especially during scorching summers. One can also indulge in fishing and exploring.
Pipestem Falls
This waterfall is located near Pipestem in West Virginia and is extremely easy to locate. One gets the best view of the falls from down in the gorge, but it can also be viewed from above. If the weather is bad, it is advised not to go down the gorge as it can be dangerous.
Bull Falls is also very close to Pipestem Falls, so one can consider visiting this one too.
Wonder Falls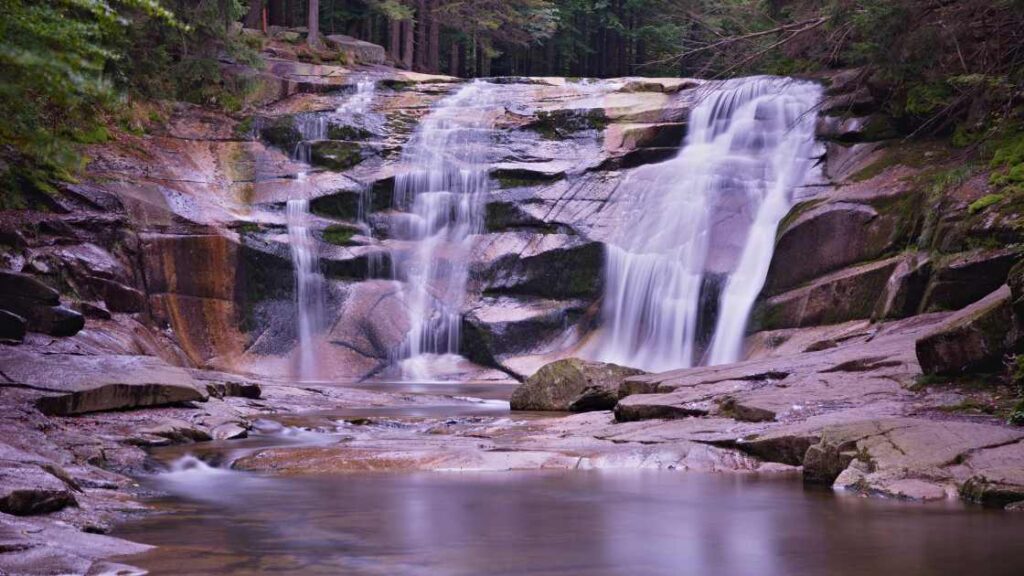 Wonder Falls is located near Bruceton Mills, West Virginia. The waterfall sits on Big Sandy Creek, so the only way to reach the falls is by wading down the creek. One can also drive up through a very narrow and rough road, but it is better to hike if traveling in a compact car.
Wonder Falls is famous for rafting and kayaking, making it a unique place to visit. One can swim in the pools and picnic around the falls.
Falls Of Hills Creek
This one is a series of three waterfalls located near Hillsboro in Pocahontas County. One of these three waterfalls is 65 feet tall, which makes it the tallest in West Virginia.
Falls of Hills Creek is an easily accessible waterfall just five miles from Cranberry Nature Centre. You can visit this one anytime from summer to winter, and there are also some other waterfalls located around the forest floor around the falls.
Peach Tree Falls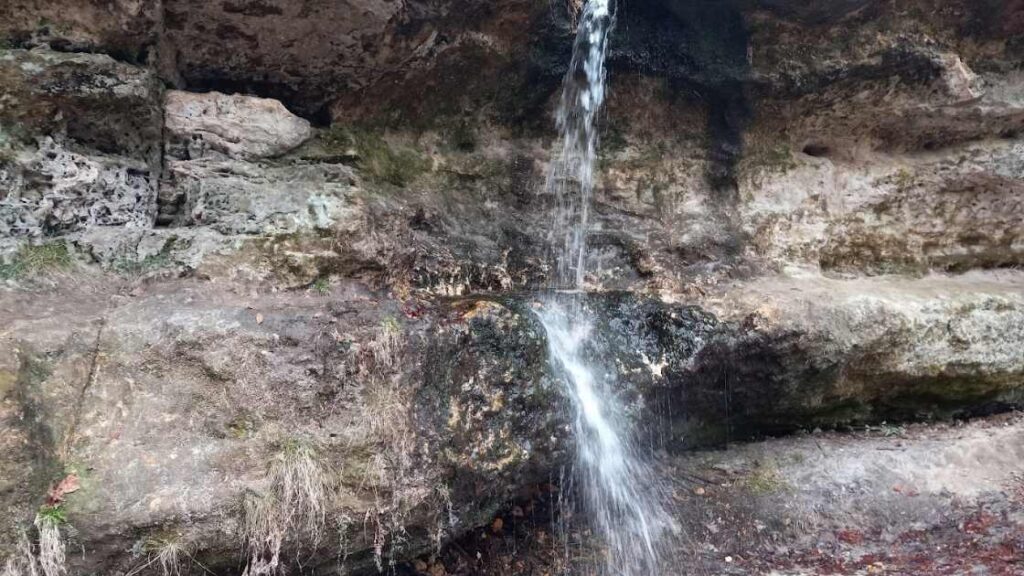 This waterfall is located near Naomi, West Virginia, and is considered a hidden gem, as not many people know about it. So if you prefer places with less crowd, Peach Tree Falls is your destination.
Coal mining is the main industry in this region, and finding such a spectacular spot to relax in such areas is nothing but bliss. You haven't seen West Virginia if you haven't seen the waterfalls yet.
Glade Creek Falls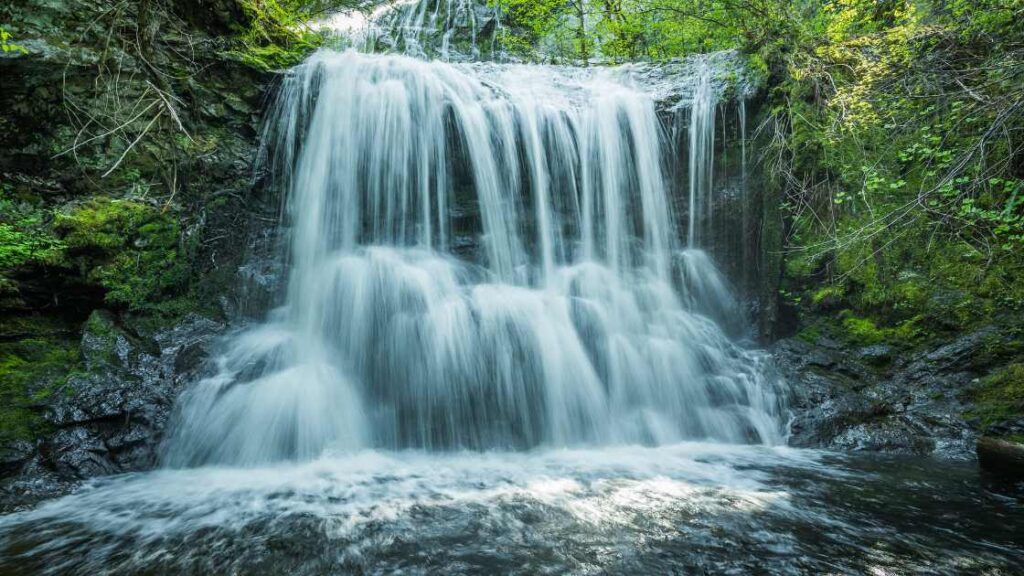 The waterfalls in West Virginia are one of the best parts of the state, and Glade Creek Falls is nothing but an absolute beauty. The falls are available year-round and provide a spectacular view.
It is located in Clifftop, West Virginia, at Babcock State Park. It is best to visit this waterfall in the fall because of the changing colors. This place is very good for hiking, picnicking, and even exploring.
The Bottom Line
The waterfalls in West Virginia are certainly the most gorgeous, and one cannot skip them if in West Virginia. The best part is that most of the waterfalls are accessible and easy to reach.
Each has something unique to offer, but the calmness around these waterfalls remains the same.
There are also multiple recreational activities around these falls, and one can easily spend a day or two in nature having fun.
Also read: 15 Best Waterfalls In Maine