Do you love dogs? Of course, you do! Who doesn't like those cute little furry floofballs? And even if you don't, I'm sure you will fall in love with Alaska's natural splendor.
Alaska is known for its virgin beauty that stands apart from any other state in the US. Vast mountains, thick glaciers, and lush forests mark this land, and its beauty shines through the northern lights.
Did you know that it is the only state in the US where Aurora Borealis is visible for more than 200 days a year?! And did you know that it has over three million lakes? Yeah, how cool is that!
The name "Alaska" comes from an Aleut word meaning "the object toward which the action of the sea is directed." Indeed, the sea has done a tremendous job working its way in decorating this northernmost state of the US!
Apart from its natural beauty, Alaska offers traditionality. It is a perfect place for people who are fascinated by different cultures and want to indulge in various communities and participate in their traditions. This culturally and historically prosperous state is home to many indigenous communities that have thrived for centuries.
As you plan your excursion, this article will provide you with a list of the 10 best waterfalls in Alaska so that you can explore its neutral beauty to its fullest.
Bridal Veil Falls
Bridal Veil Falls is one of the best-known waterfalls in Alaska.
This stunning waterfall is located at Keystone Canyon near Valdez, Alaska. Measuring 300 feet off a suspended glacier and visible along Richardson Highway, they take their name from their similarity to a bride's Veil when frozen.
The waterfall can be accessed from the historic Valdez Goat Trail, a 2.6-mile segment of the Trans-Alaska Military Packtrain Trail. You can easily see the beauty of the canyon and Lowe River from the trail.
In winter, the Bridal Veil Falls freezes into massive columns of ice, which attracts ice climbers from all over the world. It is rated grade V climb and is known to host an ice climbing festival, one of its main tourist attractions.
Bridal Veil is popular with photographers, hikers, and ice climbers who love climbing this frozen waterfall!
Precipice Falls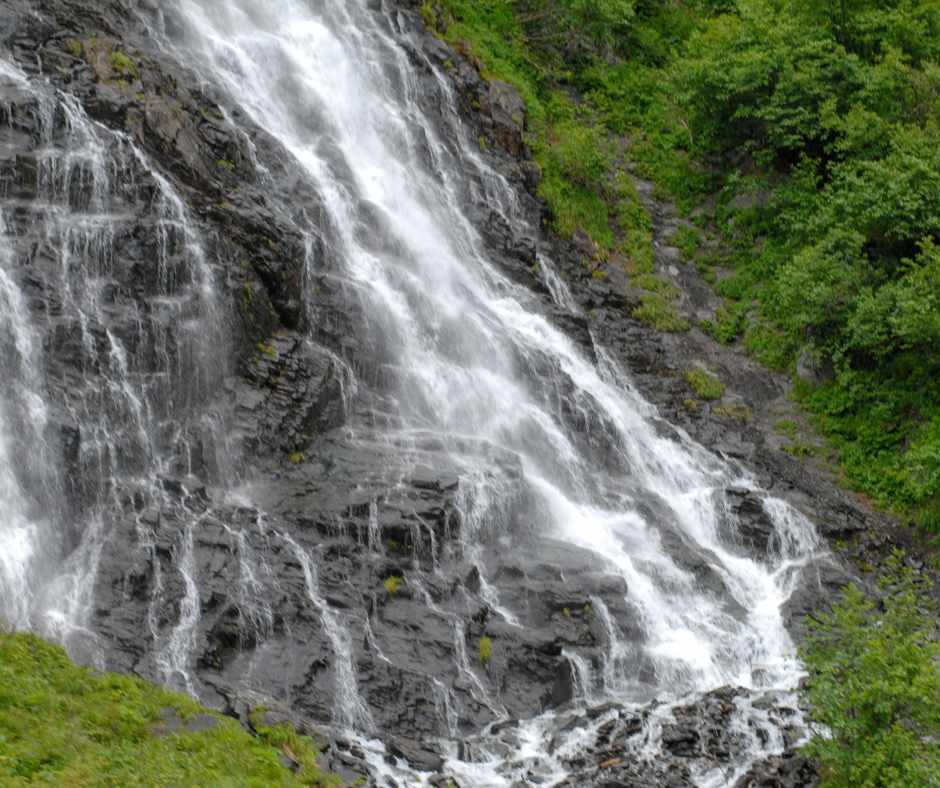 Precipice Falls is one of Alaska's most impressive tourist spots, featuring an astonishing waterfall that cascades over a dramatic cliff face and plunges into deep pools below.
Situated within Denali National Park and easily reached via scenic hiking. You have to hike for about 3 miles on a steep and rocky trail, making the hike challenging. But the trek can also be rewarding as you can see the Ruth Glacier and Alaska Range along the way.
The waterfall is fed by Toklat glacier, one of the largest glaciers covering an area of about 40 square miles with a thickness of about 3000 feet.
Precipice Falls is a popular attraction in winter as well. The waterfall freezes into a giant ice wall that attracts adventurous climbers from all over the world.
Thunderbird Falls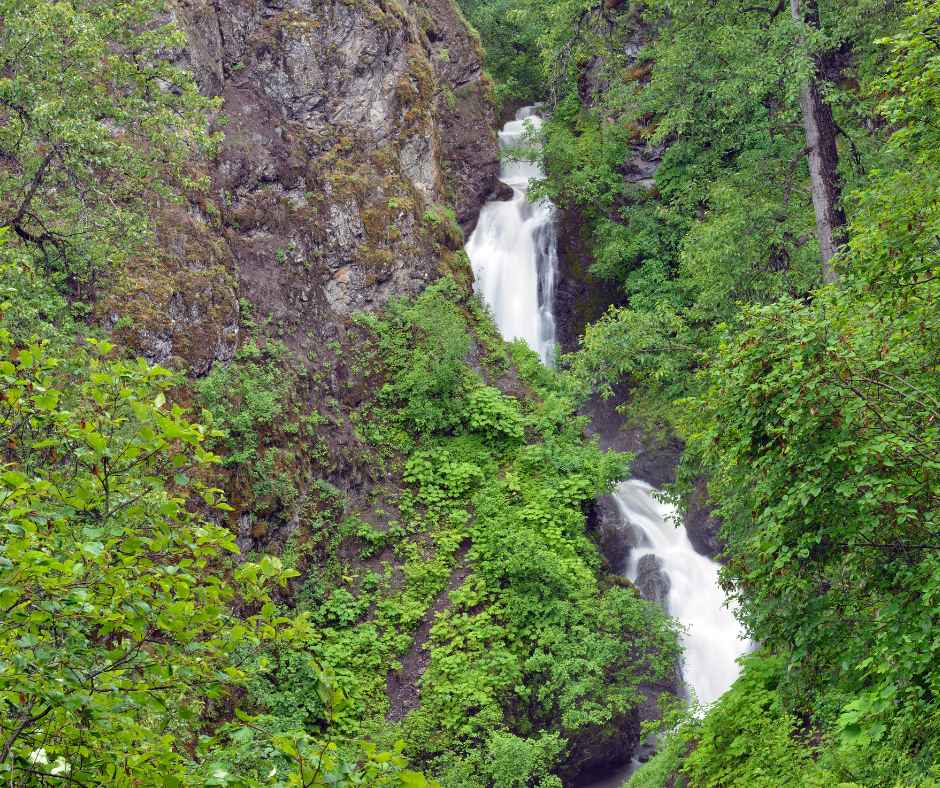 Thunderbird Falls is located in the Chugach State Park, about 25 miles north of the city. It is named after a mythical creature -a bird- from the Native American folklore. Legend says this bird lives in the mountains and can create thunder and lightning with its wings. It is known to protect the land from evil spirits.
Thunderbird Falls is an artificial waterfall created in 1965 when Alaska Railroad blasted a tunnel to divert the Eklutna River for hydroelectric power.
The water flows through this tunnel and emerges as a200 foot cascade on the other side of the mountain. It is accessible by a 1-mile trail that leads to the viewing point above the platform.
Accessible all year, its trail is accessible for a fee of $5 or an annual park
pass issued by the state. Restrooms can be found near its start.
Thunderbird Falls is a popular spot for ice climbing in the winter. When the temperature drops, the waterfall freezes and forms a thick layer of ice on the cliff. Adventurous climbers use ice axes and crampons to scale the frozen falls.
Lower Reid Falls
Lower Reid Falls is one of Skagway, Alaska's most picturesque tourist attractions. The falls are about 300 feet high and cascade down a rocky cliff in several tiers. The water comes from the Harding Glacier.
It is named after Frank Reid, a hero of the Klondike Gold Rush who died in a shootout with a notorious outlaw in 1898. His grave is at the base of the falls, along with other pioneers of Skagway.
The falls are easily accessible by a short trail starting from the Gold Rush Cemetery. The trail is about 0.2 miles long and follows the Skagway River through a lush forest. The falls are visible from a wooden bridge that crosses the river.
Have you heard of stair-step moss? Lower Reid Falls is home to a rare species of moss called *Hylocomium splendens*, or stair-step moss. The moss is known to absorb large amounts of water.
Lower Reid Falls is a popular spot for photographers and artists. It is a hidden gem in Alaska that offers a glimpse into the history and nature of Skagway.
Upper Reid Falls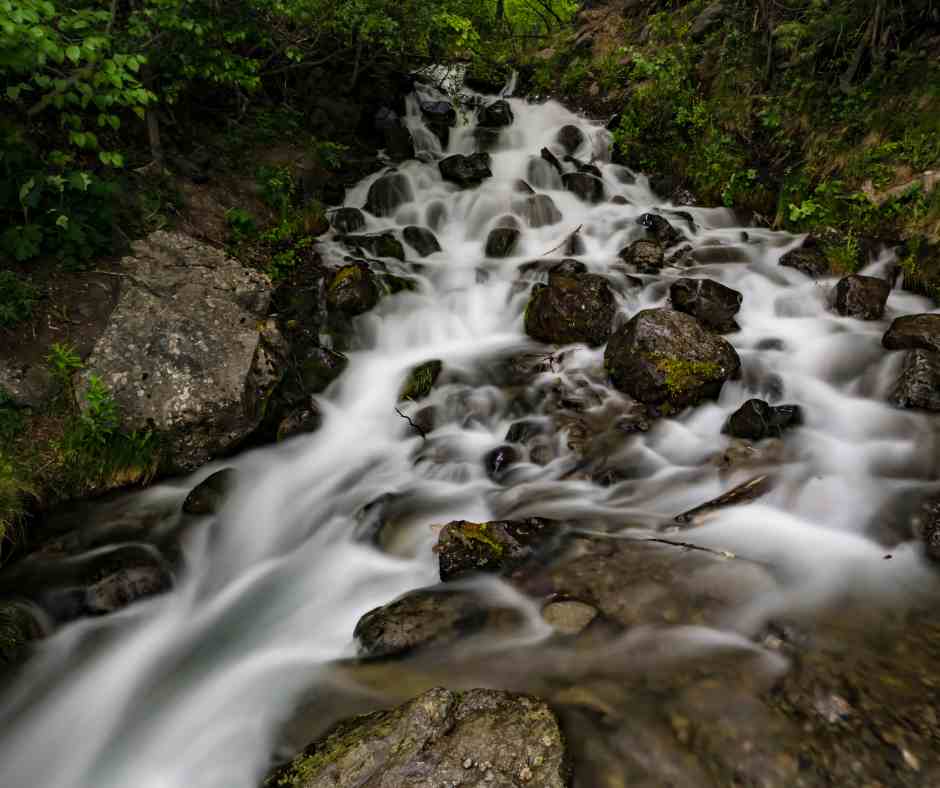 Upper Reid Falls in Skagway, Alaska, is one of the must-visit beautiful places. The waterfall is about 300 feet high and cascades over rocky ledges. The water comes from a glacier-fed lake called Lower Dewey Lake, which is also accessible by hiking trails.
Situated near the bottom of an easy trail. This trail follows along the Skagway River, which starts near Harding Glacier.
As you progress along this path, the sound of water rushing becomes louder as waterfalls drop over rock cliffs into crystal-clear lakes below.
Upper Reid Falls is named after Frank Reid, who died in 1898.
Visitors can avail the facility of guided tours, exhibits, and programs at the Klondike Gold Rush National Historical Park, whose part is Upper and Lower Reid Falls.
Horsetail Falls
Horsetail Falls in Valdez is an impressive waterfall within Chugach National Forest near Anchorage, Alaska. It plunges approximately 100 feet down its steep cliff face into an extremely narrow gorge. Horsetail Falls forms an astounding contrast between the white water and dark rocks, creating an image resembling horses from far away.
Horsetail Falls can be reached via Seward Highway, a short walk from Anchorage, making it accessible for hikers, photographers, and nature enthusiasts.
To experience Horsetail Falls at its best, visit during summer when water flows at its most incredible peaks against lush surroundings that create an image resembling horses!
Soldotna Creek Falls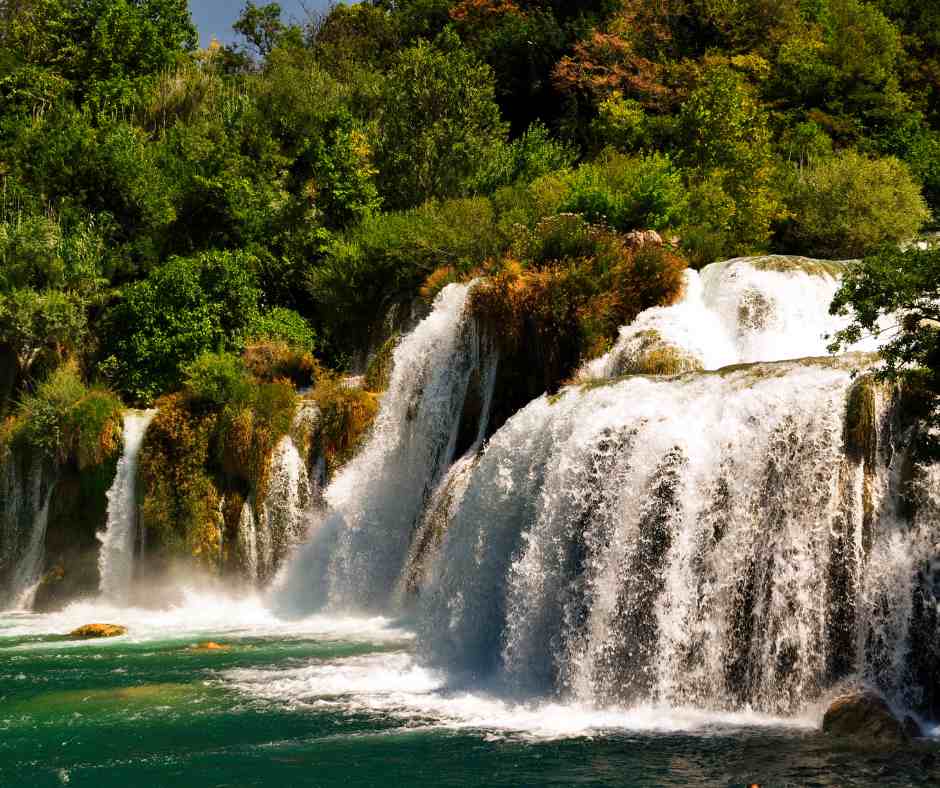 Soldotna Creek Falls is a hidden treasure on Alaska's Kenai Peninsula. The Kenai River, famous for salmon fishing and turquoise water, feeds the falls.
The Park was once a storage yard for the Department of Transportation. The city of Soldotna transformed it into a beautiful green space with playgrounds, picnic areas, boardwalks, and an amphitheater.
The Park hosts various events throughout the year, such as the Soldotna Wednesday Market & Music in the Park, the Kenai River Festival, and Progress Days.
Visitors can enjoy their time participating in various fun activities at these festivals. The Park also offers free yoga and fitness classes in the summer, sponsored by the Parks & Recreation Department and a local yoga studio.
The Park has a StoryWalk project, which is a collaboration between the local library and the Parks & Recreation Department. Every Friday in the summer, they post a new picture book along the walking path so that families can read and walk simultaneously.
Winner Creek Falls
This stunning waterfall is located near Girdwood, about 40 miles south of Anchorage.
Winner Creek Falls is a series of three waterfalls, upper, middle, and lower, cascading down a steep gorge.
Winner Creek Falls is part of the Chugach National Forest, the second-largest national forest in the United States.
Winner Creek Falls can be reached by two different trails: the Winner Creek Trail and the Upper Winner Creek Trail. The Winner Creek Trail is a 3-mile round-trip hike, while the Upper Winner Creek Trail is a 6-mile round-trip hike.
Winner Creek Falls is a popular spot for ice climbing in the winter. If you are interested in ice climbing at Winner Creek Falls, hire a guide or join a tour group.
Winner Creek Falls is also a historical site. The area was once used by the Alaska Railroad as a construction camp during the early 1900s. The railroad workers built a tunnel through the mountain to connect Girdwood with Whittier. The tunnel is still in use today and is North America's longest combined road and rail tunnel! Can you imagine!
Nugget Falls
Nugget Falls is one of the spectacular waterfalls in Alaska. It is located near the Mendenhall Glacier, about 12 miles from downtown Juneau. The waterfall drops 377 feet from Nugget Creek into Mendenhall Lake, creating a thunderous roar.
Nugget Falls is also known as Nugget Creek Falls or Mendenhall Glacier Falls. The name Nugget comes from the gold nuggets that were found in the creek during the Klondike Gold Rush.
Nugget Falls is accessible by a 0.8-mile trail from the Mendenhall Glacier Visitor Center. The trail is easy and flat and offers stunning views of the glacier and the lake.
The opening hours are 10 AM to 4 PM, and it is one of the waterfalls that are considered family-friendly — including pets on a leash.
Russian River Falls
Russian River Falls are famous for their abundance of wildlife. You'll begin your adventure at Cooper Landing near the Russian River Campground, which has ample parking spots.
What a wonderful setting it would be to take a stroll along a 2.5-mile trail with loved ones while listening to various birds singing!
On a hike through winter forests or along the Russian River, you might see various animals and birds, making for great photo ops for animal photographers.
At the end of the hike, you will witness Russian River Falls in its dramatic descent down Canyon Riparian.
Before heading out on this hike, conduct extensive research into bear safety! Bears are attracted to this area for a simple reason – salmon! As soon as they return from their long voyages to spawn, you can spot them jumping upstream against swift currents!
Reach the view by walking! It will be worth your while!
Pitchfork Falls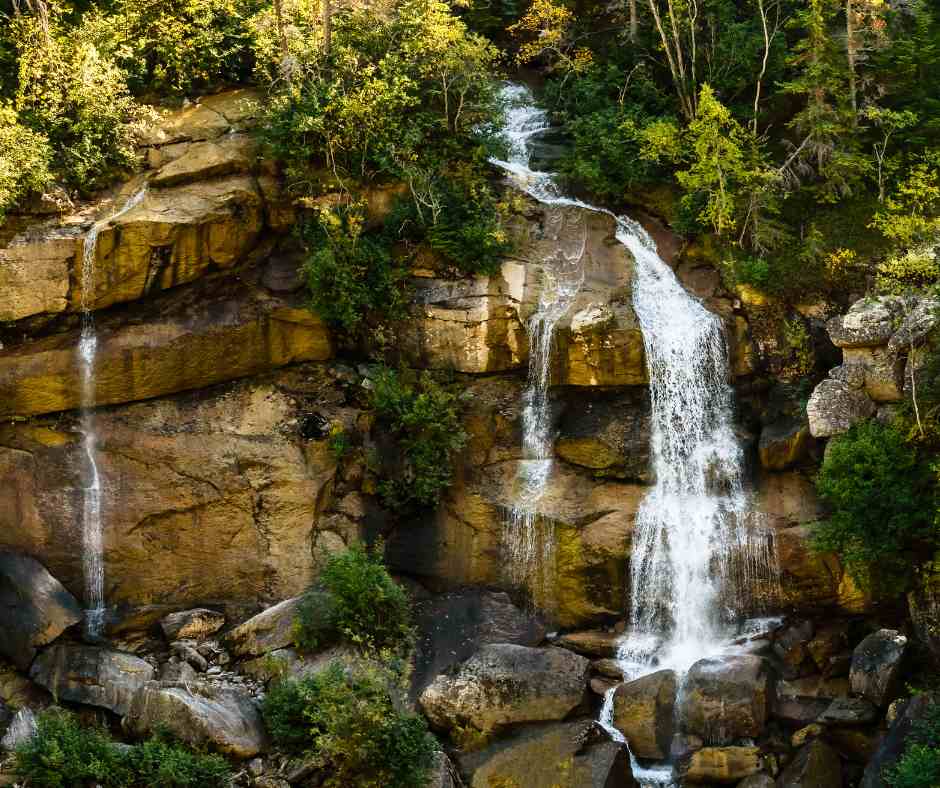 At an elevation of around 2,100 feet stands the stunning Pitchfork waterfall – one of the highest anywhere worldwide. From an in-between position, you will witness this breathtaking water feature cascading gracefully down canyon walls in precise segments.
Skagway boasts its own hydroelectric power plant that is said to supply electricity.
Various motor companies offer excursions along the Yukon highway that will enable you to view the falls up close or from an airplane perspective.
Hidden Falls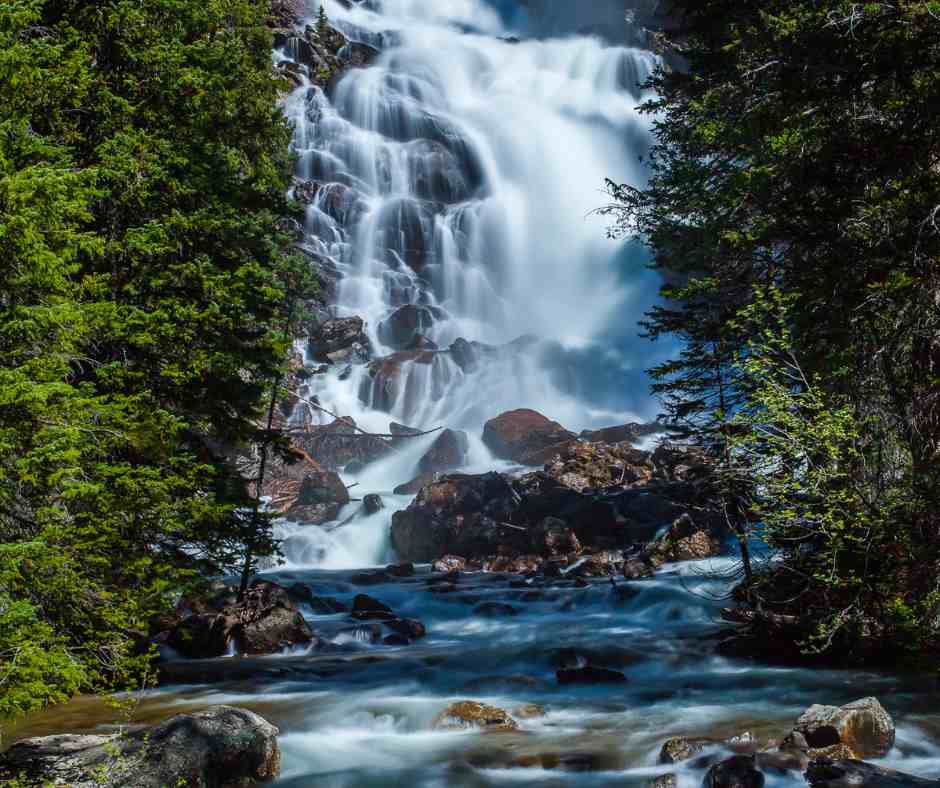 If you visit Whittier's Prince William Sound, you will encounter numerous waterfalls, including Hidden Falls.
Whittier offers a 4-hour glacier cruise, exploring the tranquil yet cold waters of Hidden Falls, where seasickness is unlikely to occur.
Cruise ships often stop here to allow their passengers to take pictures at the top of this 50-foot waterfall. It offers spectacular views and shows huge chunks of frozen ice breaking apart before falling gracefully into the water.
It truly is breathtaking to witness this rare spectacle.
South Fork Eagle River Falls
This small waterfall possesses remarkable beauty for its size. Soaring down bedrock walls of South Fork Eagle River Falls (sometimes referred to as Barbara Falls ), it plunges 25 feet into a deep chasm below.
Notable feature: this model contains two channels.
Alaska boasts many stunning waterfalls, but this loop trail stands out as among the shortest at 0.9 miles. Even though it's short, this adventure offers excellent hiking for hikers of all skill levels–even those bringing along their pets can join!
Be mindful that this waterfall resides on private property; any attempt at bushwhacking is strictly forbidden!
Blackstone Falls
Blackstone Falls can only be reached via water transport and is the perfect tourist attraction for visitors who don't enjoy hiking.
Glacier Quest Cruises will take you on an exhilarating 45-mile excursion for approximately four hours, showcasing Alaskan glaciers and beautiful waterfalls, including 500-foot Blackstone waterfalls.
Brooks Falls
Brooks Falls on Alaska's Brooks River is an extremely popular waterfall destination.
Sockeye salmon migrate to Brooks River each summer to spawn, making this an excellent spot to spot bears as they journey upriver.
Bears aren't alone when it comes to enjoying fishing for salmon on Brooks River! Fly-fishing enthusiasts also love visiting this river spot for its prime fly fishing spots. Fly fishing trips are being hosted regularly.
The Bottom Line
Alaska offers many waterfalls for visitors to witness and admire nature. But the state provides more than that. As a visitor, you can get to know about the local culture of the indigenous population and also take part in several cultural activities and festivals that are organized throughout the year. Let us know what activities you enjoyed and which of the 15 best waterfalls in Alaska you liked the most.
Also read: 15 Best Cities To Visit In Nepal