California is one of the finest travel destinations in the United States of America. The "Home of Hollywood," as it is popularly called, is filled with many things that define a great travel experience: scenic beaches, coastlines, rich artistic heritage, high mountains, enthralling nightlife, and more. There are some fun-filled best places to visit in California in December that one shouldn't miss at any cost.
The Weather of California in December
Just like a lot of things, the weather varies throughout California in December. It depends on which part of the state you're visiting. Usually, coastal areas have decent temperatures in December, and the deserts are warmer but not as hot as in the summer.
In Northern California, like San Francisco, the temperatures are slightly cooler, and rain is more frequent. The average temperature in San Francisco is 10ºC, with highs of 13ºC and lows of 8ºC at night.
While in southern California, the temperature is a bit hot relative to the north. Los Angeles is slightly warmer during December, with an average temperature of 14ºC, along with a maximum of 19ºC in the afternoon's peak.
On December 24, the coldest day of the year, the temperature in Los Angeles ranges from 48°F to 67°F.
During December, California is quite wet and experiences a lot of rainfalls. Los Angeles experiences around 65mm and San Francisco around 110mm of rain. There are also chances for sunny weather with rain showers. So, pack your things accordingly.
In December, visiting California gives you a fulfilling journey filled with many fun activities. These activities are not limited to hiking, camping, and biking only. In fact, it is also a great chance to explore various cultures, food, and music.
Here are the seven best places to visit in California in December. Along with providing information about the place, we would also mention some of the best places to stay. Let's now jump into the places:
San Francisco
Regarded as one of the greatest American cities, it is no wonder that San Francisco dominates many lists of must-visit places in California. It is best to visit in the winter months and even great to visit during December's Christmas days.
There is a month-long celebration throughout December known as the festival of lights. In this, a large number of artists would install massive scriptures of light in prime locations.
Key attractions include Alcatraz island, Museums, Muir Woods National Monument, Japanese tea garden, Chinatown, Fisherman's Wharf, Golden Gate Bridge, and more.
Argonaut Hotel, Club Quarters Hotel, Palace Hotel, Fairmont San Francisco, Four Seasons Hotel are some of the best hotels to stay here.
San Diego
This place is known as the "Birthplace of California," San Diego offers a good travel experience with a lot of Sightseeing places along with its welcoming weather.
Being very close to Mexico's border, it is one of the best places to enjoy Mexican food and margaritas.
Visiting Balboa park's December Nights, Old globe theatre, and the parade of lights is a must when you travel to San Diego.
Occurring between 4:50 and 6 PM in December, San Diego lets you experience some of the finest of the world's sunset views at the sunset cliffs of point Loma.
Palm Strings
Palm Strings is one of the warmest places to visit in California in winters. It offers a plethora of opportunities for exploration. Palm Strings has many luxurious hotels, spas, modern buildings, vintage boutiques, hot springs, and many more places to visit.
It is the center of the Robolights, which is America's largest residential holiday destination. It has over 8 million lights, and if you prefer to be in a single place for staying, dining, and also shopping, Palm Springs is perfect and it is one of the best places in california to visit in december.
Other Key attractions in Palm Springs are the Palm Springs Air Museum, Palm Springs Art Museum, Coachella Valley Preserve, Moorten Botanical Gardens, and Indian Canyons.
Ace Hotel & Swim Club, Kimpton Rowan Palm Springs Hotel are some good places to stay in Palm Strings.
Monterey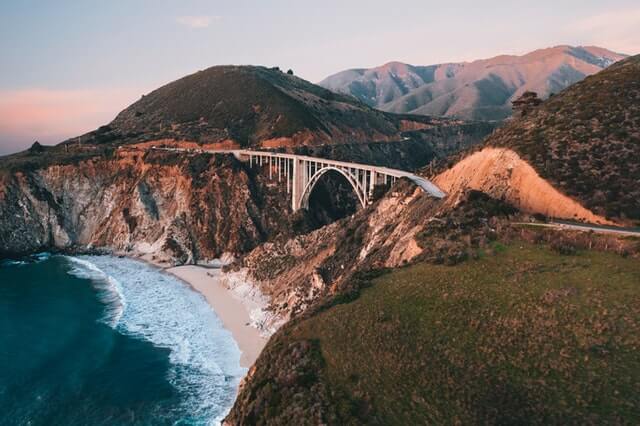 Monterey is a beautiful seaside location and is very much recommended to go for people who are completing the Pacific Highway 1 drive. It features a spectacular world-class Aquarium full of rich marine life, including sharks, sea lions, dolphins, luminescent jellyfishes, and lots more.
Just over a little distance to the south is the iconic Bixby bridge. If you are a fan of the TV show Big Little lies, you would recognize this bridge immediately. Monterey also has a collection of Spanish and Mexican era restored buildings that are surrounded by splendid coastal views.
Some of the Key attractions include 17-Mile Drive, Old Fisherman's Wharf, Monterey State Historical Park, Coast Guard Pier, Monterey Museum of Art.
Monterey Plaza Hotel & Spa, Monterey Marriott, Monterey Bay Inn, Hyatt Regency Monterey Hotel & Spa would provide a pleasant stay for you.
Los Angeles
Los Angeles is at the heart of the film and television industry of Southern California. It has well-known studios such as Paramount Pictures, Universal, and Warner brothers, and it is a dream destination for many travelers around the world.
Like any good tourist destination, it offers plenty of things to do for all kinds of travelers. It is also one of the best places to visit in California in December. There are many great places for photography in Los Angles. Key attractions here are the Hollywood Boulevard, Various tours in the Movie production studios, and TCL Chinese Theatre.
Freehand Los Angeles, Libra Hotel, Los Angeles Montebello, Holiday Inn Los Angeles are some excellent places to stay in Los Angles.
Santa Monica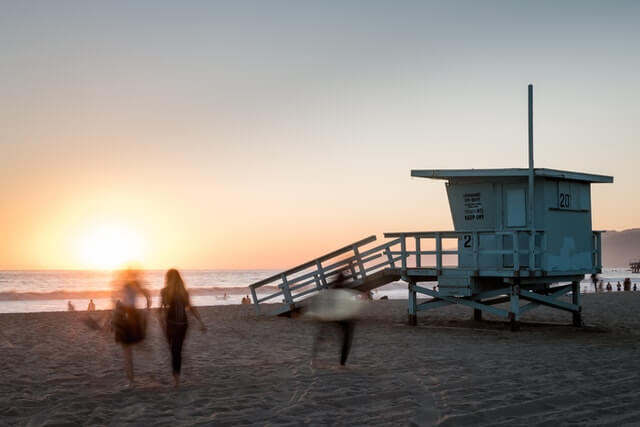 Santa Monica is a spectacular beach town whose beach stretches over a considerable distance. As such, it is a beautiful place for relaxation and refreshing yourself. Also, there is a lot of Christmas feeling going on in this place. Santa Monica is excellent for shopping and getting some lovely gifts for your family, friends, and other loved ones.
It is one of the best places to visit in California in December. Some of the other key attractions here are the Museum of Flying, Santa Monica Camera Obscura, California Heritage Museum. You can go and experience some good culture.
The Ambrose Hotel is one of the best places you can stay in Santa Monica.
Lake Tahoe
Lake Tahoe is a very great place for participating in activities like Skiing, snowboarding, and snowshoeing. A three-day music festival, called the SnowGlobe music festival, is held in December each year, making your visit quite memorable. Some of the best musicians worldwide would attend this festival, and it is indeed a great experience.
From here, you can go to the Sierra Nevada or the mammoth mountain, which is California's tallest peak!
Even when the weather is uncooperative, all resorts here will make human-made snow if needed so that you will always be able to enjoy the snow games, which makes Lake Tahoe one of the best places to visit in California in December. The Ritz Carlton Resort Hotel is a fine place to stay in Lake Tahoe.
The Bottom Line
In our opinion, the places mentioned above are some best places to visit in California in December. California can offer different types of experiences, and you can visit any of these places based on your preferences. Be safe and enjoy your trip.