Alabama is known as the "Heart of Dixie" and boasts breathtaking natural landscapes and rich culture. Notable among these treasures is Alabama's 15 great lakes.
These lakes offer a variety of recreational activities like fishing, boating, swimming, and hiking. Allow me to invite you on an interactive journey as we unveil the magic of 15 beautiful lakes in Alabama.
Read on to find out what makes them so special!
Lake Guntersville
Lake Guntersville in Alabama's northeast corner is an absolute treasure -boasting 69,000 acres and 1200 km of shoreline- drawing visitors from far and wide to its shores. Its enormity is captivating.
Lake Guntersville is also renowned for its superb bass fishing scene. Anglers from far and wide flock here to try their luck at landing largemouth bass, crappie, catfish, etc.
Additionally, boating, swimming, camping, and hiking activities abound here. The lake provides perfect backdrops for photography enthusiasts and nature lovers.
Lewis Smith Lake
Smith Lake, located within Bankhead National Forest, is truly breathtaking. Spanning over 21,000 acres, and has a max depth of 264 feet.
Smith Lake is one of the largest earthen dams in the Eastern United States. It was created in 1961 by Alabama Power.
The lake has over 500 miles of shoreline, and you can indulge your passions for water skiing, jet skiing, leisurely swimming, or jet skiing.
The lake is home to various fish species, including spotted bass, largemouth bass, crappie, striped bass, etc., and provides exciting fishing opportunities!
Lake Martin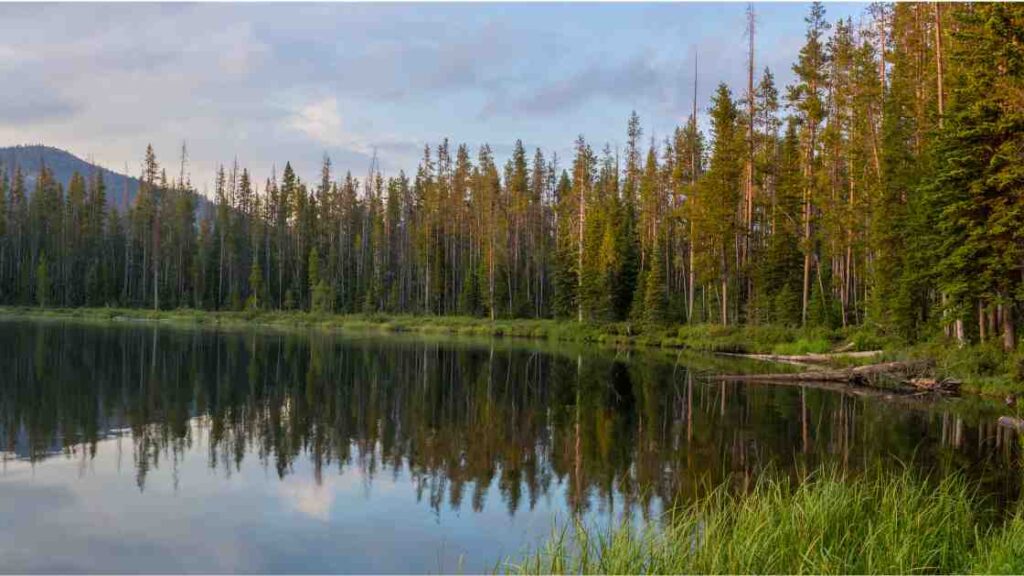 Lake Martin in central Alabama is a man-made reservoir. It boasts an expansive 44,000 acres and 750 miles of shoreline.
Lake Martin offers aquatic enthusiasts an oasis of aquatic excitement. The water's clarity is stunningly captivating, while the surrounding landscape of lush forests and rolling hills add to its allure.
Boating, kayaking, and water sports activities allow visitors to fully embrace the peace and serenity of this lakeside retreat.
Additionally, Lake Martin boasts several marinas, restaurants, and waterfront accommodations which guarantee visitors have a pleasant weekend getaway experience.
Lake Eufaula
Lake Eufaula, commonly referred to as Walter F. George Lake, is located on the Alabama-Georgia border!
The Walter F. George Dam on the Chattahoochee River formed the lake. The U.S. Army Corps of Engineers operates the dam.
With 45,000 acres, the lake provides endless adventures for visitors, including boating, water skiing, and sailing.
Boaters often prefer this vast lake due to its large surface area for endless exploration. Boaters, water skiers, and sailors will find endless fun here.
The lake is also known for excellent fishing opportunities. Anglers will love its diverse fish population consisting of largemouth bass, crappie, catfish, and striped bass!
Lake Eufaula is surrounded by scenic natural beauty and historical attractions. Lake Point State Park, Lake Eufaula Campground, and Eufaula National Wildlife Refuge are popular places to visit around the lake.
Wheeler Lake
Wheeler Lake in northern Alabama is formed by the Wheeler Dam on the Tennessee River. Spanning over 67,000 acres, it is the second-largest lake in the state.
The lake has a diverse aquatic ecosystem, hosting more than 100 species of fish.
Boating, water skiing, and birdwatching are a few outdoor activities to keep you occupied, but the fun doesn't end here! Take the adventure even further by hiking a portion of its trail!
Its shoreline also offers numerous campgrounds and parks ideal for camping and picnicking adventures.
Weiss Lake
Prepare for an unparalleled fishing adventure at Weiss Lake, known as the "Crappie Capital of the World."
Located in northeast Alabama and covering 30200 acres, this reservoir draws fishermen from near and far with promises of abundant crappie fisheries.
Tournaments and contests attracting professional anglers and novice fishermen are frequent occurrences at Weiss Lake.
And it offers much more than just crappie fishing. Visitors can indulge in recreational activities like boating, swimming, camping, and hiking.
The lake was the site of several battles during the American Civil War and the removal of the Cherokee.
Lay Lake
Lay Lake can provide an escape to paradise within reach of Birmingham. This stunning 12,000-acre reservoir is a haven for bass fishing enthusiasts and recreational anglers.
The lake was created in 1914 by the Alabama Power Company for hydroelectric generation and recreation.
Lay Lake is known for its exceptional bass fishing, drawing anglers eager to cast their lines and catch a catch of a lifetime.
Boating, water skiing, and swimming are popular activities that allow visitors to make the most of Lay Lake's serene waters and explore all that it has to offer
The lake is ideal for picnicking and unwinding while providing scenic backdrops perfect for relaxing and unwinding on vacation.
Lake Jordan
Lake Jordan is a beautiful reservoir in central Alabama, surrounded by 188 miles of shoreline. It is located 25 miles north of Montgomery, near Wetumpka.
The lake was created in 1928 by the Alabama Power Company and named after the mother of two brothers who helped build the Mitchell Dam on the Coosa River.
The lake is like a hidden oasis for boating, swimming, kayaking, and fishing. Anglers can cast lines searching for bass, crappie, and catfish, while nature enthusiasts can admire the striking landscapes surrounding it.
Lake Tuscaloosa
Lake Tuscaloosa is a large reservoir in west-central Alabama, created by damming the North River in 1971.
It provides water for the city of Tuscaloosa and its industries. The lake is also known for recreational opportunities for boaters, swimmers, and anglers.
The lake has a surface area of 5,885 acres and a shoreline of 177 miles.
The lake hosts several fish species: spotted bass, largemouth bass, bluegill, red-ear sunfish, white crappie, catfish, and drum.
The lake is popular for bass tournaments, but the need for forage and habitat limits the fishery.
Bankhead Lake
Bankhead Lake is a reservoir along the Black Warrior River. At 9,200 acres, this reservoir provides a tranquil respite in William B. Bankhead National Forest.
Bankhead Lake is named after Alabama Senator John H. Bankhead, and it was impounded in 1915 as part of a navigation system of 17 locks and dams between Mobile and Birmingham.
Fishermen of all levels will find plenty of largemouth bass, crappie, and catfish inhabiting Bankhead Lake's waters. Boating, kayaking, and birdwatching are popular activities on this tranquil lake.
Yates Lake
Yates Lake, situated in Alabama's beautiful east-central region, was created by the impoundment of the Tallapoosa River.
The lake covers an area of about 2,000 acres and has a shoreline of 188 miles. The water is clear and deep. The lake provides ample fishing opportunities with an average depth of 35 feet.
Boating, camping, kayaking, and paddleboarding are popular activities on and around Yates.
West Point Lake
Begin your adventure at West Point Lake, which spans the border of both Alabama and Georgia along the Chattahoochee River.
It is an extensive reservoir encompassing approximately 25,900 acres and offering picturesque shorelines and sandy beaches.
Discovering West Point Lake's crystal-clear waters will transport you into a fairytale land filled with lush forests and breathtaking vistas.
The lake is perfect for fishing enthusiasts as it has some rocky points and humps that provide underwater structures for fish habitat.
Lake Wedowee
Lake Wedowee (also known as Harris Lake) covers 10,660 acres. This breathtaking reservoir was created by constructing the R. L. Harris Dam on the Tallapoosa River.
It invites you to escape the daily grind in style. Nestled amidst picturesque forests and rolling hills, the dam's clear waters provide endless outdoor recreation, from boating and water sports to fishing.
The lake also has several public access areas, marinas, and parks.
Inland Lake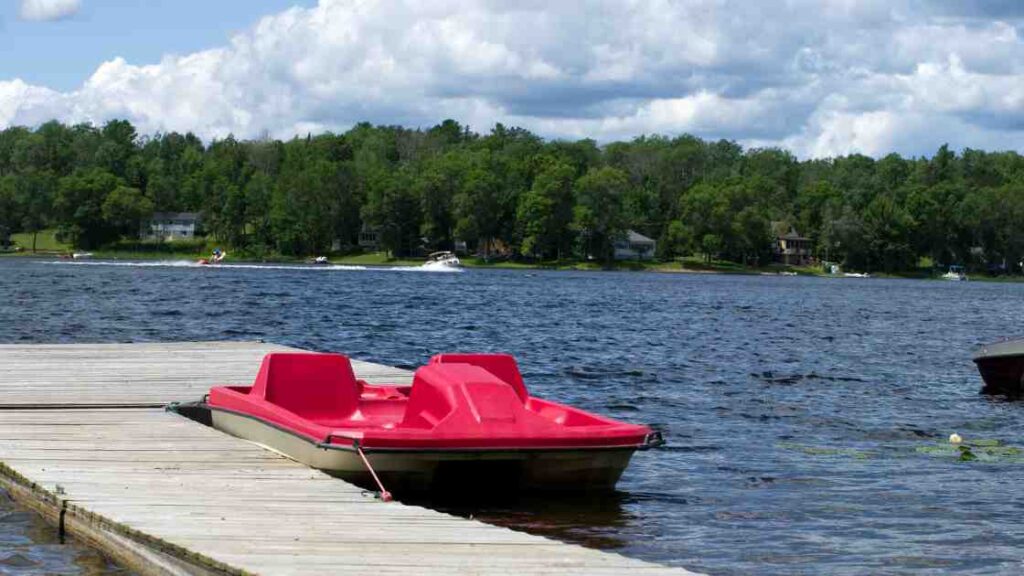 Inland Lake (or Lake Nellie), located in Blount County, Alabama, spans 1,557 acres. This serene reservoir provides an escape from everyday stressors.
It was created by the Alabama Power Company in 1939 as a source of hydroelectric power.
Calm waters and scenic surroundings provide an ideal setting for outdoor activities like fishing. Boating, swimming, etc.
The lake has several public access points and facilities, including boat ramps, docks, restrooms, and picnic areas.
Lake Lurleen
Lake Lurleen in Coker, Alabama, is famous for its captivating beauty. Named for Alabama's only female governor, Lurleen Wallace, this 250-acre reservoir provides a wonderful retreat for nature enthusiasts.
Fishing, kayaking, and picnicking can all be enjoyed here, while fishing enthusiasts can reel in bass, catfish, and bream from its tranquil waters.
Lake Lurleen State Park nearby also offers various recreational activities, including hiking trails, camping sites, and swimming beaches.
The Bottom Line
Alabama is home to over 500 lakes. Over three percent of the state is water. The article discussed 15 beautiful lakes in Alabama. Each of these lakes holds something special that makes them irresistible to explore. So plan your next adventure and dive into Alabama's lakes!
Also Read: 10 Best Water Parks In Washington