The best places for photography in Kolkata are literally many. You can indeed refer to Kolkata as a photogenic city. There are a lot of places in Kolkata that keeps narrating its beautiful history over and over again.
Even today, the city is known for its ancient tradition and lifestyle. Amidst its busy lifestyle lies the immense beauty can be captured still and yet can impart the feel of a rush.
Here are the 5 Best Places for photography in Kolkata:
Hooghly Riverbank
In Kolkata, it is difficult to find a place better than Rive Hoogli. You can be at this place and spend a day just staring at the beauty of the River and its ghats.
Hooghly ghat is one of the best places for photography in Kolkata. You are very likely to find this location very suitable for every kind of shoot. May it be pre-marital, or post-marital, or simply a casual photo shoot.
There is a beautiful Dakshineshwar temple, and very nearby are the places like Millennium Park and Princep ghat. All these sites are extremely amazing for a photoshoot. There are many photo studios available near the Hooghly banks.
You can carry your camera and cameraman or even if you are unplanned, you will get all the needful stuff nearby. The natural photos taken over here come out to be very beautiful. The place is especially famous for the couple's photography.
Howrah Bridge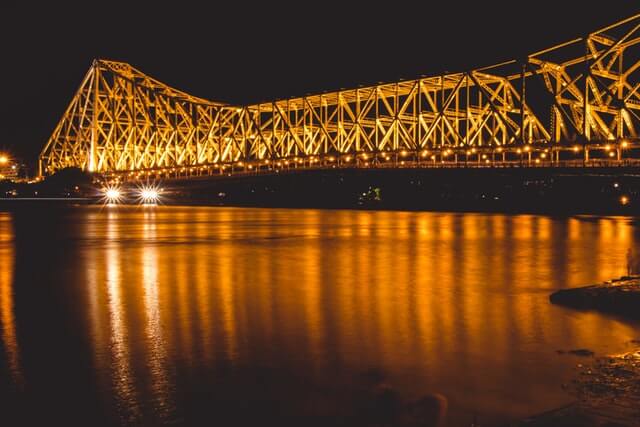 Just above the Hooghly River, there is this marvellous bridge called Howrah Bridge. It is also one of the best places for photography in Kolkata. You will surely love clicking here. The construction of the bridge is amazing. And the pictures took there are equally stunning.
You can try various photo tricks to shoot a picture. Like shooting from far away. For instance, you can capture your boating picture from the bridge above, or over the bridge from River. This picturesque view is very much implemented on the Hooghly banks and Howrah bridge.
The Howrah bridge is popular for a pre-wedding photoshoot. You can have your casual photoshoot here. The locations itself will give you the inspiration to have a nice photo posture. There are many people simply crowding the bridge for the photoshoot.
The Rajbari
The Rajbari is the perfect place for a photoshoot in Kolkata. As every place has its uniqueness and is known for it, so is Rajbari for Kolkata. You simply have to upload your photo with Rajbari background on social media and people will know where it is clicked.
It is the landmark that is known for its ancient architecture and adds up the value to your photo. You can have a romantic photoshoot over here.
Couples after marriage are mostly spotted having their photoshoot over here.
Streets of Esplanade
If you want to photograph the city of Kolkata and portray it as it is, street photography is the way. The city in itself is very capture-worthy. As you can observe the calming river, so you can observe these busy and hectic streets. All these things make this place one of the best places for photography in Kolkata.
Many painters have spent their days painting the streets of Esplanade. As busy the street is, so deeper will your observation go. For natural photography, street photos will beat anything. The location is especially good for candid shots.
Child photography or a landscape capture of the city can be done here. If you are here just to capture the natural scenarios from the city, then this location is the one to do the photoshoot.
Also Read: 7 Best Places To Hang Out With Your Girlfriend In Kolkata
Eco Park
You can have a very nice photoshoot amidst natural greenery all around. The eco-park is a garden where you can spend time sightseeing. It is a peaceful place. You can have an amazing photo session here.
The place has so many locations that are worth capturing. Also, the lighting over here is so perfect for photography. If you are planning to spend your evening simply capturing some amazing shots, then Eco-park is one of the best places for photography in Kolkata.
The place is ideal for couples photography, pre-wedding, children photography, and casual photography too. All-natural and candid clicks can be captured with an amazing background.
Bottom Line
Kolkata has many sites that are worth clicking. The aforementioned were a few best places for photography in Kolkata that you should not miss. Especially when you are visiting Kolkata just for the sake of photoshoot.