Lucerne is a city in Switzerland that lies at the northern end of lake Lucerne. This city is famous for its medieval core, elegant historic buildings, and genial atmosphere. That makes this beautiful city a beautiful tourist destination.
This city has lots of things that a tourist can enjoy doing. Especially festivals like summer music festivals and a lot more are the times when tourists can visit and enjoy performances by soloists, orchestras, blues piano, leading conductors, and marching bands as well.
This place has already started to sound interesting, right? But that's not all, and There are many other things that can be enjoyed here. If you are someone who loves visiting places with a very old history. Lucerne has it all. For instance, the Benedictine Monastery of St. Leodegar was founded around 730, and the first mention of the town is of Luciaria which was in 840
This city is easy to explore as all the main tourist destinations are within walking distance of the railway station. If you are a mountain guy and love to explore new mountains, Lucerne has some stunning Alpine rides in Europe as they have easy access to Mt. Rigi, Mt. Pilatus, Mt. Titlis, and Jungfraujoch.
With such a diverse and beautiful place, if you are concerned about where to visit and what to do in Lucerne Switzerland? Do not worry. We have listed out some of the best things to do in Lucerne Switzerland.
Chapel Bridge (Kapellbrücke)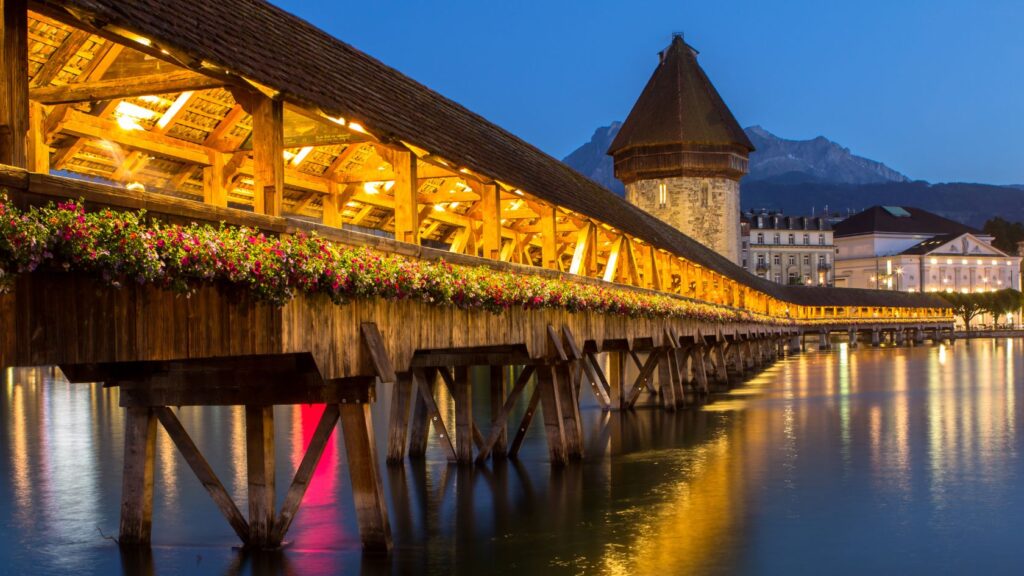 It is one of the most picturesque centerpieces of Lucerne, a covered wooden bridge that runs across the Reuss. This bridge was built in 1333 and had more than 100 17th-century pictures inside.
These pictures are hanging from the roof rafters inside. They depict scenes from the town's history and patron saints.
A fire in 1993 severely damaged the Chapel Bridge. But, thankfully, it was completely rebuilt;t and restored. You can also see an octagonal structure beside it.
It is a water tower also called a Wasserturm. This octagonal water tower is a structure from the 13th century, 34 meters in height; it was once a part of the town's fortifications.
It is one of the most iconic and most photographed scenes in all of Switzerland, so make sure you do not miss a visit to this bridge.
A Ride To Mount Rigi In Cog Railway
You cannot miss the opportunity to ride the cog railway from Lake lucerne to Mt Rigi. This is another one of the most iconic things that are popular amongst tourist that visits Switzerland.
This Cog Rail takes you to an elevation of 1798 meters, showing some of the best scenery throughout the journey.
In addition, this is Europe's first cog railway, and it is exciting to know that you can ride in some of the steam engines that were made back in the 1920s!
Once you reach the top, you can have a scenic view that stretches all the way to the black forest in Germany.
The most preferred thing to do is to make a circular route by traveling via boat from Lucerne to Vitznau. From there, you can board the cogwheel train to Rigi Kulm. After that, take another cogwheel train down to Arth-Goldau. Followed by another train back to Lucerne.
This may sound tiresome, but these are tried and tested routes by various tourists. In other words, it is totally worth traveling on this route to enjoy some of the best and most iconic things in Switzerland.
Enjoy The View From Mt. Pilatus
Your visit to Switzerland will be incomplete if you miss the trip to the top of Mt. Pilatus. The best thing is that there is a cableway available from Kriens to visit there. And you can imagine how awesome the view would be while going up there.
You don't necessarily have to climb down walking as there is a Cog railway available to transport you down. In addition, another half-hour ride from Kriens will take you on a cable car ride to Pilatus-Kulm. This is another fantastic place to visit at 2070 meters of elevation.
And from this point, it is just a 5-10 minute climb to the summit of Esel, the central peak of Pilatus. This is a short and beautiful place to visit even with your family, as visiting this place won't consume all of your energy.
But, if you are someone who loves to walk to new places, you can take a 30-minute walk from Pilatus-Kulm to Tomlishorn. This is the highest point of Mt. Pilatus.
There is an alternate route; for that, you can board a boat to Alpnachstad to catch a cog railway for half an hour's ride.
This ride takes you at gradients up to 48 percent passing through forests, alpine meadows, over the Mattalp, up the steep rock face, and passing through 4 tunnels. To finally reach our destination, the upper station on Pilatus-Kulm.
You can return back through yet another cableway viewing mesmerizing view.
Frequently Asked Questions About Lucerne Switzerland
How Many Days Are Sufficient To Explore Lucerne Switzerland?
Switzerland is a place that really doesn't have an off-season. So you can go there wherever you want. We recommend you allocate the least 2 days to explore this beautiful place without feeling rushed. Just take your own time and have fun.
What City Is The Cheapest To Visit In Switzerland?
The cheapest city in Switzerland is Appenzell. Despite being very budget-friendly, this place is amazing to explore, hike, gaze at the mountain ranges and walk on the beautiful streets.
Final Words
We hope this article helped you figure out what to do in Lucerne on your next visit to Switzerland. It is a place with a lot of things to do and experience, but we tried to list down some of the most popular destinations.
Having a lot of options while selecting things to do or places to visit might be a sweet problem to have, but anyways, a problem is a problem after all.
With this small list of places to visit, we are sure that you won't be disappointed. We hope you visit them and have a lot of fun. For more such content related to travel, please visit our website.
Also read: 9 Best Places To Visit In Denver