Imagine taking a stroll alongside a glistening river when you hear an intensifying roar of rushing water, and you follow the sound to the surprise of a waterfall!
It's no secret Wisconsin is blessed with abundant natural beauty and some of the most majestic waterfalls. It is known for its harsh, snowy winters, but when that snow melts, and the creeks swell, the state becomes a natural wonder of waterfalls.
These hidden waterfalls range from big to small, rocky to forested, and vary in accessibility, but all are worth adding to your Wisconsin bucket list.
Below are the 10 best waterfalls in Wisconsin.
Big Manitou Falls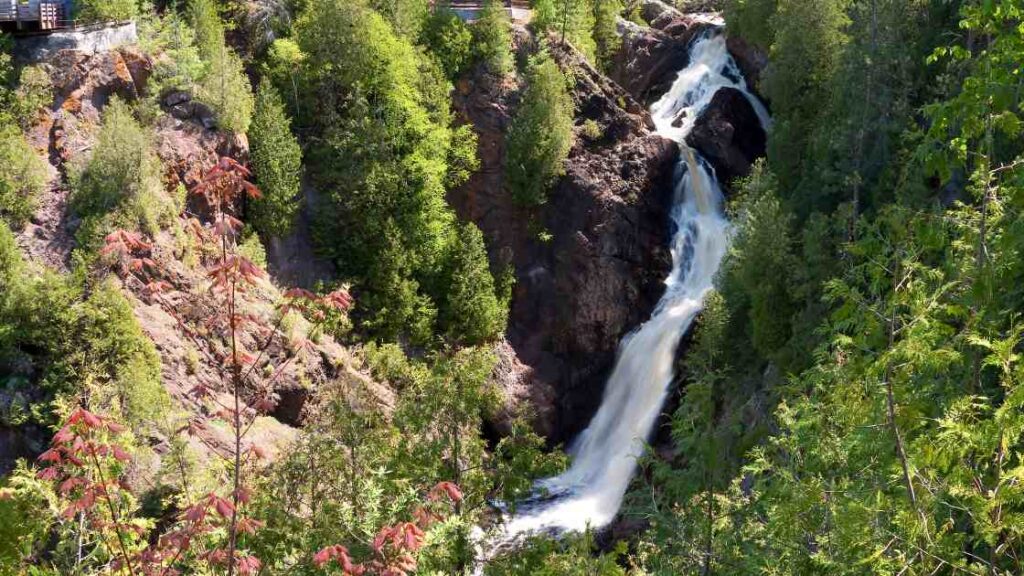 Big Manitou Falls is Wisconsin's most stunning waterfall, reaching 160 feet high and located within Pattison State Park near Superior in Wisconsin.
The Black River forms these falls, which include Manitou Falls, an Ojibwe word meaning spirit or power that has come to be associated with them. Native American tribes hold waterfalls sacred.
You'll find them nestled within a forest filled with birch, pine, maple, and oak trees – making for an aesthetically pleasing view for visitors.
In addition, there is also an adjacent park offering trails and campsites, picnic areas, and a nature center to help discover more about this stunning region.
Copper Falls
Copper Falls State Park is located near Morse, approximately 25 miles south of Ashland. Copper Falls State Park is one of Wisconsin's most breathtaking parks, which boasts long-flowing lava flows, deep gorges, and spectacular waterfalls.
It was constructed by the Civilian Conservation Corps during World War II in 1930. Log structures constructed at that time still stand proudly within its confines, adding charm and beauty.
Its state park, copper Falls State Park, provides activities like biking, camping, hiking, picnicking, fishing, and swimming. There are 54 campsites equipped with electrical hookups – with one suitable for groups sleeping up to 40 guests.
Copper Falls State Park's Doughboy's Nature Trail is one of the park's most popular attractions. It is a 1.7-mile loop that provides an easy to moderate hike and follows Bad River and its tributaries.
Here, visitors can observe spectacular waterfalls like Copper Falls, Brownstone Falls, and Red Granite Falls, as well as ancient lava formations dating back 1.1 billion years.
Copper Falls State Park is an attractive destination throughout the year, but especially striking during fall when leaves change colors to form a striking contrast with waterfalls.
Accessible 24/7 year-round from 6 am until 11 pm each day (all year), but an admission ticket must be obtained to gain entrance. Online reservation on their website is active and can be used to book camping spots.
Cascade Falls
Cascade Falls is an impressive 25-foot high and 30-foot wide waterfall that cascades down Osceola Creek into the St Croix River. It can be found in Willow River State Park and is one of Wisconsin's most frequented falls.
The water cascades from an impressive cliff edge, providing excellent opportunities for photography, leisurely hikes, and relaxation. The Falls can be accessed through a short trail starting in Downtown Osceola, with fantastic eateries and shops.
Following this trail, you can take in stunning views of the waterfall and forest surroundings. There's also the option of strolling along the riverbanks and immersing your feet in its refreshing water or going for an adrenaline-packed swim below the falls if that suits your fancy.
Cascade Falls is a beautiful destination at any time of year, particularly stunning during autumn.
Twelve Foot Falls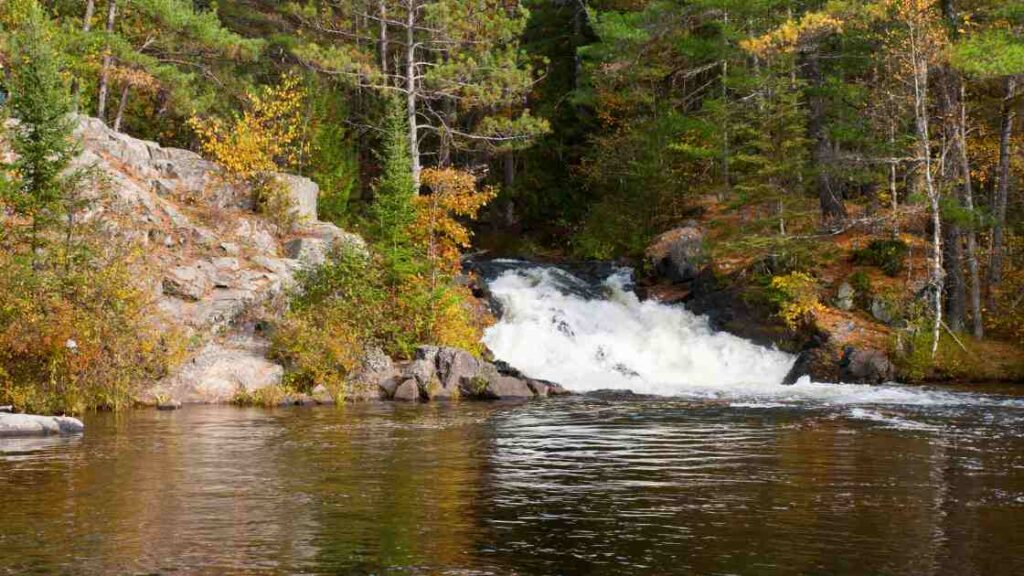 If you're in Wisconsin for an enjoyable and scenic walk, Twelve Foot Falls should definitely be on your itinerary. Situated within Marinette County Forest, about 90 miles north of Green Bay, Twelve Foot Falls makes for an enjoyable visit and will provide ample photo ops!
Twelve Foot Falls may not live up to its name, but its beauty is undeniable. Water cascades down rocky ledges, making a soothing sound and spray, creating visual beauty and audible noise.
Set among lush vegetation, such as wildflowers in summer/spring and vibrant leaves in autumn. In winter, icicles form around its cascading water before snow blankets the ground beneath this water feature.
The journey from Twelve Foot Falls is enjoyable and easy, with its 0.6-mile trail following the river as it flows upstream.
Well-marked and generally flat, but there may be some gentle slopes and steps along the route. Along the way, you'll be treated to stunning views of water, forest, and wildlife, eventually reaching an observation deck offering unparalleled views of this iconic waterfall.
Twelve Foot Falls is an excellent destination for nature enthusiasts and photographers and camping, fishing, and picnicking enthusiasts.
Stephens Falls
Stephens Falls can be found at Peninsula State Park and is an extremely popular camping and hiking area, providing visitors with an opportunity to see Wisconsin's beauty firsthand.
Stephens Falls was named after the Stephens family, who resided and farmed the land from 1890 through World War II. Stephens Falls is fed by a spring that naturally provides water for farmstead use and clean drinking water to surrounding farms. Its surrounding cliffs comprise ancient sandstone dating back almost 400 million years – no surprise!
The 0.3-mile-long hike offers stunning vistas like a 20-foot waterfall that cascades over mossy rocks into a tiny pool below, which is okay for such a modest hike!
The hike, even though small, can be moderately strenuous due to having to ascend several natural stone steps before reaching its base and back again. But it is definitely worth making the effort for such stunning sights!
Trail access is open year-round; however, for optimal experience, it is best to visit in fall or spring when water levels and colors peak. Winter brings stunning ice sculptures which you can explore. Regardless of which season you visit, you will be charmed by this Wisconsin gem!
Morgan Falls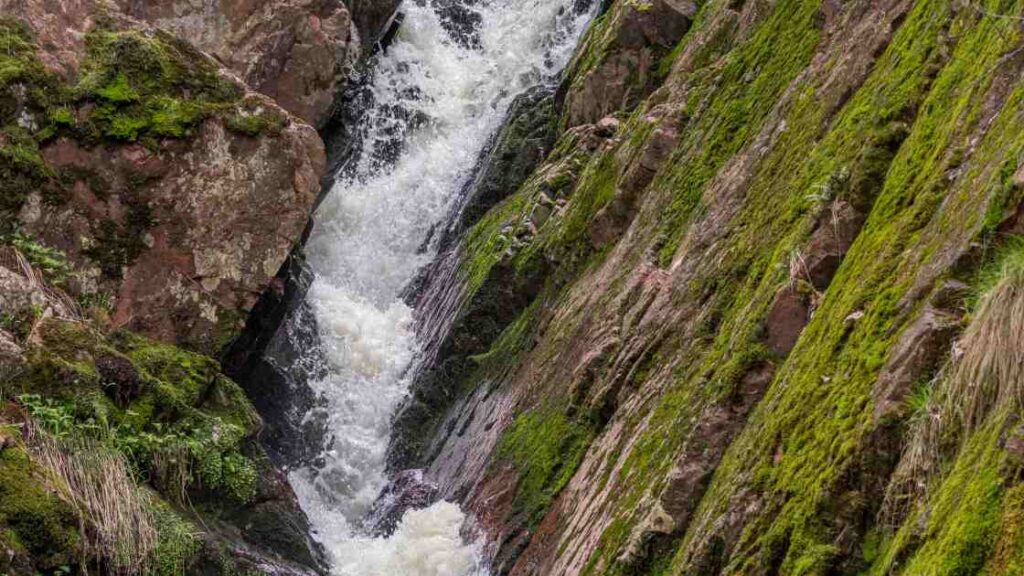 Morgan Falls in northwestern Wisconsin provides an accessible yet beautiful scenic walk. Morgan Falls boasts one of Wisconsin's highest waterfalls with an 80-100 foot drop into a tiny creek.
To reach Morgan Falls, travel along Ashland Bayfield Road, accessed from Highway 13 or 63. Park at the parking area that offers vaulted toilets and an information signpost before starting on your 0.75-mile-long trail, which consists of mostly flat terrain with some bridges and boardwalks along its length
These marked routes are accessible to people of all ages and abilities.
This waterfall is an exquisite sight, especially during autumn when its vibrant trees become full-throttle. Visitors can get close to its base and feel its spray of water rush past their faces as they relax on its bench nearby.
Morgan Falls is an ideal spot for nature lovers and photographers, providing stunning panoramic views of Lake Superior and its surrounding forests on clear days.
If you want to visit Morgan Falls, pay a daily use fee of $5 or purchase an annual pass for $30 to access the forest and the falls.
Long Slide Falls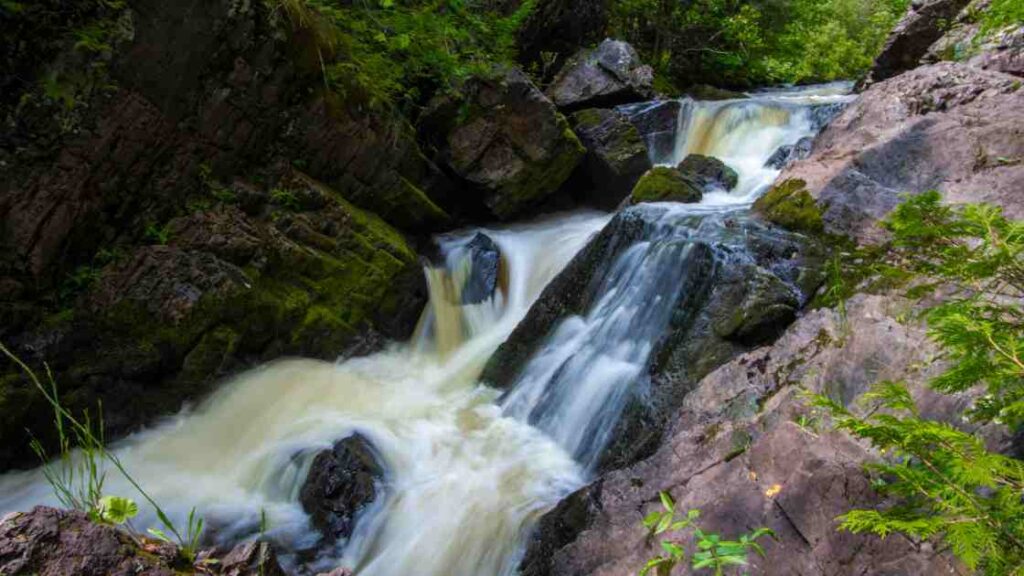 Long Slide Falls is Situated within Marinette County Forest, approximately 15 miles north of Crivitz. Marinette County is often referred to as Wisconsin's "Waterfall Capital." Long Slide Falls features 50-foot cascades that flow from sand ledges into an underground pool below.
Long Slide Falls should be seen during spring or after intense rainfall for maximum impact and spectacular results.
Walking across its cliffs allows visitors to view them from various perspectives. Further down is a wooden staircase leading directly into its depths, where visitors can stand closer and experience its force firsthand.
Long Slide Falls is an attractive venue for photographers, offering a striking contrast to the forest surroundings and providing an unforgettable and thrilling experience that will leave you breathless with its beauty!
Amnicon Falls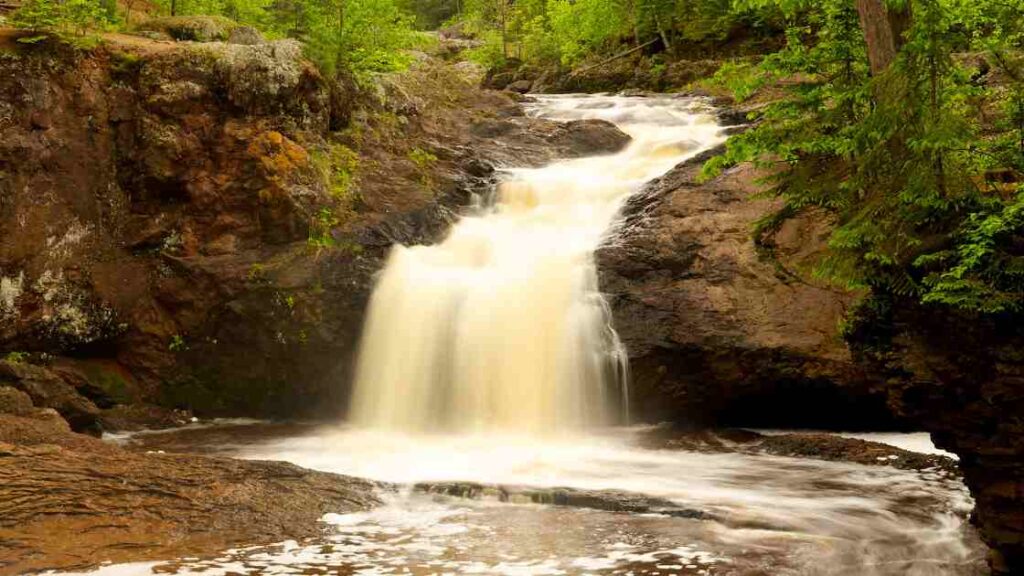 Are you searching for an ideal scenic and relaxing Wisconsin escape? Consider Amnicon State Park. Situated near Lake Superior in northern Wisconsin, this state park boasts rapids and waterfalls on the Amnicon River and camping trails, hiking paths, and picnic sites for visitors to enjoy.
One of the main draws of this park is its covered bridge spanning near Lower Falls on the Wisconsin River. Constructed around 1930 and one of only a few remaining such bridges in Wisconsin today, it provides spectacular views of cascading water and its surrounding forest.
Upper Falls is one of the park's premier attractions, located approximately one mile upstream from the bridge. It boasts a 15-foot drop with an ample pool at its base. Upper Falls can be reached via a trail that leads directly to a wooden staircase that connects directly with an observation platform for close-up experiences.
Amnicon Falls State Park can be enjoyed all year, though autumn or spring offer optimal times when water flows are higher and colors more vibrant. Winter activities available here include snowshoeing and cross-country skiing.
Upson Falls
Wisconsin provides many scenic and relaxing getaway spots, one being Upson Falls. Situated within Upson, 20 miles to the south of Hurley, Upson Falls forms part of Potato River Falls County Park, which features hiking trails, picnic sites, and camping spaces.
Upson Falls is a 25-foot drop that cascades down multiple rock ledges. The water is cold and clear, and you can hear its tranquil sounds from the parking area. When in bloom, its waters cover themselves in lush vegetation such as wildflowers or vibrant leaves in autumn.
To access this wonder, you can follow a short trail leading directly to their wooden viewing platform, where breathtaking views await – both from up high and below the falls themselves!
Upson Falls makes for an excellent day trip or weekend escape, regardless of the season.
Saxon Falls
Saxon Falls in Iron County, Wisconsin, is along the Montreal River. This spectacular waterfall stands 90 feet high and 100 feet wide before cascading over several rock ledges and disappearing into lush green forests.
To reach Saxon Falls, walk 0.6 miles along County Road B's trail that follows the river as it flows upstream, generally smooth but sometimes slipperier or muddy in places.
Once you reach the waterfall, you can appreciate its beauty and strength from an elevated wooden platform on the river's Wisconsin side. A high bridge also links Michigan shores for a close-up viewing experience and getting closer to the falls to touch its spray directly.
Saxon Falls is an incredible attraction at any time of the year, yet particularly spectacular during autumn and spring. Winter also allows visitors to witness its frozen form creating stunning icicles and snow sculptures!
Saxon Falls in Wisconsin is one of Wisconsin's hidden treasures and is well worth a visit if you love waterfalls and nature.
Conclusion
Wisconsin is home to stunning waterfalls and provides ample opportunities for exploring nature. Take advantage of this chance to experience its beauty firsthand! Explore the list mentioned above of the 10 best waterfalls in Wisconsin.
Also Read :15 Best Waterfalls In Arkansas