Michigan, the Great Lakes State, is known for its abundant natural beauty. Amidst the enchanting landscape of Michigan, nature unveils its hidden gems with dramatic flair.
Carving their way through lush forests, these cascading wonders captivate adventurers' hearts and ignite a sense of awe. From the Upper Peninsula to the Lower Peninsula, Michigan boasts a collection of stunning cascades that attract nature enthusiasts and adventure seekers alike.
In this article, we will guide you through the 15 best waterfalls in Michigan, highlighting their unique features, trail lengths, nearby attractions, and exciting activities for a truly memorable experience.
Prepare to be swept away by the thundering force of water, the untouched serenity of surrounding trails, and the mesmerizing beauty that awaits at every turn.
Tahquamenon Falls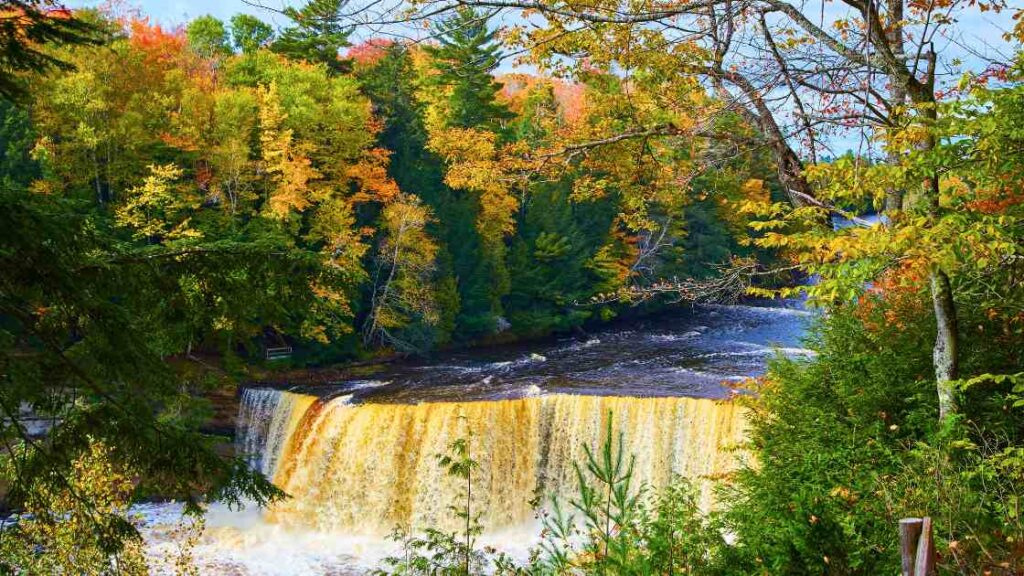 The Upper Peninsula's Tahquamenon Falls, one of the largest waterfalls east of the Mississippi, is located nearby Paradise. The Lower Falls features several lesser cascades, while the Upper Falls are breathtaking 50 feet high and 200 feet wide.
Visitors can explore the trails along the Tahquamenon River, with options ranging from short walks to longer hikes. The River Trail is a 4-mile loop that takes visitors to both the Upper and Lower Falls.
Nearby attractions include the Tahquamenon Falls State Park, where visitors can camp, fish, and enjoy scenic views of the surrounding wilderness.
Bond Falls
Situated in the western Upper Peninsula near Paulding, Bond Falls is renowned for its picturesque setting. With a drop of approximately 50 feet, Bond Falls offers a stunning sight and is a favorite among photographers.
The short 0.25-mile trail leads visitors to the falls, where they can enjoy the soothing sound of rushing water. Nearby, you can explore the Ottawa National Forest and Bond Falls Scenic Site, which offers picnic areas and a campground.
The site also provides excellent opportunities for fishing, bird-watching, and wildlife photography.
Alger Falls
Located in Munising, Alger Falls is a charming roadside waterfall that provides travelers with a convenient and quick stop.
This 20-foot cascade offers a picturesque view and is easily accessible from the parking lot. After enjoying the falls, visitors can explore the nearby Pictured Rocks National Lakeshore, home to breathtaking cliffs, sand dunes, and scenic hiking trails.
Boat tours are available for visitors to marvel at the colorful sandstone formations and sea caves along Lake Superior's shoreline.
Laughing Whitefish Falls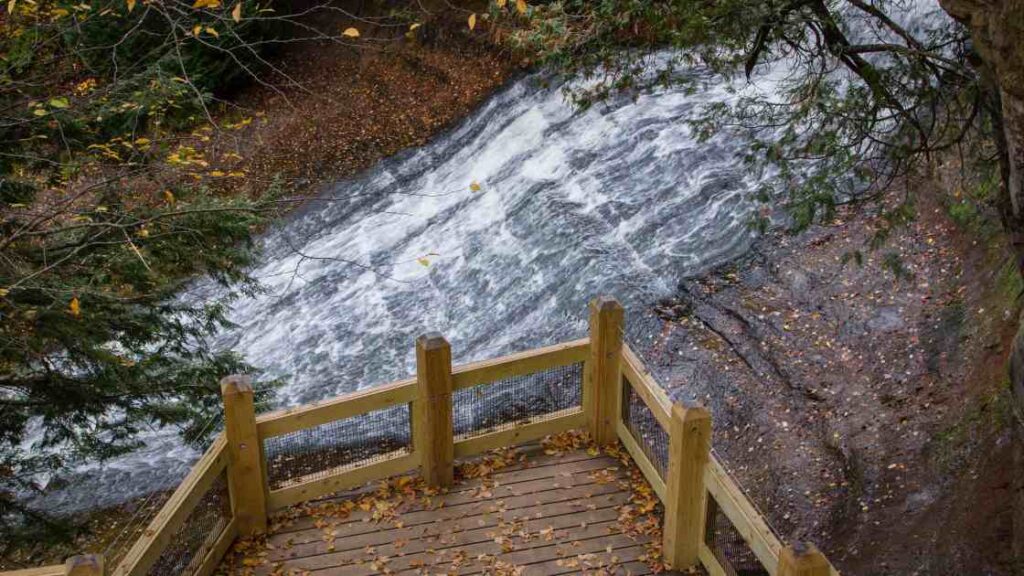 Situated in the central Upper Peninsula near Sundell, Laughing Whitefish Falls is a hidden gem. This 100-foot waterfall is known for its serene atmosphere and captivating beauty.
The one-mile trail takes visitors through a lush forest, providing an enchanting experience. Explorers can also visit the Laughing Whitefish Falls State Park, which offers picnic areas and opportunities for fishing and wildlife spotting.
The park is home to diverse flora and fauna.
Ocqueoc Falls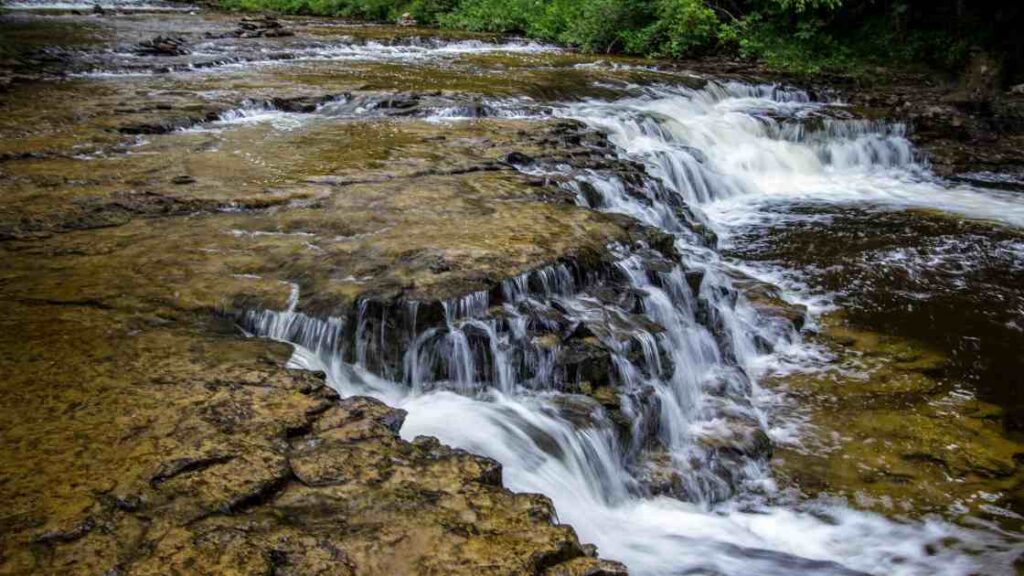 Located in Rogers City, Ocqueoc Falls is the only universally accessible waterfall in Michigan. The falls drop about 10 feet and are easily reachable from the parking lot.
Visitors can relax in the designated swimming area, enjoy a picnic, or traverse the nearby Ocqueoc Falls Bicentennial Pathway, a 3.5-mile loop trail that winds through picturesque forests. Cross-country skiing, riding, and hiking are all permitted on the path.
The year-round natural beauty of the area is available for tourists to enjoy.
Sable Falls
Nestled within the Pictured Rocks National Lakeshore near Grand Marais, Sable Falls is a breathtaking waterfall that cascades over a sandstone cliff. The short, quarter-mile trail leads visitors to a viewing platform where they can witness the falls in all their glory.
Explorers can also take advantage of the nearby Pictured Rocks Cruises, kayak tours, and scenic hiking trails. The area offers camping, fishing, and beachcombing opportunities along the Lake Superior shoreline.
Miners Falls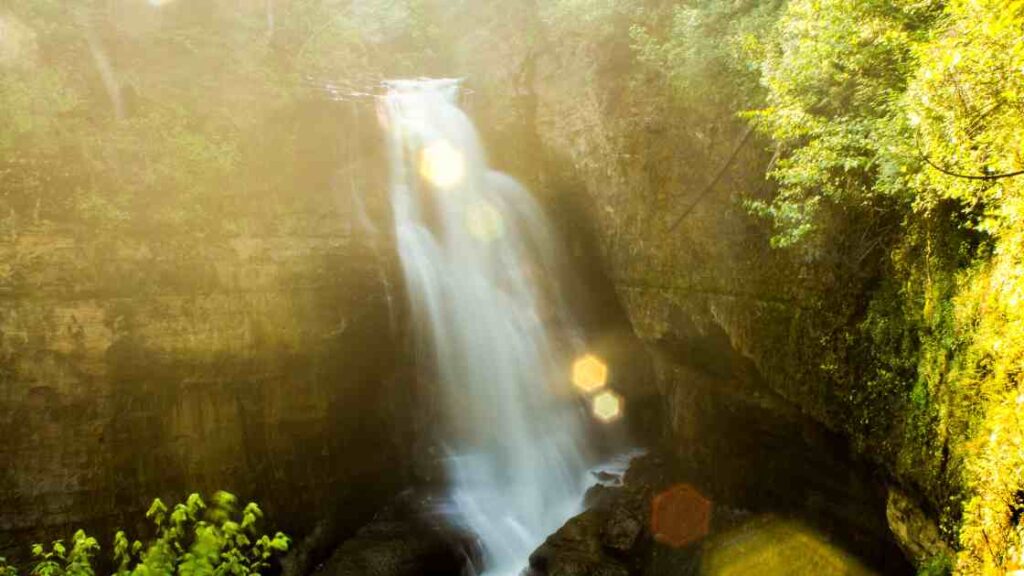 Also situated within the Pictured Rocks National Lakeshore, Miners Falls is a mighty cascade that drops approximately 40 feet into a scenic gorge. The 1.2-mile roundtrip walk provides sweeping views of the falls and the woodland surroundings.
Visitors can combine their visit with a tour of the nearby Miners Castle rock formation and the Chapel Loop hiking trail. The Pictured Rocks area is a paradise for outdoor enthusiasts, offering activities such as kayaking, paddle boarding, and backcountry camping.
Bridalveil Falls
Located near Pictured Rocks National Lakeshore, Bridalveil Falls is a mesmerizing waterfall that plunges into Lake Superior. You may observe this 40-foot fall from the river by going on a boat trip or hiking the Lakeshore Trail.
The adjacent Grand Island National Recreation Area, which offers camping, riding, and scenic beaches, is another place visitors can explore. The area is well-known for its stunning natural surroundings and intriguing historical structures.
You can also find opportunities for water sports, including kayaking, swimming, and fishing.
Wagner Falls
Tucked away in the Hiawatha National Forest near Munising, Wagner Falls is a tranquil 20-foot waterfall accessible via a short 0.2-mile trail. The waterfall provides a serene escape for nature lovers. It is surrounded by lush greenery.
Visitors can continue their adventure by exploring the nearby Pictured Rocks National Lakeshore or kayaking or canoeing on the nearby rivers. Hiawatha National Forest is known for its hiking, biking, and snowshoeing paths.
You can also get outstanding fishing and animal viewing opportunities.
Munising Falls
Munising Falls, a stunning 50-foot waterfall in Munising, is accessible through a paved 0.4-mile trail. Visitors can appreciate the falls from a viewing platform and enjoy the interpretive signs that provide insight into the area's geology and history.
Afterward, they can explore the nearby Hiawatha National Forest or take a boat tour of the Pictured Rocks. Munising also offers amenities such as restaurants, shops, and accommodations for a comfortable stay.
Manabezho Falls
Found in the Porcupine Mountains Wilderness State Park near Ontonagon, Manabezho Falls is a magnificent waterfall formed by the Presque Isle River.
Beautiful views of the falls and the surrounding wilderness may be seen on the 1.8-mile roundtrip climb.
The park's extensive network of trails, campgrounds, and scenic viewpoints are also open to visitors' exploration.
The Porcupine Mountains Wilderness State Park is a haven for outdoor enthusiasts, with opportunities for hiking, backpacking, fishing, and wildlife observation.
Hungarian Falls
Situated in the Keweenaw Peninsula near Hubbell, Hungarian Falls is a collection of picturesque cascades that drop into Torch Lake. The trail to the falls is approximately 1.3 miles long and leads visitors through beautiful forests and scenic bridges.
Nearby, visitors can explore the historic Copper Harbor Lighthouse or participate in water activities on Torch Lake, such as boating, fishing, and swimming. The Keweenaw Peninsula is known for its rich mining history and scenic drives.
Dead River Falls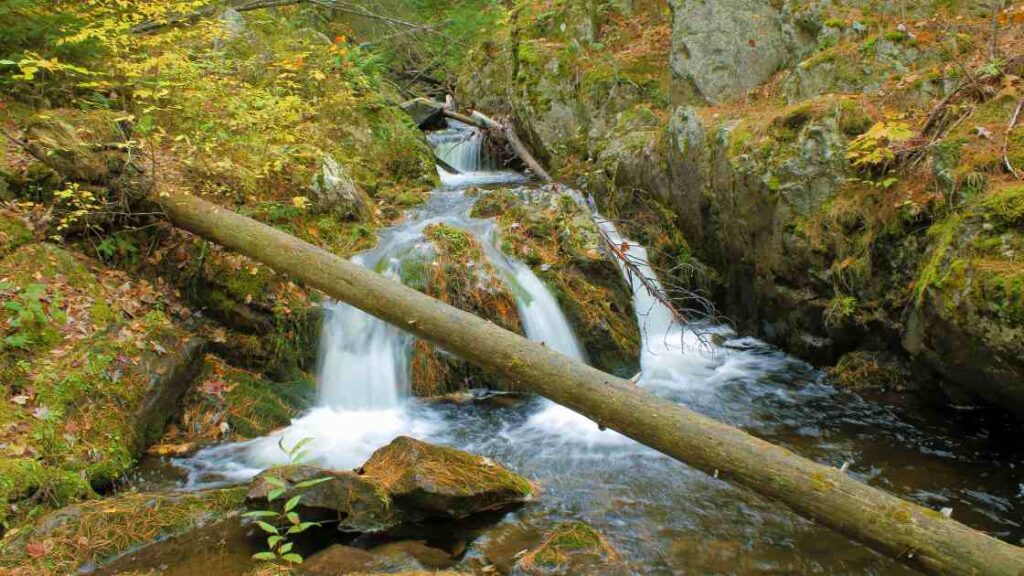 Located near Marquette, Dead River Falls is a series of cascades that wind through the woods, creating a picturesque and serene setting. The extensive trail network offers various routes for hikers of all skill levels.
Visitors can also enjoy fishing, swimming, or kayaking in the nearby Dead River. Marquette is a bustling city on Lake Superior's shoreline. It has a variety of dining establishments, breweries, art galleries, and cultural activities where visitors can relax with good food, music, and wine.
Scott Falls
Situated in the eastern Upper Peninsula near Au Train, Scott Falls is a charming 25-foot cascade that tumbles over colorful sandstone rocks. Accessible via a short 0.1-mile trail, the falls offer a peaceful spot for a picnic or a quick break.
Visitors can also explore the nearby Grand Island National Recreation Area or take a boat tour of Lake Superior. The region is renowned for its clean beaches, lovely hiking paths, and chances to see wildlife.
Silver Lake Falls
Located in the western Upper Peninsula near Baraga, Silver Lake Falls is a hidden gem tucked away in the Ottawa National Forest. A 0.25-mile route leads to this 30-foot waterfall, which offers a serene setting surrounded by tall pines.
Visitors can explore the area's natural beauty further by hiking or camping in the Ottawa National Forest. The nearby town of Baraga offers cultural attractions, historical sites, and access to the stunning Keweenaw Bay for fishing and water sports.
Conclusion
Michigan's waterfalls offer a beautiful escape into nature's wonders. Whether you seek adventure or tranquility, these 15 best waterfalls in Michigan provide breathtaking sights, diverse trails, and nearby attractions to explore.
So, pack your hiking boots, grab your camera, and embark on a journey to discover the natural marvels of Michigan's cascading treasures.
Also Read : 15 MEMORABLE ROMANTIC GETAWAYS IN MICHIGAN