Instagram was originally used to share glimpses of our life. It is now an essential part of our lives and has widely influenced how we share our joy with others. It has changed our way of enjoying our vacations. This entire process is more than just taking images.
It's about telling a story through pictures. Instagram has transformed each holiday and escape into a masterpiece of carefully curated profile grids of stunning landscapes, new food and local cuisines. However, it's essential to strike a balance between capturing moments for the gram and immersing ourselves fully in the experience.
In today's fast-paced digital world, the constant buzz of notifications and the pressure to maintain an Instagram-worthy lifestyle can feel overwhelming. Amidst the constant stream of information, the pressure to keep up with trends, and the desire to curate a perfect online persona, we all yearn for an escape. Between stress and burnout, the need for a quick escape becomes apparent, a break from the chaos and monotony, a chance to reconnect with ourselves.
In this article, you'll find 50 quick escape captions for Instagram that can inspire, motivate, and help you maintain sanity and balance in the realm of social media.
Quick Escape Captions for Instagram
Escaping the monotonous and boring everyday ordinary life.
In the pursuit of wanderlust.
Chasing sunsets and dreams.
Disconnect to reconnect.
Adventures are the best way to learn.
Lost in the beauty of the unknown.
Wander often, wonder always.
Life is short; explore the world.
Embrace the journey, not just the destination.
Leave only footprints. Take only memories.
Adventure awaits, and I must go.
The world outside the city walls is calling me
Travel far enough to meet yourself.
Collect moments, not things.
Escape reality; find serenity.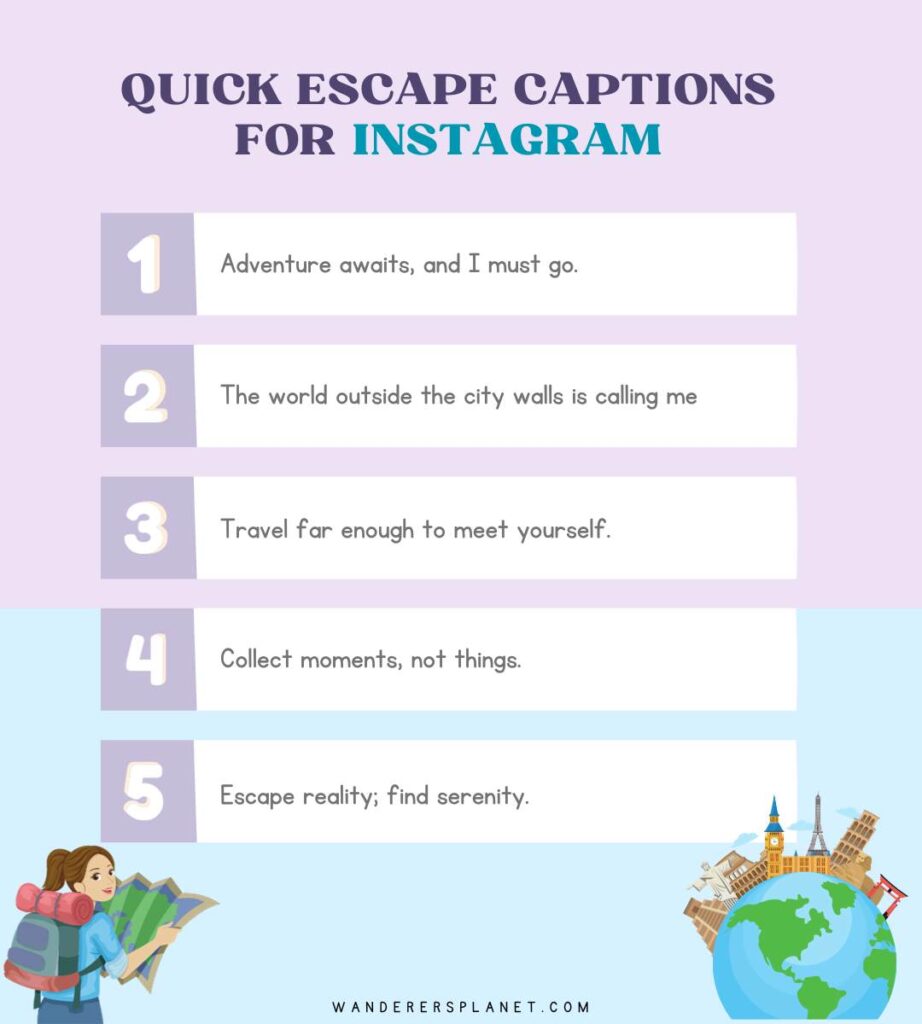 Travel Captions for Instagram
Travel is the only thing worth spending on.
New horizons, new places, new experience
I don't know what I'm chasing, but it's something that will require me to travel.
Passport: the key to endless possibilities.
Where to next?
Jet lag is my only enemy.
Travelling – it leaves you speechless, then a storyteller.
Adventure begins with you coming out of your comfort zone.
Wanderlust and city dust.
Every day is a journey, and the journey itself is home. – Matsuo Basho
Adventure is calling, and I must go.
Travel far, travel wide, travel often.
Discovering the world, one landmark at a time.
Home is where the heart is, but I love to roam.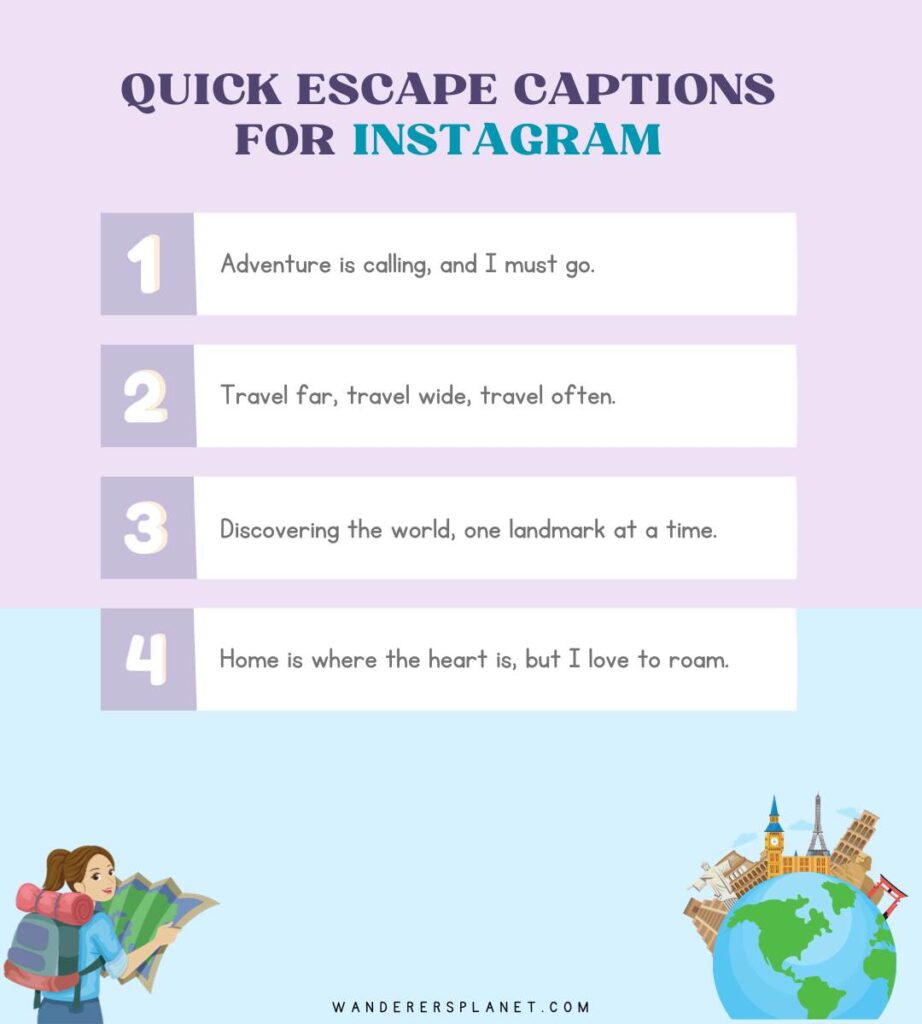 Adventure and Wanderlust Captions
Adventure is my middle name.
Not all who wander are lost. – J.R.R. Tolkien
Adventure awaits, and I'm its seeker.
Live your life by a compass, not a clock.
Adventure is worthwhile in itself. – Amelia Earhart
Born to explore.
Take only pictures. Leave only footprints.
The best view comes after the hardest climb.
Adventure: because routine is overrated.
Adventure is the best way to learn.
I venture out into the wild, becoming lost and discovering my spirit.
I have a thing for new and exciting places.
Beyond the city walls, where the mountains start, there is adventure out there.
Instagram Captions for Mountain, Ocean and Beach Travel
Salt in the air, sand in my hair.
Mermaid at heart.
Seas the day.
Let the sea set you free.
Life's a beach; I'm just playing in the sand.
Chasing waves and mountain highs.
Ocean lover, saltwater soul.
Sandy toes and sun-kissed nose.
Find me where the mountains meet the sea.
The mountains are my happy place.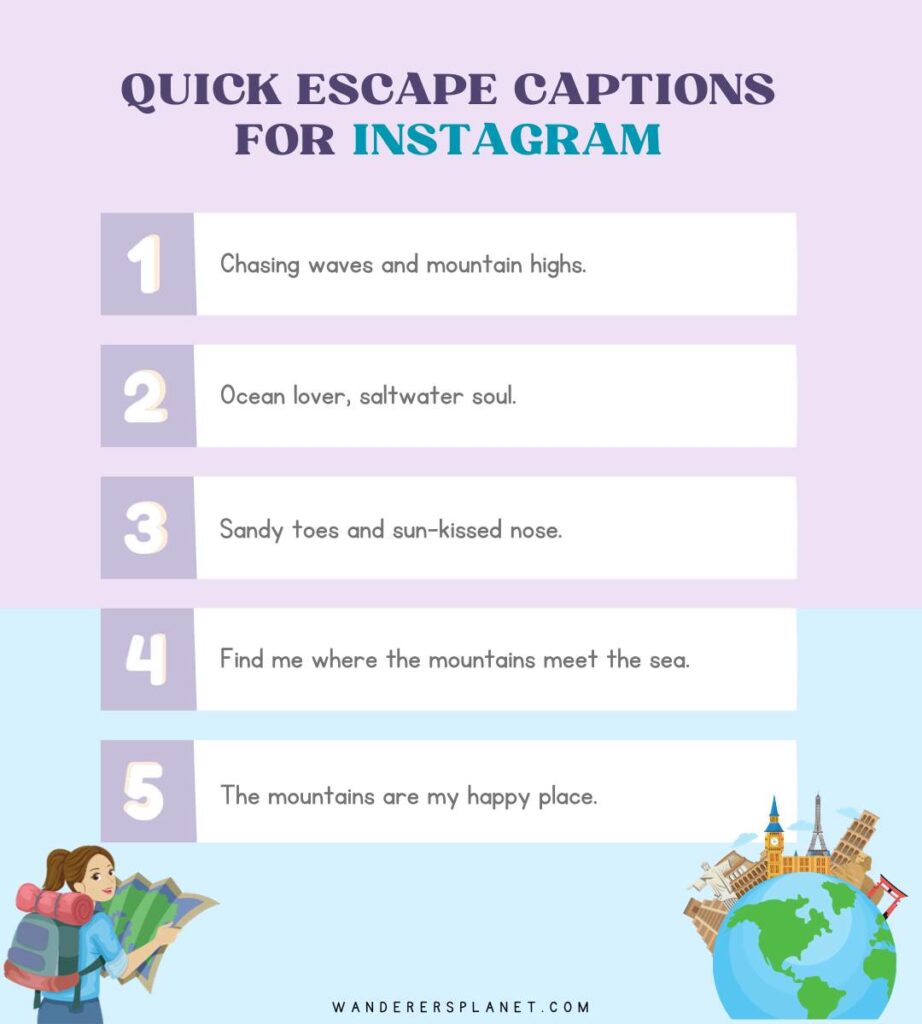 Adventure and serenity in equal measure.
Exploring peaks and tides.
Saltwater heals everything.
Beneath the stars, above the sea.
Mountain air and ocean breeze are calling to me.
The Bottom Line
Instagram drives growth and inspires connections among individuals. Use these Instagram quick escape captions to inspire your followers. Remind yourself of the beauty of the planet, and have a positive attitude on social media. Accept the tension between sharing your experiences and living them fully. Instagram is a blank canvas; your life is a work of art.
Also Read: 70+ Instagram Captions For Hiking